3. Tests
Let's see now some performance numbers when using the HDD conected via the the USB 2.0 and the eSATA interfaces. For our tests, we installed a WD 320GB 2.5" SATA HDD drive and connected it to the following PC:
CPU: Intel Core i7-920 Retail
Motherboard: Asus P6T Deluxe BIOS 1102
Memory: PatriotMemory 3x2GB PC3-12800
Main HDD: WD 800JD
Operating system: Windows VISTA x64 SP1 with all the latest updates installed
As we have mentioned, you can operate the drive, either as a USB2.0 or as an eSATA device. Normaly, the latter should perform as if you had the SATA HDD installed inside a notebook or a PC.
The drive was recognized as Generic External 2.10 drive under Windows: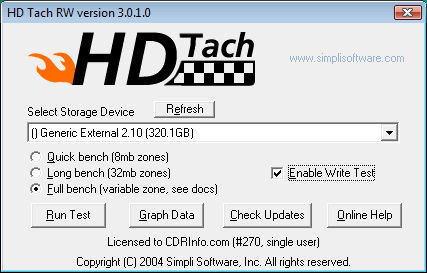 Running the Full Bench test gives us an idea of the overall performance. Under the USB 2.0 mode, the drive gave a rather linear performance. Reading was done at 35MB/sec and writing was slower at 31MB/sec. The random access time was 14.4ms.
As it was expected, the drive was much faster connected through the eSATA interface. Compared to the USB 2.0 mode, here you will get almost double the performance: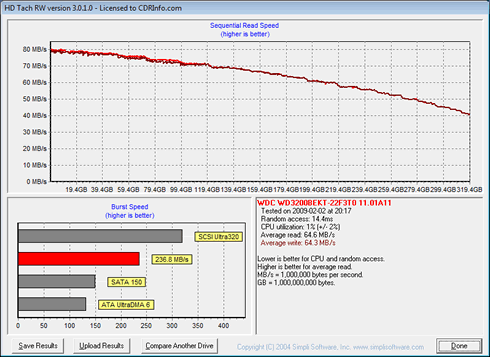 The HD TunePro software more or less confirm the above findings: