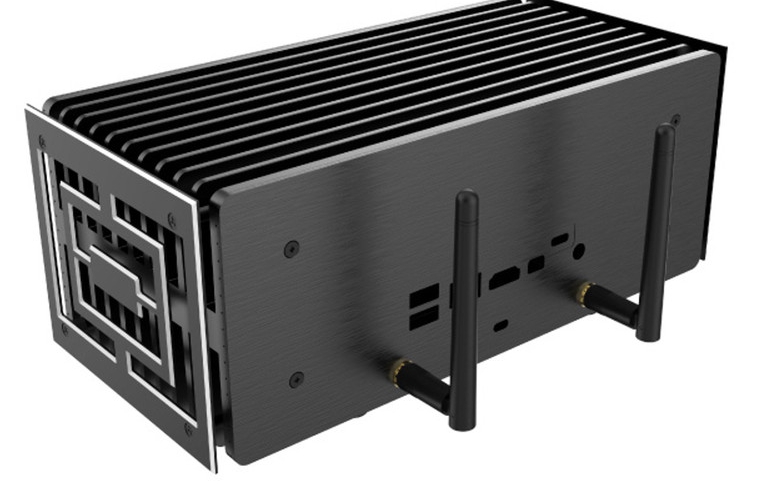 Akasa introduces new Turing case for Gigabyte BRIX 4000U series
Akasa, a leading provider of passive cooling solutions and fanless cases, have released an updated version of their Turing case, now compatible with Gigabyte AMD Ryzen™ BRIX 4000U-Series Mini-PC. The sleek, futuristic design that the Turing is known for can be used as the centrepiece of a setup or can be hidden away for a clean, truly silent aesthetic.
This generation of Gigabyte BRIX Mini-PCs will support Ryzen™ 4000U, up to 8 cores/16 threads in the Ryzen™ 7 4800U. An efficient CPU is essential for this small form factor, which means a lower power consumption without compromising on performance. The Gigabyte BRIX comes with support for 4 x 4K monitors, making the motherboard an excellent option for multiple display setups and digital signage.
The board also features USB 3.2 connectivity, and with 6 different ports, you'll never run out of options for peripheral attachments!
With its stylish classical-inspired panels and silk-like design, the Turing ABX case is made to be displayed. It comes with four premium rubber feet and can be exhibited in either a vertical or horizontal position. The curved edges are smooth, producing a softer effect, and allows the minimalist design to blend in well with almost any environment. The case can be used as a statement piece in a home theatre, desktop setup, or recording studio, but can also be hidden away due to its small form factor (118.5 x 95 x 248.2 mm).
This fanless case is not only a looker, but it can handle AMD's Ryzen™ 4800U, its 25W TDP is enough to cool overclocked versions of these processors. The slim versions of the motherboard are compatible with the Turing ABX, and with additional support for accessories, this case can be moulded to your liking! Akasa's pigtail cables (A-ATC01-GR) and antennae (A-ATN01-BK) are a great example, boosting your connectivity for a fast wireless internet connection you could only dream of!
 
Specifications
Material Aluminium
Motherboard Types UCFF 4" X 4"
Motherboard Support Gigabyte AMD RyzenTM 4000U Series BRIX Mini-PC with Radeon™ GPU. Support up to Ryzen 7 4800U
Maximum TDP Support 25W
Dimensions 118.5 x 95 x 248.2mm][9i (W x D x H)
Drive Bays 2.5" SSD/HDD x 1
Front I/O Power switch, power and HDD LED, USB 3.2 Gen 1 Type-A port x 3, USB 3.2 Gen 2 Type-C port, HD Audio in/out
Rear I/O DC-in port, USB 3.2 Gen 1 Type-A port x2, RJ45 LAN port, USB 3.2 Gen Type-C port, HDMI port, Mini DisplayPort
Antenna Fitting Holes 2
Security Kensington lock
Product Code A-NUC76-M1B
PRICING AND AVAILABILITY
• The Turing ABX starts at £150.00/€158.00 (prices may vary by reseller)
• The Turing ABX are available to order throughout the UK, Europe, US and Russia. Contact sales@akasa.co.uk to find a reseller near you.
ABOUT AKASA
Akasa is a global computer hardware and electronics company which fuses innovative design with cutting-edge technology and engineering to deliver exceptional products for our customers. With over 20 years of experience, Akasa has extensive expertise to provide quality solutions to suit your needs. We offer passive and active case solutions, coolers, fans, PC lighting and a vast array of card readers, cables and adapters.