Apple Aims to Be a Video Star
Apple introduced an iPod capable of playing videos on Wednesday, evolving the portable music player of choice into a multimedia platform for everything from TV shows to music videos, at $1.99 apiece. The gadget will be available in the US next week and crams more storage and a bigger 2-5 inch color screen into a thinner package.
Still mainly a music player, the revamped gadget will have 30 or 60 GB of storage and will be available in two colours - black and white. The 30 GB version should cost $299 and the 60 GB version $399. The 40 GB version of the iPod has been discontinued.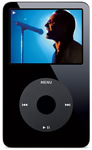 Apple is planning to make available more than 2,000 music videos on the iTunes store that will cost $1.99 each. The new iPod will also support the MPEG-4 / H.264 video standard, meaning users could view home movies and other unencrypted videos on it.
Apple has also set up a deal with US television company ABC to let Americans purchase episodes of shows (Lost, Desperate Housewives, Night Stalker) for $1.99. The shows will be available the day after broadcast and without commercials. The video can be played back on up to five computers or downloaded to a video iPod, but they can't be copied to a CD or DVD (DRM). Although there was no information about when, or if, this service would come to Europe, latest decisions taken by the EU Comission would make it easier for new online services to take off in Europe.
The video iPod launch also ties in with movie-making tools that Apple bundles in with
Quicktime 7 Pro
. Also Apple now forces people to get iTunes when they install Quicktime 7.
However, iPod's 320 x 240 supported resolution may looks better in a small window than full screen. It's not a TiVo replacement, but it's more like the BitTorrent copies of The Daily Show - a way to catch shows you?d have to miss otherwise, and definitely more reliable than streaming.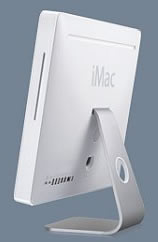 Apple also unveiled at the event was a new iMac G5 that comes with a software package called 'Front Row' that lets users choose the media they want to consume - music, movies or images - via a remote control, and browse and access these AV files from across the room, as far as 30 feet away. Each of the new thiner 17-inch and 20-inch iMac G5 models, priced at $1,299 and $1,699 respectively, comes with a built-in webcam and a slim, six-button remote control about the size of thin pack of gum.
The new iMacs also carry new software called "Photo Booth" that allows users to take quick snapshots and send them to others via e-mail.
Note that both Front Row and the Photo Booth functions are not supported by older Macs.
The new iMacs become Apple's answer to the Windows XP Media Center Edition computers that software giant Microsoft and manufactures like Hewlett-Packard and Dell have offered since late 2002. All of those computer companies are hoping to beat out traditional electronics makers for control of the television, generally the heart of any home-entertainment system.