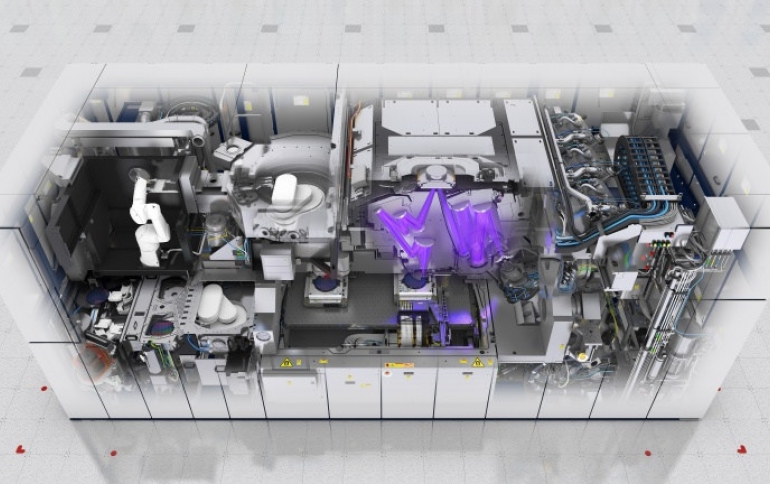 ASML Developing Next-Gen ASML 5000 EUV Lithography System
ASML has begun the development of a new extreme ultraviolet lithography machine his company believes will be needed to continue shrinking the features of silicon chips once today's systems reach their limits.
Compared to the latest 3400 series currently used by chip makers including Intel, Samsung, and TSMC, the new ASML 5000 system will bring "evolutionary improvements," according to ASML vice president Anthony Yen.
The machine's numerical aperture will be increased from today's 0.33 to 0.55, Yen told engineers at the IEEE International Electron Device Meeting this week in San Francisco. Numerical apertureis related to how tightly light can be focused. A higher numerical aperture means better resolution. Changing the numerical aperture in the EUV machine will require a larger, more perfectly-polished set of imaging mirrors.
EUV light is generated by targeting tiny tin droplets with twin pulses from a high-powered carbon dioxide laser. The first pulse reshapes the tin droplet into a hazy pancake shape so that the second pulse, which is more powerful and follows it by just 3 microseconds, can blast the tin into a plasma that shines with 13.5-nanometer light. The light is then collected, focused, and bounced off a patterned mask so that the pattern will be projected onto the silicon wafer.
ASML has increased the number of wafers its machines can process per hour largely by generating more light power. More power means the wafer can be exposed more quickly. At 195 watts they could do 125 wafers per hour; they reached 246 W and 140 wafers per hour early this year.
A next generation ASML 5000 machine will need even more EUV wattage. In the lab, ASML has cracked 410 W, though not yet at duty cycle good enough for chip production. More powerful lasers will help, and so might increasing the rate at which the tin droplets are zapped. In today's machines, the tin drops are shot out 50,000 times per second, but Yen showed that the droplet generator could run at 80,000 Hertz.
ASML is also improving the capabilities of the existing 3400 series. The new 3400C will be released in the second half of 2019. It will be specified at 170wph and with >90% availability.
Yen says ASML expects to have shipped 18 machines by the end of 2018, and is planning to ship 30 in 2019.