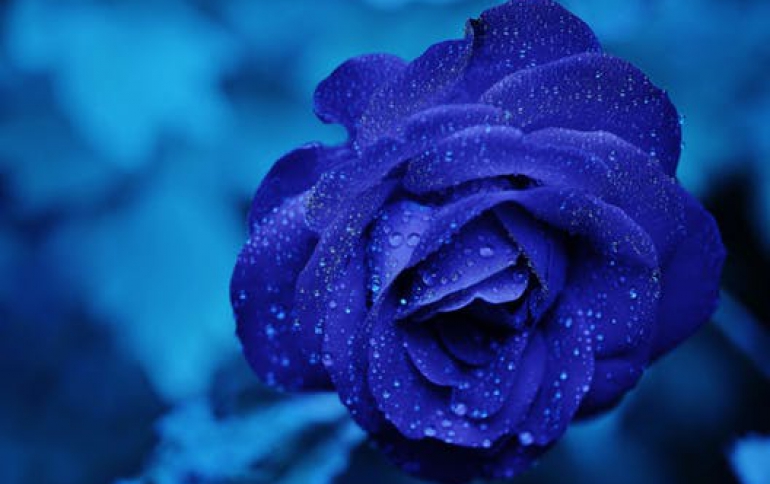 ASUS And Gigabyte Launch Intel Xeon E3-1200 v3-Based Servers and Serverboards
ASUS and Gigabyte have today announced their servers and mootherboards based on the for new Intel Xeon processors based on the Intel Denlow platform. Based on the 22 nm tri-gate lithography, this new generation of Xeon processors is built on Intel's latest microarchitecture and brings up to 15% computing power improvement and increased L3 cache across the line. In addition, this new generation also brings to the Xeon E3 family the support of 1600MHz ECC memory, Intel Trusted Execution and Virtualization technologies, as well as AVX 2.0 and TSX instructions. Last but not least, the Xeon E3-1200 V3 processors will include the latest Intel integrated graphics, which will bring the support of OGL3.2+, DirectX 11.1, and higher frequencies over the previous generation.
Asus uveiled the E8 servers and P9D serverboards, which are both engineered for High Ambient Temperature operation at up to 40°C, and deliver over 90% voltage regulation efficiency, representing a major improvement over previous models. Both series also feature PCI Express 3.0, USB 3.0, and ASUS PIKE storage upgrade support.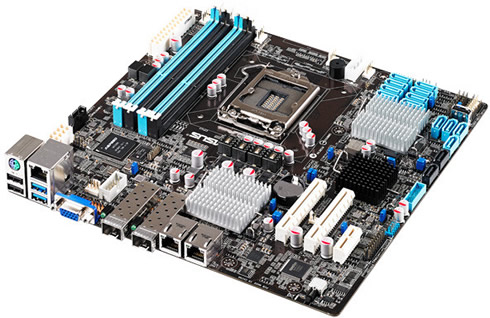 Asus claims that its ASUS Beat Thermal Chokes decrease operating temperatures by 3-5°C and achieve up to 90% voltage regulation efficiency. E8 servers use 80 PLUS power supplies that help reduce operating costs through lower electricity bills.
The E8 and P9D Series support ASWM Enterprise and ASMB7-iKVM remote management tools for hardware monitoring. ASWM Enterprise is the latest ASUS server management software, working in "one on many" three-tier architecture to improve server supervision efficiency.
Locally or remotely, ASWM Enterprise allows IT professionals and administrators to monitor all servers (physical and virtual) simultaneously rather than having to check each one separately. The interface is offering at-a-glance server status information, including color-coded status indication: green for normal, yellow for warning, and red for critical status. One click of the Asset Report button provides detailed information on each server in seconds.
E8 and P9D servers and serverboards also feature several PCI Express 3.0 slots that support multiple graphics cards and other add-on cards. Legacy PCI is included for wider LAN, graphics, and sound card compatibility. One expansion slot is reserved for ASUS PIKE cards for cost-effective storage upgrades to SAS with support for multiple RAID configurations. USB 3.0 is standard on the E8 and P9D Series for high speed data transfers.
GIGABYTE's server offerings include two initial models of single socket server/workstation motherboards designed for the Intel Xeon processor E3-1200 V3 product family (Haswell).
Suitable for both rack and desktop tower integration, the products featuring the latest technologies and built to deliver all the benefits and new features of this new CPU line in many professional application scenarios.
The new generation LAN controller (Intel I210) built on those two motherboards features several improvements over the previous generation. In addition to overall performance and error correcting improvements, the power consumption has been reduced thanks to the on-chip integration of switching voltage regulators improving the efficiency of the power delivery to the controller.
This new controller also received new audio/video bridging features, notably time-stamping and synchronization of time sensitive applications through traffic shaping, time-based transmission, and precision time-stamping.
Two new management functions are also included, with the support of common transport for LAN-to-BMC / local OS-to-BMC and standards-based transport for BMC-to-adapter communication.
Designed as an ultra-flexible ATX solution, the Gigabyte GA-6LXSV model is suitable for both tower and rack integration and fits in most of the professional applications scenarios - server, workstation, industrial PC, high performance embedded system. The board's DIMM placement has been optimized for better thermal properties. The GA-6LXSV will support memory modules cadenced at 1866MHz.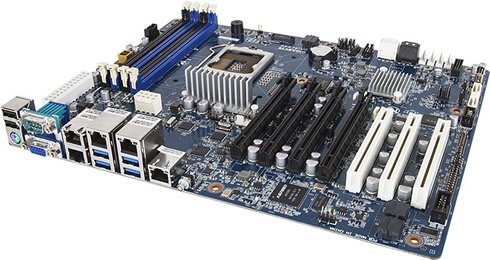 By combining a microATX format with the new Intel Xeon processors E3-1200 V3 family, the GA-LASS board is a solution for SMBs and independent professionals to build affordable systems within compact rack or tower enclosures.
Specifications GA-6LXSV
Dimension
ATX
244W x

305H

(mm)
CPU
Single LGA 1150 socket 
Supports Intel® Xeon® processor E3-1200 V3 product family
Supports 4th gen Intel® Core™ processor family
Chipset
Intel® C224
Memory
4 x DIMM slots
Supports unbuffered ECC or non-ECC

UDIMM

modules
Supports single rank and dual rank UDIMM modules
Up to 32GB
1866/1600/1333MHz
LAN
Quad GbE LAN controller (Intel I210)
1 x Management LAN
Video
Integrated in Aspeed AST2300
2D Video Graphic Adapter with PCIe bus interface
1920x1200@60Hz 32bpp
SATA
4 x SATA III 6Gbs ports
2 x SATA II 3Gbs ports
RAID
Intel® RAID 0/1/10/5
Expansion Slots
1 x PCIe x16 (@Gen3 x16 bus) slot
1 x PCIe x16 (@Gen3 x8 bus) slot
1 x PCIe x16 (@Gen3 x4 bus) slot
1 x PCIe x16 (@Gen2 x1 bus) slot
3 x PCI slots
Internal I/O
1 x USB 3.0 header
1 x USB 2.0 header
1 x USB 2.0 Type A port
1 x COM header
1 x SGPIO header
4 x System fan headers
External I/O
4 x USB 3.0 ports
2 x USB 2.0 ports
1 x PS/2 port
1 x VGA
1 x COM
5 x RJ45
1 x ID Switch button
Server Management
Aspeed AST2300
IPMI 2.0
iKVM
PSU connectors
1 x 24 pin power connector
1 x 8 pin power connector
Specifications GA-LASS
Dimension
microATX
244W x 224H (mm)
CPU
Single LGA 1150 socket 
Supports Intel® Xeon® processor E3-1200 V3 product family
Supports 4th gen Intel® Core™ processor family
Chipset
Intel® C222
Memory
4 x DIMM slots
Supports unbuffered ECC or non-ECC UDIMM modules
Supports single rank and dual rank UDIMM modules
Up to 32GB
1600/1333MHz
LAN
GbE LAN controller (Intel I210)
Video
Integrated in Aspeed AST1300
2D Video Graphic Adapter with PCIe bus interface
1920x1200@60Hz 32bpp
(Aspeed AST2300 in option)
SATA
2 x SATA III 6Gbs ports
4 x SATA II 3Gbs ports
RAID
Intel® RAID 0/1/10/5
Expansion Slots
1 x PCIe x16 (@Gen3 bus) slot
1 x PCIe x8 (@Gen2 x4 bus) slot
1 x PCIe x8 (@Gen2 x1 bus) slot
1 x PCIe x4 (@Gen2 x1 bus) slot
Internal I/O
1 x USB 3.0 header
1 x USB 2.0 Type A port
1 x COM header
4 x System fan headers
External I/O
6 x USB 2.0 ports
1 x VGA
1 x COM
1 x RJ45
Server Management
Aspeed AST2300 with IPMI 2.0 and iKVM in option
PSU connectors
1 x 24 pin power connector
1 x 8 pin power connector