ASUS and MSI Unveil iPad Rivals At Computex
Asus and MSI unveiled their tablet PC proposals at the Computex show. Asus announced the "Eee Pad" and MSI responded to with the release of the "WinPad". AsusTEK's "Eee Pad" series will include the EP101 and the Eee Pad EP121 models. Featuring 10" and 12" touchscreens, they are based on Intel's CULV Core 2 Duo platform and run Windows 7 Windows Embedded Compact 7 OC, respectively. The Eee Pads will also include a 2 megapixel integrated webcam and at least one USB port. Unlike to Apple's iPad, they will support Adob'e Flash technology.
The new Eee Pads handle multitasking tasks enabling users to check their email and calendars, have video conferences, or process Microsoft Word and Excel documents simultaneously. The ASUS Eee Pad EP121 offers two modes of character input-an embedded virtual keyboard or a hybrid keyboard/docking station design. All of this power is available in a personal computing device that delivers up to 10 hours of usage.
The 10-inch Eee Pad will sell for $399 to $449 in the first quarter of 2011. No price tag was given for the 12-inch model.
Asustek is also working with Intel and Microsoft to push out its own version of an app store, in an effort to compete with Apple.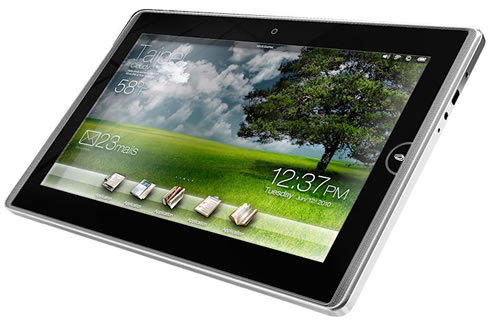 MSI's "WindPad 100" is powered by an Intel Atom processor (Pineview) and the Intel NM10 Express chipset. It has a 10" touchscreen, a web camera and allows users to make phone calls via Skype. GPS, Bluetooth, Wi-Fi and 3G functionalitites are also supported. WindPad 100 runs Windows 7 OS and weigh 800g.
MSI, Asus, Acer and others are trying to compete with Apple's iPad with their tablet PC products. Acer
has already unveiled
a 7-inch touchscreen tablet that like many other coming models runs on Android.
Apple claims that iPad sales have topped two million in less than 60 days since its launch on April 3. Apple began shipping iPad in Australia, Canada, France, Germany, Italy, Japan, Spain, Switzerland and the UK this past weekend. iPad will be available in nine more countries in July and additional countries later this year.
Asus Eee tablet
Asus also showcased the Eee Tablet, a digital notebook with a 2,450 dpi touchscreen (sensitivity) and 0.1 second page turns on a backlight-less TFT-LCD offering 64-levels of grey.
Users can select one of the built-in notepad templates and have the option to store, sort and tag, organize or browse through them. Real time text annotations can also be made on-the-fly.
The ASUS Eee Tablet features a built-in 2 megapixel camera and syncs up with a PC or notebook via USB or Micro SD.
The Eee Tablet is expected to cost $200~$300 and it will launch in September.