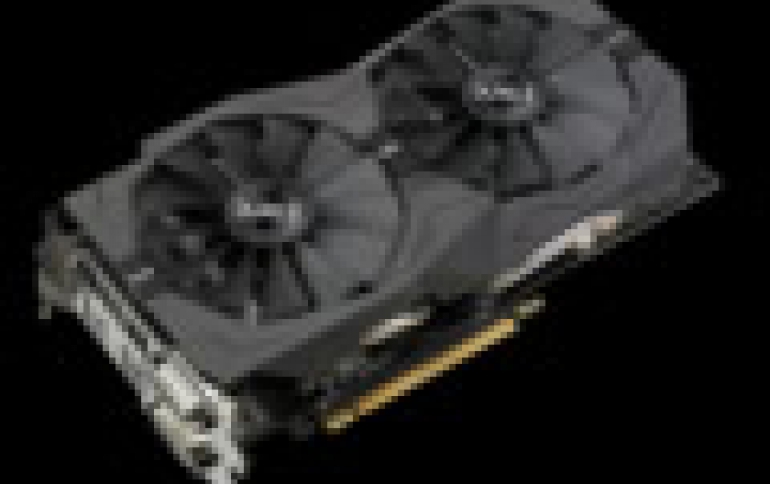 ASUS Announces the AMD-Exclusive 'AREZ' Brand for Radeon Graphics Cards
ASUS today announced AREZ, a new brand identity for ASUS Radeon RX graphics cards.
Derived from Ares, the Greek god of war, AREZ-branded graphics cards are built to provide AMD gamers and enthusiast. Gamers and enthusiasts will enjoy a combination of exclusive ASUS innovations and technologies and AMD's Radeon graphics processors and software.
"Gamers around the world rally behind AMD Radeon because of what the Radeon name stands for: a dedication to open innovation such as our contributions to the DirectX and Vulkan APIs, a commitment to true transparency through industry standards like Radeon FreeSync technology, and a desire to expand the PC gaming ecosystem by enabling developers to take advantage of all graphics hardware, including AMD Radeon graphics. We invite gamers everywhere who believe in these values and the value of the exceptional gaming experience Radeon graphics delivers to join the Red team," said Scott Herkelman, Vice President and General Manager, AMD Radeon Technologies Group.
AREZ graphics cards are produced using Auto-Extreme technology, an 100%-automated production process that incorporates premium materials, according to Asus. This manufacturing process is also environmentally friendly, eliminating harsh chemicals and reducing power consumption.
Asus also claims that the Super Alloy Power II components deliver efficiency, reduce power loss, reduce component buzzing by 50% under full load and achieve thermal levels that are approximately 50% cooler than previous designs.
MaxContact is a GPU cooling technology featuring an enhanced copper heat-spreader that directly contacts the GPU. It utilizes precision machining to provide a 10X-flatter surface for up to 2X more contact area with the GPU than traditional heat spreaders, resulting in improved thermal transfer. Select AREZ graphics cards are also constructed with up to 40% more heatsink surface area than previous dual-slot designs.
A patented Wing-Blade fan design delivers greater static pressure over the heatsink for more efficient cooling and up to 3X-quieter operation compared to other fan designs. The fans are certified under the International Protection Marking (IP code) as IP5X dust resistant for improved reliability and a longer lifespan.
ASUS FanConnect II features two four-pin hybrid-controlled headers that can be connected to both PWM and DC system fans. The connected fans reference both the GPU and CPU, and operate automatically based on the one with the higher temperature. A set of tuning options allow gamers to tune fan speeds for efficient cooling.
GPU Tweak II makes gaming and overclocking easy, while retaining options for seasoned overclockers. With one click, the Gaming Booster function maximizes system performance by removing redundant processes and allocating all available resources automatically.
AREZ graphics cards also support the latest AMD Radeon Software Adrenalin Edition drivers for control over AMD GPUs. Core features include power-saving Radeon Chill technology; Radeon WattMan for profile-based custom control of voltages, engine clocks and fan speeds; and Radeon ReLive for easy capture and sharing of in-game action.
ASUS AREZ-branded graphics cards will be available from May 2018 in selected markets.
As ASUS announced its AREZ-branded AMD Radeon RX graphics cards and over the coming weeks, you can expect to see more add-in board partners launch new brands carrying the AMD Radeon name. AMD also issued a press-statement and is putting its footing on the same stance it always finds itself positioned to by NVIDIA: the freedom of choice, and freedom of standards side of the equation.
AMD's statement is a move against NVIDIA's decision to enforce their GPP initiative to lock-in AIB partners towards having an NVIDIA-exclusive brand.
"The freedom to tell others in the industry that they won't be boxed in to choosing proprietary solutions that come bundled with "gamer taxes" just to enjoy great experiences they should rightfully have access to. The freedom to support a brand that actively works to advance the art and science of PC gaming while expanding its reach," AMD said. " We work closely with all our AIB partners, so that our customers are empowered with the best, high-performance, high quality gaming products and technologies available from AMD. No anti-gamer / anti-competitive strings attached."
"We pledge to put premium, high-performance graphics cards in the hands of as many gamers as possible and give our partners the support they need without anti-competitive conditions. Through the support of our add-in-board partners that carry forward the AMD Radeon RX brand, we're continuing to push the industry openly, transparently and without restrictions so that gamers have access to the best immersive technologies, APIs and experiences."