ASUS at Computex 2015
ASUS today announced a Zen-inspired product lineup - new ZenPad tablets, the ZenFone Selfie smartphone and the ZenWatch 2 smartwatch - at the ASUS Zensation press conference demo area at Computex, Taipei. ZenPad is a series of premium tablets that combine styling with entertainment and productivity capabilities. They are available in three sizes - the 7-inch ZenPad 7.0 (Z370C/CG/CL), the 8-inch ZenPad 8.0 (Z380C/KL) and ZenPad S 8.0 (Z580C/CA) with optional Z Stylus, and the 10-inch ZenPad 10.1 (Z300C/CG/CL) with an optional keyboard - and offering models with Wi-Fi, LTE/3G connectivity and phone functionality.
ZenPad has an expansive HD IPS display featuring the ASUS VisualMaster suite of visual enhancement technologies - including ASUS Tru2Life and TruVivid - that brings image-processing found on high-end TVs to a tablet. ASUS Tru2Life analyzes each pixel in an image before it is displayed and performs an intelligent contrast and sharpness adjustments to boost dynamic range.
ASUS TruVivid improves screen clarity, brightness, and touch responsiveness by transforming the conventional four-layer display design - composed of cover glass, a touch panel, air gap, and an LCD module - into a two-layer, fully-laminated design that eliminates the air gap, resulting in higher optical transparency.
Complementing its display, ZenPad is the first tablet to integrate DTS Premium Sound technology. The built-in DTS-HD coder-decoder (codec) lets users play back or stream movies and music with up to 5.1 channels of DTS surround sound to a connected audio system. ZenPad also includes DTS Sound Studio to transform stereo audio into virtual surround-sound that users can enjoy either through ZenPad's speakers or using headphones.
ZenPad 8.0 (Z380)
ZenPad 8.0 features clean lines, embossed-leather patterning, and premium styling. It is the first tablet to feature an interchangeable cover design that lets users customize their tablet with functional back covers. These can provide extra features and additional color options. Zen Clutch is a fashion-forward accessory that combines style with premium materials to provide a protection solution for ZenPad 8.0. Zen Case is another stylish accessory that lets users outfit ZenPad 8.0 in their choice of five colors and features a fine leather texture. Audio Cover brings 5.1-channel surround sound to a tablet for the first time. Power Case extends ZenPad 8.0's battery life, giving users up to 15 hours of usage.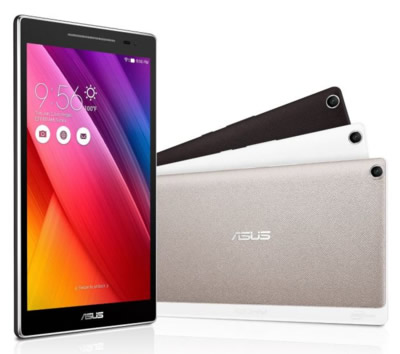 ZenPad 8.0 is available with LTE/Wi-Fi connectivity and phone functionality (Z380KL) or as a Wi-Fi-only model (Z380C).
ZenPad S 8.0 (Z580CA)
ZenPad S 8.0 is crafted with clean lines, a metallic finish and diamond-cut edges. Just 6.6mm thin and weighing only 298g, it is thin and lightweight.
The tablet is equipped with a 2K QXGA (1536x 2048) IPS display with a 178-degree viewing angle and a 324ppi pixel density. It also comes with ASUS Tru2Life Plus.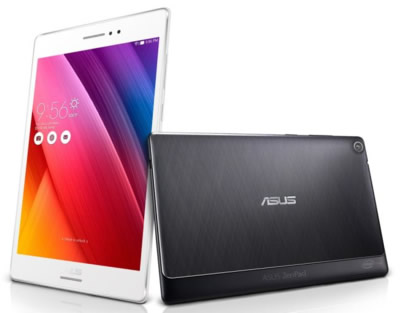 ZenPad S 8.0 is powered by a 64-bit Intel Atom Z3580 processor and is the world?s first 8-inch tablet with 4GB of RAM.
The tablet can be used with the optional Z Stylus, which provides a natural writing and drawing experience. It supports up to 1024 levels of pressure sensitivity and up to a 1.2mm writing tip.
 

ASUS ZenPad 8 (Z380)

ASUS ZenPad S 8 (Z580CA)

SoC

Intel Atom x3-C3230RK
4x Silvermont @ 1.2GHz

Intel Atom Moorefield Z3580
4x Silvermont @ 2.33GHz

GPU

ARM Mali 450 MP4

PowerVR G6430 @ 533MHz

RAM

1 or 2GB LPDDR3

4GB LPDDR3

NAND

8/16GB + microSDXC

16/32/64GB + microSDXC

Display

8.0" 1280x800 IPS LCD

8.0" 2048x1536 IPS LCD

Dimensions

209 x 123 x 8.5mm

203.2 x 134.5 x 6.68mm

Weighr

299g

Camera

2MP Front-facing
5MP Rear-facing

5MP Front-facing
8MP Rear-facing

Battery

15.2Wh

OS

Android 5.0 Lollipop with ASUS Zen UI

Other Connectivity

802.11b/g/n + BT 4.0, GNSS

Cellular

LTE SKU with phone functionality

WiFi Only

USB Connector

Micro USB

USB Type-C
ZenFone Selfie
ZenFone Selfie is a smartphone designed to quickly capture the selfies. Featuring front and rear 13MP PixelMaster cameras with dual-color, dual LED Real Tone flash, ZenFone Selfie captures natural-looking selfies in high resolution. The rear camera features a large f/2.0 aperture lens and laser auto-focus technology.
ZenFone Selfie includes the ZenUI Beautification mode for live digital cosmetics. A few taps is all that?s needed to soften facial features, slim cheeks, and enhance skin tone to add vibrancy, and all in real time. The smartphone also has Selfie Panorama mode, which exploits ZenFone Selfie?s f/2.2-aperture front lens and 88-degree field of view to capture panoramic selfies of up to 140 degrees.
ZenFone Selfie has a 5.5-inch 1920 x 1080 Full HD IPS display with a wide 178-degree viewing angle and 403ppi pixel density.
Under the hood, the smartphone features the first octa-core, 64-bit processor for a balance of multimedia performance and battery efficiency - the Qualcomm Snapdragon 615.
Zen AiO Series
Zen AiO Series is a premium range of all-in-one PCs ? initially comprising the 23.8-inch Zen AiO Z240IC and 21.5-inch Zen AiO Z220IC.
Using the latest generation of quad-core Intel Core up to i7 processors, combined with up to 32GB of DDR4 memory and up to PCIe Gen 3 x 4 SSD storage, Zen AiO has power to offer entertainment. Dedicated NVIDIA GeForce GTX 960M gaming-grade graphics with up to 4GB of video memory ensure users can enjoy stutter-free full HD movies and videos and play the latest games at full resolution.
As the first all-in-one PC to use the next-generation USB 3.1 Gen 2, Zen AiO delivers fast data transfers of up to 10Gbit/s. It also uses the latest USB 3.1 Type-C connector for improved ease of use - the connector is reversible, so it can?t be inserted the wrong way round.
Zen AiO Z240IC has an 3D camera that uses Intel RealSensetechnology to add futuristic interactive capabilities. Accurate motion-sensing of people or objects in front of the camera is now possible. For example, with precise 3D facial recognition, a user?s face can become their login password, or families can just have fun interacting with the latest motion-controlled games.
Zen AiO is designed for the home entertainment, using a total of 6 speakers. Each 8-watt stereo channel uses three powerful speakers located at either side of Zen AiO, giving fully-realistic stereo separation and a total of 16 watts of sound.

This PC will be available in Q4 of 2015.
EeeBook E403SA
The ASUS EeeBook E403SA is a thin and lightweight notebook with an aluminum design. This new PC brings entertainment to life with 13 hours video streaming of battery life, vibrant visuals and colors using ASUS Splendid Technology enhancing images with richer and deeper colors. At .70" thick and weighing in at just over 3lbs, the ASUS EeeBook E403SA with 14" display is a slim and portable notebook with metal grey color. It features an Intel Pentium processor, 2GB of RAM and a 32GB EMMC hard drive.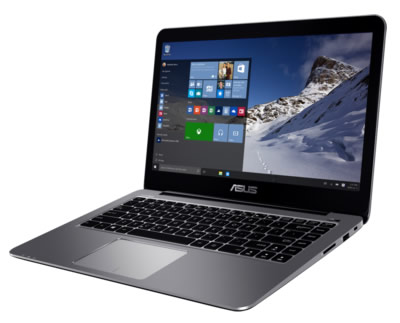 The price for this PC is $299, it will be available in Q3 of 2015.
ProArt PA329Q 4K/UHD Monitor
The ASUS ProArt PA329Q monitor is a 32-inch 4K/UHD (ultra-high-definition) monitor for professionals. It supports a wide 100% Adobe RGB color gamut and features 3840 x 2160 resolution on a 16:9 aspect ratio IPS display with a wide 178-degree viewing angle to eliminate color shifting. PA329Q has a pixel density of 138 PPI and provides over 8 million pixels.
Each PA329Q also features BT2020 / DCI-P3 color space support for video production and editing. PA329Q offers 10-bit display color for over 1.07 billion onscreen colors and supports a 16-bit internal lookup table (LUT), which gives smoother gradations and more transitions between hues.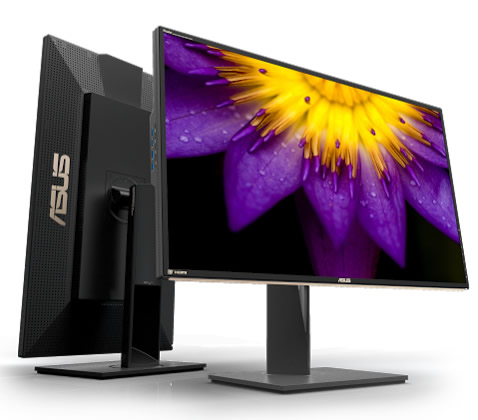 PA329Q incorporates ASUS ProArt Calibration Technology - a hardware calibration application with a 16-bit lookup table (LUT) and uniformity compensation capability. Compared with the conventional way of color calibration, it controls the hardware of the monitor directly and saves all color parameters profile on the monitor IC chips rather than in the PC, so users can recalibrate monitor on their own to ensure the color consistency. It also has the highest compatibility with major hardware calibrators, such as X-rite & Datacolor.
PA329Q delivers breakthrough connectivity with the following options:
1 x DisplayPort 1.2 (4K at 60Hz)
1 x Mini DisplayPort 1.2 (4K @ 60Hz)
1 x HDMI 2.0 (4K at 60Hz)
2 x HDMI 1.4 (4K at 30Hz)
4 x USB 3.0 ports
ZenWatch 2

ASUS also announced ZenWatch 2, a stylish wearable device powered by Android Wear and produced in partnership with Google. Crafted with attention to detail using high-quality materials, ZenWatch 2 is a precision watch that serves as a smart companion to Android smartphones, providing wearers with information at a glance and letting them get things done with a touch or voice command.
ZenWatch 2 is designed to be a personal device that wearers can customize. It is available in two sizes and three stainless-steel case colors, with 18 different strap material and color combinations, and instantly-changeable and customized watch faces along with an app that lets wearers design their own.
ZenWatch 2 builds upon the original ZenWatch, offering an even more refined design, an improved user experience, and the introduction of new functionality. ZenWatch 2 now includes a metal watch crown, providing new way to interact with the watch. It also comes with an all-new magnetic charger that features easy attachment and improved battery recharge times.
ZenWatch 2 features a durable stainless-steel case available in two sizes - and Silver, Gunmetal and Rose Gold colors. The watch crystal is designed with a gentle curve made from tough Corning Gorilla Glass 3 for protection against scratches and damage.
The new smartphone is powered by the latest version of Android Wear and serves as a smart companion for Android phones by extending functionality and providing wearers with a window to view incoming calls, messages, notifications, and other important information, without having to remove their phone from their pocket or bag. The original ASUS ZenWatch introduced many exclusive features including deep ASUS ZenUI integration, FoneHelper, activity and fitness tracking, and Remote Camera. ASUS ZenWatch 2 improves upon every aspect of the original ZenWatch experience.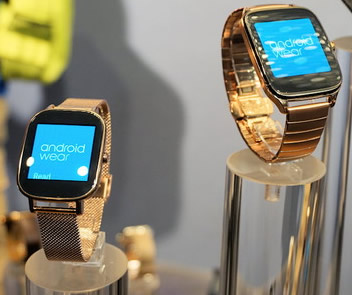 Enhanced Remote Camera - one of the most popular features of ZenWatch - lets wearers display their smartphone's camera viewfinder remotely right on their wrist. This frees them to take photos from creative angles where the viewfinder would be difficult to see, such as when holding the phone overhead at a concert or other crowded event. Remote Camera is also useful for group photos, letting the photographer compose the photo, release the shutter, and check the final result while being included in the shot. Remote Camera has been improved for ZenWatch 2, offering faster performance, more range, the ability to switch between the phone's front and rear cameras, and zoom capability.
In addition to software improvements, ZenWatch 2 has numerous hardware design improvements - an IP67 water-resistance rating and an all-new magnetic charger that attaches to ZenWatch 2 and offers improved battery recharge times. ASUS ZenWatch 2 works together with the redesigned Wellness smartphone app. The device is an activity tracker that provides additional tracking functionality tailored for activities such as running and cycling.
The next-gen Wellness app lets ZenWatch 2 wearers view all of their activity information in one location. It displays progress towards goals as well as activity summaries with graphs, and can be used to set future fitness goals.