4. DAE Tests
ASUS CRW-1610A IDE CDR-W - Page 4
DAE Tests
- Test Method
We used CD DAE 99 v0.21 beta and EAC v0.9 prebeta 11 software in order to check the DAE performance of ASUS CRW-1610A with various AudioCDs (both pressed and CDR). The posted DAE results are the average of both applications. We made a full CD Rip starting from the first to the last track of the CD. The Average DAE reported speed is displayed in the test graphs.
- DAE features:


As the program reported, the drive doesn't support "Caching" of data but supports "Accurate Stream" and "C2 Error info" operations .
- Pressed AudioCD results

The drive uses full CAV as the main reading technology. However compared to the other competitors, ASUS CRW-1610A is slower: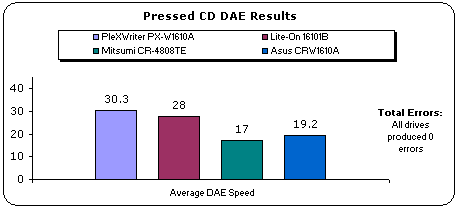 The drive gave an average of 19.2x, staying far away from the top performer PX-W1610A. The LiteOn LTR-16101B comes second. All drive produced no DAE errors.
- CDR AudioCD Results
The drive performs exactly the same as with the pressed media. The average DAE is again around 19.6X:
- EAC Secure Extract Ripping mode
After many viewer's requests we have added the EAC's secure extract ripping mode results, which ensures maximum produced WAV quality. Note that for each drive we used the build-in detection function:
Tested Drives

Average DAE Speed (X)

Pressed

CDR

LiteOn LTR-16101B

10.08

7.5

PleXWriter PX-W1610A

8.4

8.9

Mitsumi CR-4808TE

7.3

7.4

ASUS CRW-1610A

5.6

5.7
- Advanced DAE Quality
ASUS CRW-1610A performed very well in the Nero CD Speed Advanced DAE quality test. The drive produced 0 data/sync errors and got a perfect score (100). The software shows that the drive cannot read "CD-Text" enabled AudioCDs and can read "SubChannel Data" (from audio tracks).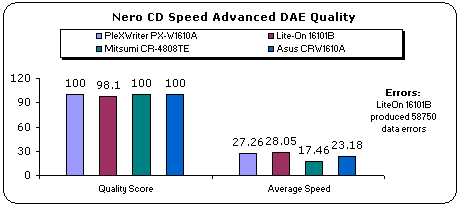 - Bad CDR Media results
Despite the fact that Nero CD Speed Advanced DAE test stretches drive's mechanism to the max, we decided to do real life tests with a scratched disc. The disc was dirty, and with some light scratches, enough in order cause problems to most of the tested drives. We used CD DAE 99 software to rip the whole disc (756539616 sectors) and the results were very interesting:
| | | | |
| --- | --- | --- | --- |
| | Average Speed (X) | Errors | Errors Of Total Disc (%) |
| LiteOn LTR-16101B | 26 | 155252 | 0,02 |
| PleXWriter PX-W1610A | 29.3 | 5069 | almost 0 |
| Mitsumi CR-4808TE | 17.4 | 95 | almost 0 |
| ASUS CRW-1610A | 23.3 | 539528 | 0.07 |
As the tests proved, ASUS CRW-1610A has a good DAE quality. The drive reported 539528 errors, when PleXWriter PX-W1610A has 5069 and LiteOn 155252. ASUS engineers could improve the drive's performance when damaged Audio CDR media being used.
- Reading Protected AudioCDs
For the test procedure we used 3 protected AudioCDs, which we tested in both recognition and ripping (with CD DAE) processes:
* Pressed AudioCD with Sony KeyAudio
* Pressed AudioCD with Cactus Data Shield 200 (Natalie Imbruglia - White Lilies Island)
* CDR AudioCD protected with Cactus Data Shield (CDS100) - made with Clone Audio Protector v1.1 (adding 30 secs lead-out)
| | | | |
| --- | --- | --- | --- |
| | KeyAudio | CDS200 | CDS100 |
| ASUS CRW-1610A | Cannot recognize the disc contents | Recognizes all the audio tracksexcept from the last, ripping/reading impossible | Reads all tracks as Data tracks - ripping impossible |
As the test results showed, ASUS CRW-1610A is not prepared to handle any AudioCD protected discs.
- Ripping 90 and 99min CDs
The ASUS CRW-1610A doesn't have any problems to rip a 90min Audio CDR. Also, the drive can rip up to 98 min CDs.