Hitachi DZ-MV100A DVD Camcorder
1. Introduction
Hitachi DZ-MV100A DVD-RAM Camrecorder - Page 1
- Introduction
Most users who wish to keep their precious moments with a camcorder seem to prefer the new generation "Digital Camcorders", instead of the traditional analog camcorders. The solutions so far are based on the MiniDV format that has certain advantages and of course some disadvantages. The major problem is the editing of the video and the time that this process takes, since you not only have to transfer the movies to a PC but also prepare them for further use.
On April of 2001, Hitachi released a revolutionary solution with the codename "DZ-MV100A" DVD-RAM Camcorder. The main advantage of the new camera was the direct recording to DVD-RAM media, with all the advantages that DVD-RAM format offers (quick access, quick erase etc) and the direct use of the written discs to the PC, with the use of a DVD-RAM compatible DVD-ROM reader. The cost of the DZ-MV100A is rather high ($2000) and this review has the purpose to unveil all the features of Hitachi's DVD Cam recorder along with the negatives.
- DVD-RAM format
Most 12 cm DVD-RAM discs marketed as of Q3 2000 conform to DVDRAM Book 1.0 and their storage per side is 2.6 GB. The DVD Forum settled on a plan for new Book 2.1 standard in 1999, stipulating a 12 cm disc with 4.7 GB storage per side, or an 8 cm disc with the same density and 1.4 GB storage per side. An 8 cm DVD-RAM disc conforming to this Book 2.1 standard is expected as the medium for digital recording because of its compactness and mass storage. It has been adopted by this DVD camcorder, a world first, as a home use DVD camcorder.

Hitachi's DVD camcorder conforms to the DVD video recording standard. The DVD video recording standard refers to the unified standard for video recording using a rewritable DVD disc such as DVD-RAM, stipulated at the DVD Forum in 1999: Functions such as real-time video writing, additional video writing, editing, etc. have been standardized, based on the standard of read-only DVD-Video. Since the DVD-RAM disc used in this DVD camcorder conforms to the newest standards of DVD-RAM Book 2.1 and DVD video recording, it cannot be used with most DVD players and DVD-RAM drives available on the market as of third-quarter 2000. However, some DVD players and some DVD drives to be marketed in the future will comply with playback and reading/writing of discs with these standards.
- 8cm DVD-RAM media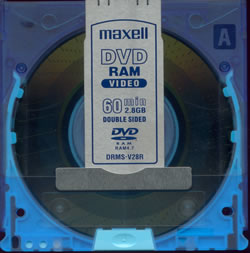 There are two types of DVD-RAM disc: for video camera and for PCs. You can only use 8 cm DVD-RAM discs (1.4 GB on one side, 2.8 GB on both sides) noted for video camera use (for AV) with Hitachi's DVD camcorder. Most discs for video camera use (for AV) can be removed from their cartridges for recording. Some discs for PC, however, cannot be removed from their cartridges, and some can be removed but recording cannot be made on them. The real capacity of 8cm DVD-RAM media is 1.3GB and not 1.4GB due to different calculations of the DVD manufacturers (1Kb=1000bytes and not 1024bytes).
- Recording modes
The 2 recording modes (FINE, STND) are referring to the resolution of the recording video. The FINE mode is actually the true MPEG2 format. Hitachi's implementation of the Mpeg2 is 704x480 (NTSC) with 4:3 aspect ratio. The DVD movies have a 720x480 (NTSC) resolution. Hitachi says that "...We remove the extra 16 lines because it's a title layer (black outlines around the video). Because of this, we are able to save more information on the disc...".

The STND mode is 352x480 (also DVD compliant) but with a 3Mpbs bitrate. Since the resolution is half, the final quality is just over VHS. The camera uses CBR (constant bit-rate) Mpeg2 encoding technology. The audio is recorded at Mpeg 1 Layer 2 format (48 KHz 224 Kbps).
The minimum recording time is approx. 3 seconds of video and the minimum editing increment is approx. 0.5-second segment of video. The camera at the movie mode uses approx. 720,000 CCD pixels while at the still photo mode uses approx. 1,000,000 CCD pixels.
The number of recordable stills on DVD-RAM disc is up to 999 stills per side (when recording only stills). If free space of disc remains after 999 stills are recorded, recording of movie will still be possible. Thumbnails can be created for up to 999 scenes. Although recording of over 999 scenes is possible, new thumbnails cannot be created.
Hitachi's DVD camcorder can use only DVD-RAM discs for AV, formatted in accordance to the UDF 2.01 file system. No recording can be made on an unformatted disc or a disc formatted with another UDF file system. The UDF 2.01 file system makes the written media incompatible with Win2k/XP so a UDF 2.01 system driver must be installed. The included CD contains VOB's InstandRead UDF package.