Hitachi DZ-MV100A DVD Camcorder
2. Features
Hitachi DZ-MV100A DVD-RAM Camrecorder - Page 2
- Main features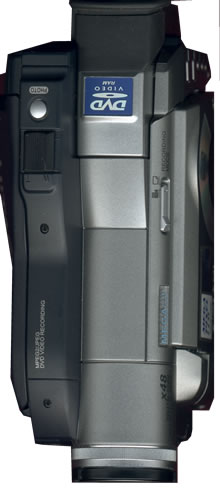 * Hitachi's DVD camcorder uses 8cm DVD-RAM dual side disc, in order to store video and audio. The 8cm DVD-RAM media can hold up to 2.8GB data, when using both sides. The main advantage of such an implementation is being able to record without overwriting previous recordings. Also since the DVD-RAM format has defect management system, your recordings would be safe for a long time. With the DVD-RAM disc you can immediately access both record and playback. Most other DV cameras use videotapes that must be fast forwarded and rewound. Lastly, after recording you can see your recorded movies by simply loading the disc in a PC, equipped with a DVD-RAM compatible drive.
* You can record both movies of events and sports and also record stills as with a digital still camera. The included 1,100,000 pixel CCD, can record movies up to 704x568 and still images up to 1280x960 pixels. You can zoom up to 48x times (12x optical multiplied by a 4-times digital zoom). Movies and stills can be recorded on the same disc, by simply switching the recording mode.
* You can preview the movie or stills recorded either in the viewfinder or on the LCD screen.
* Easy editing/playback tool. Disc Navigation allows you to easily attach a title or special video effect to the recorded movie or still. With Disc Navigation, you can arrange the playback order and edit multiple images to play them back continuously. You can create an entire movie on this DVD camcorder alone, without exporting the video to a PC for editing.
* Easy connection to various sources, (TV, Video printer, PC)
- Specifications
The full specifications of DZ-MV100A showed in the following table:
CCD (number of effective pixels)

1/4-inch interlaced, total number of pixels: approx. 1,100,000 (movie: approx. 720,000: still: approx. 1,000,000)

Lens

F2.0-2.7, f = 3/16"-1-15/16" (4.1-49.2 mm)
Filter diameter: 1-7/16" (37 mm)

Focal length (converted to 35 mm camera)

Movie: approx. 1-3/4"-20-13/16" (44-528 mm)
Still: approx. 1-1/2"-17-15/16" (38-456 mm)

Focus

Auto/Manual

Zoom

Optical 12X, 48X with digital zoom added

Required minimum illumination

8 lx

Viewfinder

0.44-inch color TFT (approx. 180,000 pixels)

LCD monitor

3.5-inch color TFT (approx. 200,000 pixels)

Electronic image stabilizer

Electronic type

Shutter speed

1/60 - 1/4000 second (movie)

Flash

(AUTO/ON/OFF) Still recording only

Recording mode

Movie (with sound)
Still

Maximum recordable time (on both sides of disc)

Movie: approx. 60 minutes (FINE)*
approx. 120 minutes (STND)*

Maximum number of recordable stills
(on both sides of disc)

1998

Recording format

Movie: Conforming to DVD video recording standard (MPEG audio)
Still: Simultaneous recording, conforming to DVD video recording standard and JPEG
(1,280x960 pixels)

Audio playback format

MPEG, Dolby AC3

Recording medium

8 cm DVD-RAM disc (conforming to DVD-RAM Book 2.1)

Jacks

Video/audio input/output x 1, S-video input/output x 1, External microphone input x 1, Digital input/ output terminal (connected to PC USB jack) x 1

Battery system

Lithium-ion

Power consumption

approx. 6.5 W when recording with LCD monitor off

Dimensions

approx. 3-1/16" x 4-1/4" x 6-9/16" (78 x 108 x166 mm) (excluding hood and projections)

Storage temperature

16.8-140 °F (-20-60 °C)

Weight

1.83 lbs (approx. 830 g) (without battery or disc)

Total weight when recording

2.18 lbs (approx. 990 g) (when using DZ-BP16 battery)
In short the camera sports a 1.1MegaPixel CCD (that records up to 704x568-pixel movies and 1280x960-pixel pictures), 12X optical zoom, 3.5" TFT LCD monitor, maximum recording time of 60 minutes of video (30mins per DVD-RAM side), 999 still pictures per side, supports AC3 sound, and its weight without battery is 830gr.
- Package
The DZ-MV100A comes at a rather small box with the following contents: the DVD camcorder itself, an AC adapter/charger (DZ-ACP1), the DC power cable, a power cable, 8cm DVD-RAM media, an infrared remote control (DZ-RM1W), USB v1.1 cable for connection to a PC among with the proper software, a shoulder strap, 2 "AA" batteries, AV input/output cable, Lens cap and lens cap string and 2 Ferrite cores.
There isn't any PC software included to be able to manipulate the written movies. Hitachi uses Panasonic's DVD-Movie AlbumSE software to split, transfer and cut your written movies. This software would be available shortly for all users from Hitachi. If you decide to buy the DZ-MV100A now, you will have to wait until it is officially released.
After unpacking the box, in order to start using the DVD camcorder, you would have to first charge the battery. The AC adapter/charger is actually a docking station for the lithium-ion battery and at the same time an AC adapter for the camera. So you either wait for the battery to be charged or just plug the AC adaptor at the back of the camera and you are ready to go!