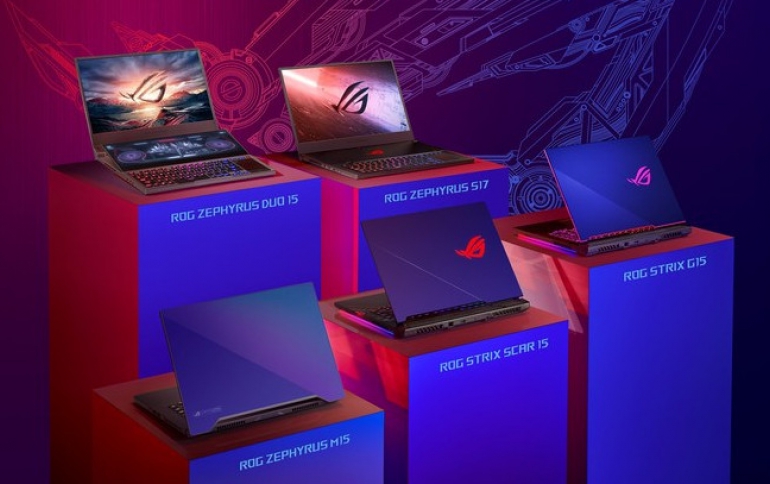 ASUS Republic of Gamers Announces New Gaming Laptop Lineup
ASUS Republic of Gamers (ROG) today announced the top-to-bottom refresh of its gaming laptops with new 10th Generation Intel Core processors.
The ROG Spring 2020 collection is headlined by the Zephyrus Duo 15 and its secondary ROG ScreenPad Plus touchscreen, along with refreshed Zephyrus S, M, and G models. For those seeking esports glory, ROG Strix SCAR laptops are built for top-flight competition with up to RTX 2080 SUPER GPUs and 300 Hz panels, while the bold colors of the ROG Strix G15 Electro Punk laptop and its bundle of matching accessories open new possibilities for personal expression.
Zephyrus Duo 15
The ROG Zephyrus Duo 15 which integrates two displays in an ultraslim gaming laptops.
It doubles down on displays with an Active Aerodynamic System (AAS) Plus design that makes the full-width ROG ScreenPad Plus touchscreen an integral part of the cooling system. As the AAS Plus system tilts the laptop up, the second display also rises for comfortable viewing, while revealing a large air intake for deep airflow.
As the Zephyrus Duo 15 is opened, ROG ScreenPad Plus tilts up at a 13-degree angle for comfortable viewing and touchscreen interaction. A custom hinge staggers the rise of the displays to prevent damage. To prevent the screens making contact as the lid opens, the hinge incorporates curved sliders that delay the deployment of the secondary display.
The 14.1-inch panel in ROG Zephyrus Duo 15 is the largest second display put in a production gaming laptop. The IPS panel stretches wide viewing angles across the full width of the body, and its 3840 x 1100 resolution boasts a high pixel density and flowing lines at a 60 Hz refresh rate.
ScreenPad Plus can be used to turn the primary display into a medium for gaming, streaming, and content creation. Users can get a more expansive view of their game, movie, or other media, while using the secondary screen to keep an eye on emails, social media, and more.
ROG is working with game developers like Techland to optimize AAA games like Dying Light 2, which moves co-op chats to ScreenPad Plus for easy viewing, and adds touchscreen controls for easy switching between inventory items and quests. A collaboration with Overwolf also allows gamers to download apps for games like League of Legends, Fortnite, and CS:GO to see real-time stats, build recommendations, and more — all to amplify the advantages that the multi-screen design offers.
Avid creators can use ScreenPad Plus to keep toolbars, timelines, and reference materials in sight with a more clutter-free workspace on the main screen. The touchscreen also supports the ASUS Pen active stylus.
Companion functions optimized for ScreenPad Plus also speed up day-to-day work and play. The Task Group feature lets users take snapshots of app arrangements across both screens, and then open those apps instantly with a tap of its associated icon. ROG Armoury Crate has a built-in resource monitor that allows users to track vital stats like CPU and GPU frequencies at a glance.
For the Zephyrus Duo 15, users can choose between an ultrafast 300 Hz / 3 ms gaming panel or a high-resolution 4K UHD display. Both of these displays are factory calibrated and PANTONE Validated to guarantee color accuracy, but this particular panel also covers 100% of the Adobe RGB color space.
Both primary display options also use NVIDIA G-SYNC technology.
A GPU switch exclusive to ROG lets users toggle between G-SYNC and Optimus modes depending on whether they want smoother gaming or longer battery life.
A top-tier display requires a top-tier GPU to keep up. The new NVIDIA GeForce RTX 2080 SUPER GPU can hit peak clock speeds as high as 1330 MHz in Turbo mode.
Up to an 8-core 10th Generation Intel Core i9 CPU hits speeds as high as 5.3 GHz on a single core, and can engage up to 16 parallel threads with Hyper-Threading technology to power through heavy duty tasks.
With up to 48 GB of combined onboard and SO-DIMM memory, Zephyrus Duo 15 is ready for multitasking mastery across multiple displays. Its DDR4-3200 RAM outpaces the old 2666 MHz standard, improving system speed and responsiveness.
Two nimble NVM Express PCI x4 SSDs run in RAID 0 to provide plenty of high-speed storage. The dual-drive array makes the whole system feel more responsive, with lightning load times and quick access to data. With up to 2 TB of capacity, gamers and creators can take their entire game library and professional portfolio wherever they go.
Beyond the hardware inside, USB Type-C (USB-C) with Thunderbolt 3 offers versatile connectivity for a wide range of powerful accompaniments.
To keep hands away from the warmest parts of the machine and create more space for ScreenPad Plus, the keyboard of the Zephyrus Duo 15 is shifted forward. The design lets wrists sit on the table, like with a desktop keyboard, and there's a detachable palm rest to improve user comfort.
A handful of keyboard enhancements upgrade the input area below the touchscreen. The separated groups of function keys are easier to intuitively identify. Dedicated hotkeys put volume and microphone mute within easy reach. ROG Overstroke technology lifts the actuation point of the underlying switches for a more responsive experience. And multi-key inputs are more accurate thanks to n-key rollover that registers every press precisely. The touchpad tucked neatly to the right of the keys lights up a digital numeric keypad with the press of a button.
The Zephyrus Duo 15 squeezes power and premium features into a slim body that's just 20.9 mm thin and weighs only 2.4 kg (approx. 5.3 lbs). The magnesium-aluminide chassis is resilient, with clean lines, all-metal construction, and an anodized finish that imparts a professional feel.
It's easier to stay productive anywhere with Zephyrus Duo 15's high-capacity 90 Wh battery. The laptop can also charge via USB Power Delivery, so users can take care of lighter work with a 65 W USB-C adapter that's much smaller than the standard unit required for full performance. If the battery runs low and there's no free socket available, users can buy time by charging from a compatible USB power pack.
The USB 3.2 Gen 2 port with Thunderbolt 3 supports Power Delivery and DisplayPort 1.4, and can be used to connect a G-SYNC desktop monitor. There's also an HDMI 2.0b output capable of driving a 60 Hz signal for 4K UHD monitors and TVs. Three Type-A USB ports accommodate additional peripherals, including a mouse, gamepad, and VR tracking.
Two audio jacks make it easier to connect a standalone microphone and headset for streaming or voice chat, and a premium ESS Sabre DAC elevates the experience for gamers with high-end headphones. The hi-fi DAC reduces noise and distortion, enabling clearer audio with wider dynamic range. Combined with virtual 7.1-channel surround sound, spatial immersion in games and virtual reality is deeper. Hi-Res Audio certification guarantees fidelity for full-quality audio and other media, providing rich and detailed sound.
ASUS ROG Zephyrus Duo 15 will be available in North America starting from late Q2 2020.
Processor

Intel 10th Gen Comet Lake i9-10980HK

Intel 10th Gen Comet Lake i7-10875H

Graphics

NVIDIA GeForce RTX 2080 SUPER, 8 GB GDDR6 VRAM

NVIDIA GeForce RTX 2070 SUPER, 8 GB GDDR6 VRAM

Operating system

Windows 10 Home

Windows 10 Pro

Display

Main Screen: 15.6-inch PANTONE Validated, supports Microsoft Hybrid Graphics / G-SYNC switching

- 4K UHD IPS 60 Hz Adobe 100%, non-touchscreen

- FHD IPS 300 Hz sRGB 100% 3 ms, non-touchscreen


ScreenPad Plus: 14.09-inch

- UHD (3840 x 1100) IPS 60 Hz NTSC 72%, touchscreen

Memory

16 GB DDR4 3200 MHz onboard, plus 1 x SODIMM slot up to 32 GB (supports up to 48 GB total)

Storage

2 x M.2 SSD slot (NVMe PCIe), PCIe 3.0 x4 512 GB / 1 TB, supports RAID 0

Keyboard

Backlit chiclet keyboard, supports n-key, per-key with 1.4 mm key travel

Audio

2 x speakers, ESS + Hi-Res Audio (HRA) certification, supports smart amplifier, Nahimic Sonic Studio + ISST

Microsoft Cortana (far-field mic array)

Wi-Fi / Bluetooth

2x2 multi-antenna WiFi 6 (802.11ax)

Bluetooth 5.0

I/O Ports

1 x USB 3.2 Gen 2 Type-C, DisplayPort 1.4, TBT, PD input 20 V/3A;output 5 V/3A

2 x USB 3.2 Gen 1 Type-A (right)

1 x USB 3.2 Gen 2 Type-A (Bottom)

1 x HDMI (HDMI 2.0b support)

2 x audio jack: mic-in & headphone, plus mic-in

1 x RJ45 LAN

Battery

90 Wh

Power Supply

240 W power adaptor

Supports USB-C Power Delivery 3.0 up to 65 W

Size

36 x 26.8 x 2.1 cm (approx. 14.2 x 10.6 x 0.8 in)

Weight

2.4 kg (approx. 5.3 lbs)
ROG Zephyrus S17
The new Zephyrus S17 offers a 17.3-inch display with super-narrow bezels in a 18.7-millimeter-thin chassis. With a 300 Hz refresh rate and 3 ms grey-to-grey response time, the screen is a speed demon that can be paired with up to a RTX 2080 SUPER GPU and 10th Gen Intel Core i7 CPU. It shares GPU Switch benefits with the Zephyrus Duo 15 and S15 models, as well as PANTONE Validated color accuracy making it ideal for creative work and gaming alike.
Zephyrus S17's chassis gave ROG engineers room to include a few premium extras, including a full desktop-style keyboard with per-key RGB LED backlighting, NumberPad — a combination touchpad and numeric keypad — and an integrated volume roller complete with backlight brightness. System thermals benefit from a unique AAS cooling solution that opens a large intake vent beneath the system when the lid is raised.
ROG Zephyrus S15
The new Zephyrus S15 was tailor-made to provide serious gamers the specs they need in a package that won't weigh them down. The compact, 18.9-millimeter-thin chassis includes top-end S17-level components, with configurations maxing out at a RTX 2080 SUPER GPU paired with a 300 Hz / 3 ms display.
Honeycomb reinforcements under the palm rest keep the S15 sturdy and resistant to flex, with soft-touch paint adding a smooth, fingerprint-resistant finish. Inside, dual M.2 SSDs can be configured in a fast RAID 0 array. GPU Switch technology makes an appearance here as well, allowing users to toggle between G-SYNC mode for smooth gaming and Optimus mode for extended battery life.
With its slim chassis, Thunderbolt 3 connectivity, and comfortable 15-inch size, Zephyrus S15 makes the dream of ultraportable gaming a reality.
ROG Zephyrus M15
The ROG Zephyrus M15 offers a range of configurations that make it an easy choice for a wide audience, beginning with the eight cores and 16 threads of a 10th Gen Intel Core i7 processor. Display options including 240 Hz and 144 Hz FHD panels and a 4K UHD panel let users pick the screen that best fits their needs, while GPU options range from the affordable yet capable GeForce GTX 1660 Ti up to the RTX 2070 GPU.
An ESS Sabre DAC drives a powerful audio signal, and with two M.2 slots, it packs the storage capacity to fit creative work alongside a loaded gaming library. The Zephyrus M15 offers a complete connectivity payload, including Thunderbolt 3, dual display outputs, and enough USB ports to connect a mouse, gamepad, and external storage.
ROG Strix SCAR 15/17
From the aluminum skin on the lid to the raised ridges that accent the ventilated 3D flow zone at the rear, ROG Strix laptops are gaming machines that shine in the spotlight of esports arenas.
ROG Strix SCAR 17 delivers gaming power built around a 300 Hz IPS-level panel. With an Intel processor up to the latest eight-core Core i9-10980-HK, up to 32 GB of 3200 MHz DDR4 RAM, and up to the e RTX 2080 SUPER GPU, the Strix SCAR 17 is prepped for performance.
Those who prefer their competition-dominating hardware to be a bit more portable need look no further than ROG Strix SCAR 15. Its 15.6-inch display offers the same tournament-grade 300 Hz refresh rate with Strix SCAR look. It is powered by an Intel CPU up to a 10th Gen Core i9-10980-HK and up to the RTX 2070 SUPER GPU.
The SCAR series also features customizable RGB LED lighting effects, including a wraparound light bar, keyboard backlighting, and illuminated RGB logo on the laptop's lid, as well as the stand-out ROG Keystone II, an NFC-enabled device that docks into the side of the chassis.
ROG Strix G15/17
ROG Strix G15 and G17 are powered by 10th Gen Intel processors up to a Core i7. GPU options run up to the RTX 2070 SUPER GPU and drive high-refresh-rate displays built for today's most popular esports titles. Strix G17 and Strix G15 have 144 Hz displays as standard, but both are also available with an even faster 240 Hz panel.
Both models will be available in Glacier Blue and Original Black.
Each Electro Punk Strix G15 will include a 35 x 17-inch Electro Punk mouse pad large enough to cushion a full complement of gear. Certain regions will feature bundles of coordinating peripherals that includes the laptop and pad plus a ROG Strix Go Core Electro Punk Headset, ROG Impact II gaming mouse, and a ROG Ranger backpack, all of which sport the head-turning Electro Punk color scheme. It's the complete PC gaming experience in one package.
The ASUS ROG Spring 2020 collection of gaming laptops and peripherals will be available in North America starting from Q2 2020.