ASUS ZenFone 4 Family Released in North America
The ASUS ZenFone 4 family has been released in North America, equipped with dual-camera systems: Meet the ZenFone 4 Pro, ZenFone 4, and ZenFone 4 Max.
ZenFone 4 Pro: 10X zoom, 8X light sensitivity, 6GB RAM
The 5.5" ZenFone 4 Pro features a dual-camera system. Its main camera is equipped with the Sony IMX362 image sensor with a large 1/2.55-inch size, 1.4µm pixels and a wide, f/1.7-aperture lens. The dual-camera system on the ZenFone 4 Pro also has a 16MP camera with a 2X optical zoom and a 10X total zoom. The ASUS SuperPixel Engine increases captured light by up to 8X, and optical image stabilization (OIS) enables blur-free handheld exposures of up to 1/4 seconds.
The ZenFone 4 Pro is built on the Qualcomm Snapdragon 835 Mobile Platform featuring the Qualcomm Spectra 180 ISP and the Qualcomm Adreno 540 GPU. The ZenFone 4 Pro also features an integrated Snapdragon X16 LTE modem for connectivity up to 600Mbps as well as multi-gigabit 2x2 802.11ac Wi-Fi with MU-MIMO. Moreover, the built-in portable Wi-Fi hotspot lets users share LTE connectivity with other mobile devices such as laptops.
Built-in NFC enables mobile payments with Android Pay, and a front-mounted live fingerprint reader offers security and fast phone unlocking in just 0.3 seconds. To help prevent unauthorized use, the ZenFone 4 Pro has an extra-secure live fingerprint sensor. A capacitive sensor detects fingerprint details in the usual way, but there's an additional infrared optical sensor that detects blood flow under the skin. The ZenFone 4 Pro is available in Pure Black.
ZenFone 4: Dual cameras, 120° landscape photos
The 5.5" ZenFone 4's dual-camera system features a main camera with the Sony IMX362 image sensor and a f/1.8 aperture lens, as well as a 120° wide-angle lens.
The smartphone is powered by the Snapdragon 630 Mobile Platform and a high-capacity 3300mAh lithium-polymer battery. ASUS BoostMaster fast-charge technology means less charging and more moving. The ZenFone 4 also features 4GB of RAM and the Adreno 508 GPU. The device also features a quick 0.3 seconds fingerprint sensor and NFC, and is available in both Midnight Black and Moonlight White.
ZenFone 4 Max 5.5" and 5.2"
The ZenFone 4 Max smartphones are designed to be all-day photography companions, featuring a dual-rear-camera system with a 13MP main camera and a 120° wide-view camera. The ZenFone 4 Max comes in two different sizes. The ZenFone 4 Max (ZC554KL) features a 5.5-inch display and a 5000mAh battery with ASUS PowerMaster technology for a 46 days of 4G standby time. The ZenFone 4 Max (ZC520KL) features a 5.2-inch display with a fast-charging 4100mAh battery for up to 37 days 4G standby. With its massive battery power, the ZenFone 4 Max smartphones can double as a power bank to charge other devices, supplying 5V at 1A to attached devices when using a USB On-The-Go (OTG) cable. While charging other devices, the ZenFone 4 Max monitors its own charge level and will not allow the battery to drain below 30% capacity.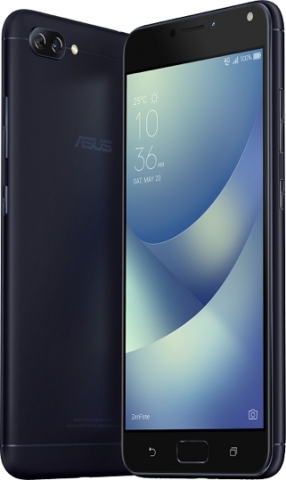 The ZenFone 4 Max smartphones run on the Qualcomm Snapdragon 430 and 425 Mobile Platforms, featuring the Qualcomm Adreno 505 and 308 graphics processors, respectively. They also support 4G LTE Category 4 for mobile download speeds up to 150Mbps.
 
ZenFone 4 Pro
ZenFone 4
Colors
Pure Black

Midnight Black

Moonlight White

Design

Front 2.5D curved glass display

Front and rear Corning Gorilla Glass

2.1mm slim bezel

172g weight

156.9 x 75.6 x 7.6mm

Live fingerprint sensor

Front 2.5D curved glass display

Front and rear Corning Gorilla Glass

2.1mm slim bezel

155g weight

75.24 x 155.36 x 7.7mm

Front fingerprint sensor

Display

5.5" FHD 1920 x 1080 AMOLED display

500cd/m2 brightness for outdoor readability

Capacitive touch panel with 10-point multi-touch (supports glove touch)

Blue-light filter for eye care

5.5" FHD 1920 x 1080 Super IPS+ display

600 cd/m2 brightness for outdoor readability

Capacitive touch panel with 10-point multi-touch (supports glove touch)

Blue-light filter for eye care

CPU
Qualcomm Snapdragon 835 Mobile Platform with 10nm, 64-bit processor
Qualcomm Snapdragon 630 Mobile Platform with 14nm, 64-bit processor
GPU
Qualcomm Adreno 540
Qualcomm Adreno 508
RAM/ROM
6GB RAM / 64GB ROM
4GB RAM / 64GB ROM
Main rear camera

12MP Sony IMX362 image sensor

1/2.55" sensor size, 1.4μm pixel size

f/1.7 aperture lens

83° field of view

25mm focal length

World's fastest 0.03s Dual Pixel PDAF (100% pixel used for focusing)

4-axis, 4-stop optical image stabilization for steady photos

Color correction (RGB) sensor

LED Flash

Laser and continuous focus

PixelMaster camera modes: Auto mode with low light and HDR / Pro / Super Resolution (48MP) / Beauty / GIF Animation / Panorama / Slow Motion / Time Lapse with Power Saving Mode / 9 various filters

12MP Sony IMX362 image sensor

1/2.55" sensor size, 1.4μm pixel size

f/1.8 aperture lens

83° field of view

25mm focal length

World's fastest 0.03s Dual Pixel PDAF (100% pixel used for focusing)

4-axis, 4 stop optical image stabilization for steady photos

Color correction (RGB) sensor

LED Flash

Instant camera switching

PixelMaster camera modes: Auto mode with low light and HDR / Pro / Super Resolution (48MP) / Beauty / GIF Animation / Panorama / Slow Motion / Time Lapse with Power Saving Mode / 9 various filters

Second rear camera

16MP Sony IMX351 image sensor

2X optical zoom

10X total zoom

50mm focal length

8MP 120° wide-angle camera with 200% wider view
Front camera

8MP Sony IMX319 image sensor

F1.9 aperture

87.4° field of view

1.4μm pixel size

8MP

F2.0 aperture

84° field of view

24mm focal length

Video recording

4K UHD at 30 fps video recording

3-axis electronic image stabilization for selfie and rear camera shake-free videos

Still image capture during video recording

4K UHD at 30 fps video recording

3-axis electronic image stabilization for rear camera's shake-free videos

Still image capture during video recording

Wireless technology

LTE Category 12

802.11a/b/g/n/ac/ad Wi-Fi

Bluetooth 5.0

Wi-Fi direct

NFC

LTE Category 12

802.11a/b/g/n/ac Wi-Fi

Bluetooth 5.0

Wi-Fi direct

NFC

Connectivity

USB-C 2.0

Front live fingerprint sensor, 0.3 seconds fingerprint unlock, support 5 fingers 360° recognition

USB-C 2.0

Front fingerprint sensor, 0.3 seconds fingerprint unlock, support 5 fingers 360° recognition

SIM cards

Hybrid slot: Dual SIMs and one MicroSD card

Slot 1: 2G/3G/4G nano-SIM card

Slot 2: 2G/3G/4G nano-SIM card or MicroSD card

Hybrid slot: Dual SIMs and one MicroSD card

Slot 1: 2G/3G/4G nano-SIM card

Slot 2: 2G/3G/4G nano-SIM card or MicroSD card

Navigation
GPS, A-GPS, GLONASS, BDSS, GAL
GPS, A-GPS, GLONASS, BDSS, GAL
Operating system
Android N with new ASUS ZenUI 4.0
Android N with new ASUS ZenUI 4.0
Battery
3600mAh capacity
3300mAh capacity
Audio

Dual speakers

Triple internal mics with ASUS noise reduction technology

FM radio

Audio CODEC

Hi-Res Audio 192kHz/24-bit standard that is 4 times better than CD quality

DTS (Digital Theater System)

Headphone:X 7.1 virtual surround sound for headphone support

Dual speakers

Audio CODEC integrated into PMIC

Hi-Res Audio 192kHz/24-bit standard that is 4 times better than CD quality

DTS (Digital Theater System)

Headphone:X 7.1 virtual surround sound for headphone support

Dual internal mics with ASUS noise reduction technology
 
ZenFone 4 Max (ZC554KL)
ZenFone 4 Max (ZC520KL)
Colors
Deepsea Black
Deepsea Black
Design

2.5D-contoured glass display

Premium metal body and multiple color selections

181g weight

154 x 76.9 x 8.9mm

2.5D-contoured glass display

Premium metallic finished design and multiple color selections

156g weight

150.5 x 73.3 x 8.73 mm

Display

5.5" HD IPS (720 x 1280) display

Capacitive touch panel with 10 points multi-touch

Blue-light filter for eye care

5.2" HD IPS (720 x 1280) display

Capacitive touch panel with 10 points multi-touch Blue-light filter for eye care

CPU
Qualcomm Snapdragon 430 Mobile Platform with 64-bit Octa-core Processor
Qualcomm Snapdragon 425 Mobile Platform with 64-bit Quad-core Processor
GPU
Qualcomm Adreno 505
Qualcomm Adreno308
RAM/ROM
3GB RAM / 32GB ROM
2GB RAM / 16GB ROM
Main rear cameras

13MP

f/2.0 aperture

25mm equivalent focal length in 35mm film camera

80° field of view

LED flash

Instant cameras switching

Phase detection auto-focus

PixelMaster camera mode:
Auto (with low light and HDR features) / Pro / Beauty / 52MP Super Resolution / GIF animation / Time Lapse (with power saving) / 9 various filters

13MP

f/2.0 aperture

25mm equivalent focal length in 35mm film camera

80° field of view

LED flash

Instant cameras switching

Phase detection auto-focus

PixelMaster camera mode:
Auto (with low light and HDR features) / Pro / Beauty / 52MP Super Resolution / GIF animation / Time Lapse (with power saving) / 9 various filters

Second rear

camera

120° wide-angle camera

200% wider view for more friends and scenery in the frame

17.9mm equivalent focal length in 35mm film camera

120° wide-angle camera

200% wider view for more friends and scenery in the frame

17.9mm equivalent focal length in 35mm film camera

Video recording

1080p FHD video recording at 30 fps

Take still photo while recording video

Electronic image stabilization for shake-free videos

120˚ wide angle video

1080p FHD video recording at 30 fps

Take still photo while recording video

Electronic image stabilization for shake-free videos

120˚ wide angle video

Front camera

8MP

24mm equivalent focal length in 35mm film camera

85° field of view

Softlight LED flash

Auto with HDR features, Beauty, Selfie Panorama, GIF Animation modes

8MP

24mm equivalent focal length in 35mm film camera

85° field of view

Softlight LED flash

Auto with HDR features, Beauty, and Selfie Panorama modes

Wireless technology

Integrated 802.11b/g/n 2.4Ghz; Wi-Fi Direct

4G LTE Cat 4 150/50Mbps (download/upload)

Integrated 802.11b/g/n 2.4Ghz; Wi-Fi Direct

4G LTE Cat 4 150/50Mbps (download/upload)

Connectivity

Bluetooth 4.1

Micro-USB 2.0 (supports OTG)

0.3s ultrafast fingerprint unlock, five-finger, 360° recognition

Bluetooth 4.1

Micro-USB 2.0 (supports OTG)

0.3s ultrafast fingerprint unlock, five-finger, 360° recognition

SIM cards
Triple Slots: 2 x SIM & 1 x MicroSD card
Slot 1: Nano SIM (2G / 3G / 4G)
Slot 2: Nano SIM (2G / 3G / 4G)

Both SIM card slots support 3G WCDMA / 4G LTE network band. But only one SIM card can connect to 4G LTE service at a time.
Slot3: micro SD card supports up to 256GB

Triple Slots: 2 x SIM & 1 x MicroSD card
Slot 1: Nano SIM (2G / 3G / 4G)
Slot 2: Nano SIM (2G / 3G / 4G)

Both SIM card slots support 3G WCDMA / 4G LTE network band. But only one SIM card can connect to 4G LTE service at a time.
Slot3: micro SD card supports up to 256GB

Navigation
GPS, AGPS, GLO, BDS
GPS, AGPS, GLO
Operating system

Android N with ASUS ZenUI, featuring:

Animated weather / Depth of field effect /
Mobile manager / Game Genie / Theme store / ZenMotion / ZenUI FAQ / 360 picture & video viewing / PowerMaster

Android N with ASUS ZenUI, featuring:

Animated weather / Depth of field effect /
Mobile manager / Game Genie / Theme store / ZenMotion / ZenUI FAQ / 360 picture & video viewing / PowerMaster

Battery

5000mAh capacity with fast charging

2X faster reverse charging (1A)

Up to 46 days 4G standby

Up to 40 hours 3G talk time

Up to 22 hours video playback

Up to 26 hours Wi-Fi web browsing

ASUS PowerMaster Technology:

Power bank mode for 2X-faster reverse charging

10% battery provides 91 hours standby

2X-longer battery lifespan

4100mAh capacity with fast charging

2X faster reverse charging (1A)

Up to 37 days 4G standby

Up to 31 hours 3G talk time

Up to 101 hours Music playback

Up to 21 hours Wi-Fi web browsing

ASUS PowerMaster Technology:

Power bank mode for 2X-faster reverse charging

10% battery provides 88 hours standby

2X-longer battery lifespan

Audio

Loudspeaker with PMIC internal amplifier

2 x internal microphones with ASUS Noise Reduction Technology

Loudspeaker with PMIC internal amplifier

2 x internal microphones with ASUS Noise Reduction Technology