Apple's Smartphone Share in China Grows by 40 Percent After Continuous Declines
Chinese smartphone shipments in China registered another quarter of decline as the market contracted 5% in Q3 2017 to 119 million units. While Huawei keeps its leading position, Apple's declining streak has come to an end.
The race to the top remains tight as Huawei, Oppo and Vivo took 19%, 18% and 17% market share respectively, according to data released by Canalys. Huawei grew shipments by 23%, shipping over 22 million units to take the lead, while Oppo declined slightly (compared to the stellar performance a year ago) shipping 21 million units. Vivo, with a 26% growth was the most impressive performer in the top 3, shipping over 20 million units. Xiaomi and Apple round up the top 5 this quarter.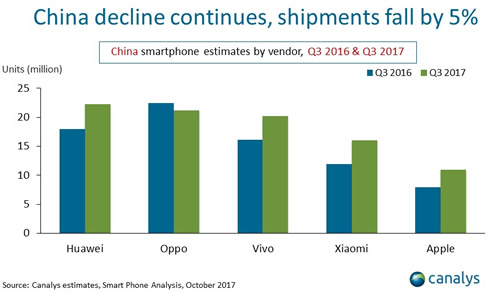 Apple's declining streak in China has come to an end, as shipments grew 40% from 8 million in Q3 2016 to about 11 million this quarter, Canalys says. This makes it Apple's best performance in China in the last eight quarters, where its growth has slowed considerably since the launch of the iPhone 6S. The mix of the iPhone 8 series at launch is also higher than the corresponding mix of the iPhone 7 series at launch last year. However, despite launching three new devices this year, Apple's success in China could be short-lived.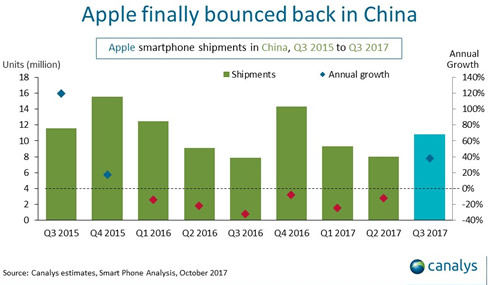 "Apple's growth this quarter is only temporary. The high sell-in caters to the pent-up demand of iPhone upgraders in the absence of the iPhone X. Price cuts on earlier models after announcing the iPhone 8 have also helped. However, Apple is unlikely to sustain this growth in Q4," said Canalys Research Analyst Mo Jia.
Despite being touted as widely expensive, excitement for the launch of the iPhone X is building in China. "While the iPhone X launches this week, its pricing structure and supply are inhibiting. The iPhone X will enjoy a healthy grey market status, but its popularity is unlikely to help Apple in the short term." added Jia.
According to a report from South China Morning Post, it seems rhat the iPhone 8 and 8 Plus aren't doing too well in China, with local e-commerce sites are offering discounts on the iPhone 8 and 8 Plus in hopes of spurring sales. The cheapest 64GB iPhone 8 model, which is priced at 5,888 yuan (about $885) on Apple's official site in China, will cost 4,788 yuan (about $720) after the discount on Suning.com, putting it at nearly 20 percent lower than Apple's official price.
This development by Chinese e-commerce platforms comes after a lack of crowd was observed at the iPhone 8 and 8 Plus launch event across China last month.
A senior analyst in China told SCMP discounts like that are unprecedented, suggesting the iPhone 8 could be the "most poorly sold flagship iPhone model" in the mainland.