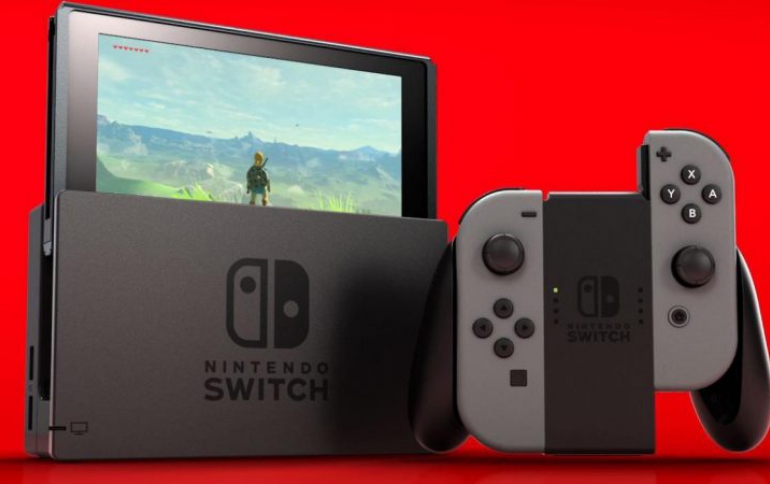 Robust Switch Demand Boost Nintendo's Profit
Nintendo's Switch console is proved to be is becoming a major pillar of ithe company's business.
The Japanese company almost doubled its annual profit forecast after production of the hybrid console accelerated and customers bought more games than anticipated.
Nintendo ramped up capacity to make more of the Switch, which was in short supply since debuting in March. The company now predicts it will sell 14 million Switch units in the period, up from 10 million. Software title sales will be 50 million, up from 35 million, it said.
Nintendo raised its operating profit outlook to 120 billion yen ($1.1 billion) from 65 billion yen for the current fiscal year through March. Revenue is now forecast at 960 billion yen, up from 750 billion yen.
Nintendo sold 2.9 million Switch consoles during the quarter and 13.9 million software titles, a faster pace than the prior period.
Splatoon 2, the shooting game that went on sale July 21, was a standout hit during the latest quarter with 3.61 million units sold. The game is expected to play a major role when Nintendo begins charging for its online network service from 2018.
Mario Kart 8 Deluxe and ARMS also both sold well after their releases in April and June, respectively.
The portable 3DS business appears to be approaching the end of its product cycle. Sales of the Nintendo 3DS family were given an increase with the global release of New Nintendo 2DS XL in June and July. Hardware sales came in at 2.86 million units (5% increase on a year-on-year basis). Nintendo sold just 13.82 million titles during the last six months, a 28% decrease on a year-on-year basis. This month, Pokemon developer Game Freak said upcoming titles Ultra Moon and Ultra Sun will be the last Pokemon games for the 3DS console.
In addition, Super Nintendo Entertainment System: Super NES Classic Edition was off to a good start following its September launch (launched on October 5 in Japan). Nintendo also made moves to expand its amiibo line, by launching the new Splatoon series amiibo. The amiibo sales were approximately 5.10 million units for figure-type and approximately 2.80 million units for card-type. Download sales were increased in particular by Nintendo Switch software, pushing total download sales up to 22.8 billion yen (55% increase on a year-on-year basis).
Revenue for Nintendo's smartphone business, was 8.8 billion yen, down from 9.1 billion yen in the prior quarter. Income attributed primarily to Pokemon Go was 3.1 billion yen, down from 3.3 billion yen in the previous period. The decline occurred despite Pokemon Go developer Niantic Inc. introducing new features for the app and holding battling events throughout the world.
For Nintendo Switch, Nintendo plans to release Super Mario Odyssey in October both in Japan and overseas. Xenoblade Chronicles 2 is coming in December, along with other big titles in the months ahead, including titles from other software publishers.
For Nintendo 3DS, the company will be launching new colors and special designs for New Nintendo 2DS XL, and also has new software titles slated for release, including Pokemon Ultra Sun and Pokemon Ultra Moon scheduled for launch in November both in Japan and overseas.