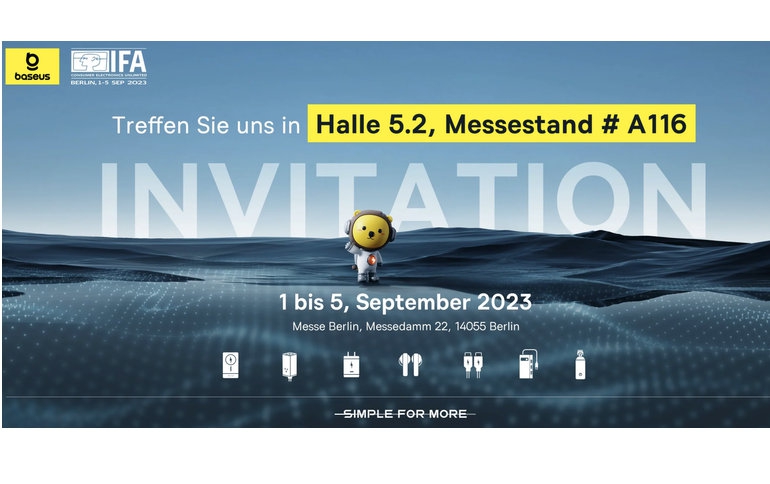 Baseus 2023 Fall Product Launch in Berlin
Baseus, the leading consumer electronics brand, unveils state-of-the-art electronic devices, including a 240W super powerful digital power strip, an exclusive pair of versatile sport earbuds, and the world-first EV car charger powered by Gallium Nitride GaN technology.
Date: 2:45 PM CET on August 31, 2023
Location: Hotel Adlon Kempinski Berlin
Address: Unter den Linden 77 - 10117 Berlin - Germany
Leading in Smart Charging
Baseus 240W Desktop Fast Charger is a super powerful hybrid unit with 1 AC outlet, 3 USB-C, and 1 USB-A port. It is primarily designed to sit on a desktop to power an entire ecosystem, including a laptop, monitor, lamp, speaker, wireless charger, and most desktop electronics.
It supports PD3.1 and all the major fast charging protocols and has a display showing real-time charging status to know whether fast charging undergoes.
The Audio-Savvy of Young
Baseus Eli Sport 1 Series Earbuds are open-ear air conduction wearables that hang on ears without ear tips going into the ear canal, providing a comfortable fit. It features a 16.2mm large composite diaphragm producing an amazing sound quality, a deep bass boost algorithm, two lanyards for daily use, and a workout routine. It is also rated IPX4, which is sweat-resistant for exercise.
Pioneering Green GaN EV Charger
Baseus Nebula Series Green GaN EV Charger is the premiere charger for electric vehicles built with eco-friendliness in mind, superpowered by optimized Gallium Nitride (GaN) technology. It reduces standby power consumption and enhances heat dissipation. Charging status and schedule are all viewable in the Baseus App, and charging can be initiated remotely without any wireless connection required. For protection, it features 11 safety protections, a smart auto power-off protection, and is IP55 dustproof and water splash resistant.
For more details, please review the comprehensive document for this launch event on Google Drive: https://drive.google.com/drive/u/0/folders/1zon750S9XkyTU02Gyzt552x4iiYV...