3. Page 3
THE FIRST JUDICIAL VICTORY
Nineteen states along with the Department f Justice of the United States have initiated proceedings against Microsoft on the grounds of the company's violating a number of clauses involved in the merchant law and especially the anti-monopoly one. Yet, the initial magisterial decision issued by the Supreme Court of the State of Connecticut brought smiles back on the faces of the company executives. The nine members of the jury looked into the transaction between a small-scale local company and Microsoft. After a 13-hour sitting the Microsoft was found guilty for violating the anti-monopoly law, however the fine assessed against it was one dollar!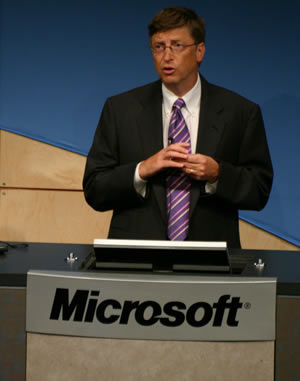 The Microsoft announced that the ruling issued by the court constituted a profound victory that had to be shared by the software industry as a whole and a defeat to all those who believe that striking any kind of blows against a big, successful company is a fashionable commodity.
The victory gained by the Microsoft became cause for joy in Wall Street too, where investors are looking forward to any development coming from the numerous litigations, which the company has been involved in. The value of its share has risen to $ 5.06 making thus Microsoft the first company whose assets exceed the 500 billion dollar limit.
SUCCESS BRINGS FORTH HATRED
The stunning success achieved by the Microsoft and its main shareholder, Bill Gates, has triggered off envy, animosity and malice. Two hundred ninety-nine hate-sites have sheltered themselves in the Net, shooting against the company and its owner. They are fraught with photos, collages, jokes, videos and stories, which are humorous at times, venomous at others, but exceptionally imaginative most of them.