1. Page 1
If, on March 13, 1986, someone had come up with the idea of investing 3,000 dollars in a practically unknown software company called Microsoft, nowadays, that person's investment would sum up to $1,950,000, approximately. It took for Bill Gates' enterprise 20 years to achieve what was carried out by the United States over a period of 185 years: A couple of years ago the exchangeable value for the Microsoft company had reached 507 billion dollars, whereas the United States national budget managed to exceed the half trillion dollar limit just in 1961. Even if there were a person who would be interested in buying it, he would definitely be in no position of doing so, since all American currency throughout the globe cannot but amount up to just 450.6 billion dollar bills.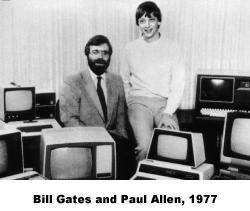 Microsoft is the first enterprise in the world whose stock exchange value has exceeded the half trillion-dollar limit. So, Bill Gates could be called as well in one of the G 8 conventions. There are only eight countries in the world whose economies are bigger than the value attributed to his company. Anyway, failing to invite him to such an event won't be much of a cause for trouble to him. The 43-year old chairman of the company has given a 4.7 billion dollar boost to his personal assets within a year! According to the Washington Post estimations, a 10-hour work schedule per day must have brought in to him 1 million dollars per second a couple of years ago!
After the good news had broken out in one of the anti-monopolistic trials the Microsoft had to stand, its share enjoyed gradual leaps in its price: $5.06 in three days. Its value reached a peak of $99.43 and Gates' assets followed at 100 billion dollars. That was a figure a lot higher than the total amount consisting of the first 55 American billionaires' personal as well as real assets, as recorded in the Forbes register in 1989. An American blue collar paid on the base rate would have to work for 8,593,956 years to catch up with the soaring magnitude of his possessions. This period of time constitutes approximately half the history of mankind.