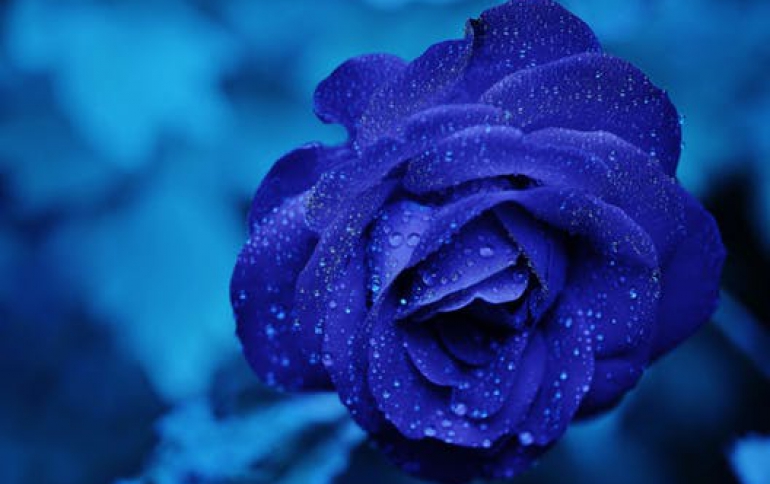 Canon Introduces The DP-V3010 4K Reference Display
Canon introduced the new DP-V3010 4K reference display for digital cinema color-grading and 4K / 2K postproduction and effects monitoring.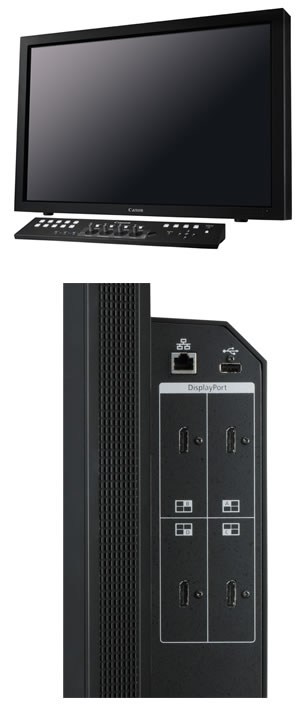 The Canon DP-V3010 4K display measures 30 inches wide diagonally by 7.4 inches deep and provides a 2000:1 DCI-compliant contrast ratio, uniform brightness, very wide viewing angles in all four directions, internal color calibration and additional features. Designed for use in color-grading, digital intermediate (DI), CGI/animation/visual effects (VFX), and editing/finishing suites, as well as digital imaging technician (DIT) workstations on production stages and on-location "video villages," the Canon DP-V3010 4K Reference Display provides full-screen 4096 x 2560 resolution.
The display features a 16:10 aspect ratio for the display of video signal information essential to VFX creation. With a tightly packed "pixel pitch" of 157.5ζm, the Canon DP-V3010 4K Display provides high-accuracy tonal gradations between darkest and brightest areas, with 1024 shades in each color channel. The technology enabling such performance is a new and proprietary display engine developed by Canon that helps maximize color accuracy and brightness uniformity. The actual panel employed by the DP-V3010 4K Display is an IPS (in-plane switching) LCD with full array RGB LED scanning backlight technology that promises excellent color accuracy, and crisp video imagery without the perception of motion blurring between frames. By featuring an IPS LCD panel with polarizing and filtering film layers to prevent changes in color and contrast, the DP-V3010 4K Reference Display enables image viewing within a wide viewing angle, top to bottom and left to right.
The display is compatible with the five major color gamut standards - SMPTE-C, EBU, ITU-R BT.709, DCI, and AdobeRGB - as well as conforming to DCI standards for 4K display. These DCI standards include a 2000:1 contrast ratio.
Also supported by the Canon display is the ASC CDL (American Society of Cinematographers Color Decision List) format. The display controller includes a dedicated CDL button. Color settings made at the shooting location can be stored on a USB flash drive and imported into the user's color-grading system, which can then relay color correction parameters directly to the DP-V3010 4K Display in the ASC CDL format using slope, offset, power, and saturation parameter adjustments to the overall RGB image and/or separately to the individual R, G, and B channels.
The importation of LUT (Look Up Table) data created by third-party color-grading systems is also supported by the DP-V3010 4K Reference Display. The Display allows both 1D and 3D LUTs to be easily imported by operating the menus of the unit itself. This enables accurate color matching between displays and the ability to import customized "looks" created in third-party applications.
Ready to support the wide dynamic range of Canon Log gamma video data recorded by the Canon EOS C500 and EOS C300 Cinema cameras, the Canon DP-V3010 4K Reference Display also comes pre-installed with the Cinema EOS Canon Log viewing LUT allowing those cameras to be integrated with the DP-V3010 4K Display for linear conversion and display in real time. Furthermore, using 1D/3D-LUT data, the display will be able to provide support for ACESproxy output from Canon's EOS C500 digital cinema camera.
To accommodate HD formats, the DP-V3010 Display offers upscaling modes offering smooth and accurate rendering up to 4K resolution of DCI 4K (in up to 12 bit 4:4:4 color), 2K, 1080p, 1080i and 720p. Inputs include 3G-SDI, HD-SDI and DisplayPort connectors for compatibility within many different production, post and VFX workflow environments.
External calibration of the Canon DP-V3010 4K Reference Display can be performed without the need for a dedicated PC application through the use of a third-party spectroradiometer. Use of such an external sensor allows users of the DP-V3010 Display to maintain factory calibration settings as well as help adjustment for specific display applications or account for variations in ambient lighting.
The DP-V3010 Display features an on-screen display that can be controlled using the included display controller. Built-in carrying handles allow the display to be easily transported and positioned on top of a desk or a counter, or attached to a VESA-compliant bracket. The accompanying display controller is designed to be used as both a desktop control device or to be rack-mounted for easy integration into suites, control rooms or mobile vehicle applications, such as HD sports production trucks.
Markers, time code display and test patterns are provided within the Canon DP-V3010 4K Reference Display. A variety of markers (aspect, safety zone, grid, and center) and test patterns (pluge, grayscale [20%], white, five-step, ramp, color bars, and black) are also built into the DP-V3010 Display.
The Canon DP-V3010 4K Reference Display is scheduled to be available in the first quarter of 2014 for a suggested list price of $40,000.