Canon Unveils New Professional Digital Camera
Canon unveiled a new digital camera for professional photographers on Thursday in a bid to hold on to its No. 1 position in the camera industry and spur demand for its wide lineup of advanced lenses. Canon is said to control almost 50 percent of the global market for digital single-lens reflex (DSLR), high-end models with interchangeable lenses, which have higher profit margins and more stable prices than simpler compact models.
"In the past, we refrained from making many changes to our professional models because our customers are so used to using them," Tomonori Iwashita, head of Canon's camera unit, said at a news conference.
"But we made significant revisions to this model, and aim to lift the (quality of) professional cameras to a new level."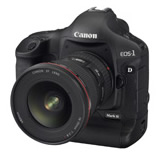 Canon will begin sales of the EOS-1D Mark III from late-May for an expected retail price of about 500,000 yen ($4,132). The device, with 10.1 megapixel resolution, is equipped with two image processors to allow faster processing of high-quality images. The EOS-1D Mark III delivers 10 frames per second at 10.1 Megapixels for a maximum burst of 110 Large JPEG images (30 in RAW).
Canon, which competes with firms such as Sony and Nikon in the camera business, has said it aims for more than a 45 percent share in Japan's DSLR market, and also secure 25 percent of the market for compact models.
The company also introduced four new compact models, under the IXY and PowerShot brands, which will become available in mid-March. The new Powershot TX1 is a 7.1 megapixel camera with a 10x optical zoom. Its weight is just 220g and it is capable of shooting 720p video.
Nikon, the second-biggest DSLR maker, unveiled seven new compact cameras on Tuesday and also said it aims to increase its global market share in compacts to about 10 percent from the current 8.5 percent.