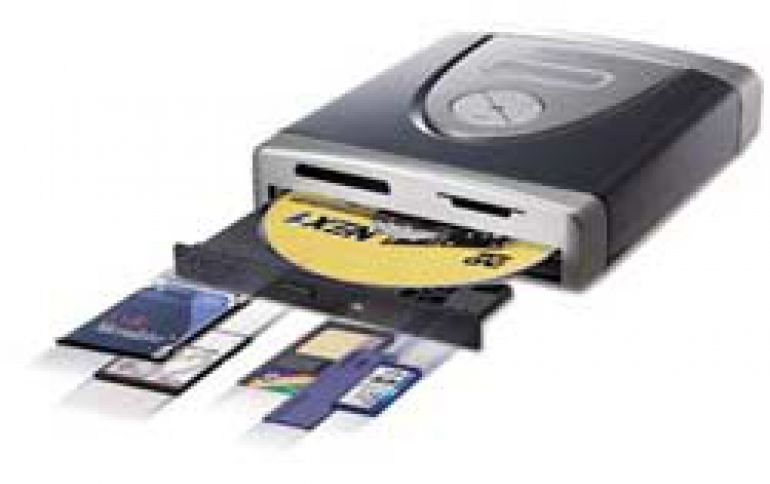 Cardmedia announce DigiMagic DM220 DVD Burner
The DigiMagic DVD Burner enables you to produce a back-up copy of digital photos directly from your camera's flash memory card onto a CD-R / CD-RW or DVD+R, DVD-R, DVD-RW disc on the run.
The one-touch operation and the stand-alone solution make using DigiMagic a snap.
Other advantageous features of DigiMagic are that it is lightweight and portable. Requiring only 4 AA rechargeable batteries, DigiMagic goes where you go and eliminates the need for buying additional (and costly) memory cards.
The DigiMagic features an LCD display for a user-friendly interface and easy operations, a one-touch copy operation and the ability to connect the DigiMagic to your computer via USB 2.0 or USB 1.1 for use as a memory card reader or external CD/DVD burner.
Specifications
Recording media Blank CD-R/CD-RWDVD-R/DVD+R/DVD-RW Disc
Memory Compatibility Compact Flash type I/II, Microdrive, SmartMedia, MultiMediaCard, Secure Digital, Memory Stick, Memory Stick Pro, and xD picture cards
Back up Capacity CD-R disc or CD-RW disk with 650MB or 700MB or 3/4GB for a DVD
Multi-Card Capability Can copy from multiple memory cards
Multi-Session Can copy to a single CD/DVD at different times
Back-up Method Single Button Operation
Display LCD Display
Control 4 Buttons Operation ( <<, >>, ESC, ENT)
Audible Indicator Audible notification when copying session is complete
Interface USB 2.0 / USB 1.1 to PC or Mac
Operating System Windows 98/98SE/ME/2000/XP, MAC OS 10.2.x or higher
Power 100-240(50-60 Hz), Universal Adapter
Battery Four Rechargeable AA Ni-MH Batteries in a Battery Pack
Dims 150mm(W) x 40mm(H) x160mm (L)
Weight 600g (without battery pack)
Price and availability
The DigiMagic DVD Burner will be £350, or €515. Availability is September 2004 for Photokina. More information is available from www.digi-magic.com