CES: NVIDIA Launches Big Format Gaming Displays, NVIDIA DRIVE Xavier SoC, and More
NVIDIA jump-started CES 2018 and talked about solutions for autonomous driving, collaborations, but also unveiled Big Format Gaming Displays (BFGDs), updated GeForce NOW game-streaming service and the GeForce Experience.
NVIDIA CEO Jensen Huang announced that the company is collaborating with 320-plus partners on self-driving, including new efforts with key players on three continents.
At the center of these collaborations is the NVIDIA Xavier autonomous-machine processor, described by Huang as "the most complex system on a chip ever created". He Huang said is in the hands of customers a little more than a year after it was first announced.
"The complexity of future cars is incredible. It begins with Xavier, which can do deep learning, computer vision and high performance computing at highly efficient levels," said Huang, speaking to a packed house of press, partners and professionals from around the automotive and consumer electronics industries.
Also NVIDIA announced partnerships with Volkswagen; top automotive supplier ZF working with Baidu, in China; ride-sharing service Uber; and Aurora - a startup led by some of the leading names in autonomous driving - in the United States.
Xavier delivers 30 trillion operations per second while consuming just 30 watts of power, and is 15 times more efficient than its predecessor. Yet it can fit on a board smaller than a license plate, replacing the trunk full of computing gear used in many of today's autonomous vehicles.
With more than 9 billion transistors, Xavier is the most complex system on a chip ever created, representing the work of more than 2,000 NVIDIA engineers over a four-year period, and an investment of $2 billion in research and development, he explained.
"This computer is on all the time, monitoring all of the sensors that are coming at it - it can never fail, it can never fail, because lives are at stake," Huang said. "And it has to make the right decision, running software the world has never known how to write."
Xavier is built around a custom 8-core CPU, a new 512-core Volta GPU, a new deep learning accelerator, new computer vision accelerators and new 8K HDR video processors.
Xavier is a key part of the NVIDIA DRIVE Pegasus AI computing platform. Delivering the performance of a trunk full of PCs in an auto-grade form factor the size of a license plate, it's the first AI car supercomputer designed for fully autonomous Level 5 robotaxis.
With an unprecedented 320 TOPS of deep learning calculations and the ability to run numerous deep neural networks at the same time, NVIDIA's Pegasus will provide everything needed for safe autonomous driving.
Pegasus is built on two Xavier SoCs and two next-generation NVIDIA GPUs. The first samples of Pegasus with its 320 trillion operations per second of processing performance will be delivered in mid-2018.
Volkswagen CEO Herbert Diess joined Jensen on stage to discuss how AI and deep learning will shape the development of a new generation of VW vehicles.
The new VW I.D. Buzz - modeled on the automaker's MicroBus - was highlighted as the two discussed how AI will transform the auto industry.
Huang also announced that Uber has selected NVIDIA technology for the AI computing system in its fleet of self-driving vehicles. The collaboration will use NVIDIA technology for Uber Advanced Technologies Group's fleets of self-driving cars and freight trucks.
NVIDIA will also work with Baidu, of China, and ZF, one of the world's largest automotive suppliers, to create a production-ready AI autonomous vehicle platform based on DRIVE Xavier, ZF's new ProAI car computer and Baidu's Apollo Pilot.
And closer to the U.S, the company is partnering with automotive startup Aurora to bring up a new modular and scalable DRIVE Xavier platform for autonomous vehicles.
Complementing NVIDIA's original NVIDIA DRIVE AV autonomous vehicle platform, which uses neural networks to let cars drive themselves, Huang described two new software platforms: DRIVE IX and DRIVE AR.
DRIVE IX, NVIDIA's intelligent experience software development kit, will enable AI assistants for both drivers and passengers, using sensors inside and outside the car.
NVIDIA DRIVE AR will put AI to work in ways that will completely change the way we drive our cars, NVIDIA CEO Jensen Huang said.
DRIVE AR is NVIDIA's augmented reality SDK. This software platform for the AI car will fuse computer vision, computer graphics and AI.
DRIVE AR will enable next-gen augmented reality interfaces that deliver information points of interest along a drive, create alerts and navigate safely and easily.
Of course, Huang's announcements Sunday weren't limited to the auto industry.
Showcasing NVIDIA's might in the more than $100 billion computer gaming market, Huang introduced a new breed of Big Format Gaming Displays, or BFGDs, for a giant-screen PC gaming experience.
"Big Format Gaming Displays make it possible for you to now enjoy PC gaming in enormous displays that are incredibly fluid, HDR, G-Sync, silky smooth gaming experience like youve never had before," Huang said.
The first BFGDs, coming later this year from ACER, ASUS and HP, are 65 inches, run at 4K at 120Hz, have G-SYNC technology, HDR with 1000 nit peak brightness, and an integrated NVIDIA SHIELD, giving you access to Netflix, Amazon Video and YouTube at 4K, NVIDIA GameStream, Android games and apps, and more.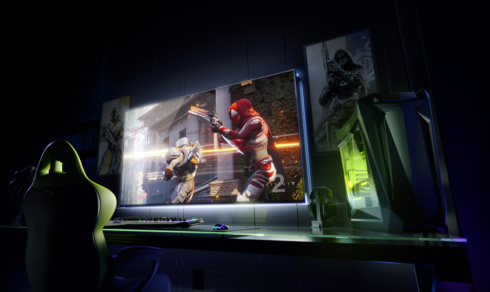 To achieve NVIDIa has been working for over two years with panel producer AU Optronics to create 4K and 3440x1440 G-SYNC HDR displays with lightning-fast response times, PC-optimized HDR with 1000 nit peak brightness, full array backlights, Quantum Dot Enhancement Films, and DCI-P3 cinema-quality color gamuts. And now, for BFGDs, the companies created a 65" 4K 120Hz G-SYNC HDR panel with all of those features, and a full array direct backlight.
By using G-SYNC's variable refresh rate technology, and a true 120Hz panel, BFGDs can be set to a genuine 24 Hz, perfectly matching the framerate of the source material. And of course, this also holds true for 48 FPS High Frame Rate content, 23.976 FPS U.S. broadcast television shows, and the framerate of any other media you access.
NVIDIA also announced the extention of the GeForce NOW beta to PC users to bring AAA gaming to a billion more PCs; and is rolling out new GeForce Experience features to customize your gameplay.
GeForce NOW
Starting today, the GeForce NOW game-streaming service, which launched a successful beta last summer, is available as a free beta compatible with most Windows-based desktops and laptops.
GeForce NOW can connect gamers to their library of games from many of the top digital stores - and starting today that includes Uplay PC, Ubisoft's PC games portal. It connects a wide range of Windows and macOS computers to supercomputers in the cloud, streaming 1080p graphics at up to 120 frames per second.
Since the heavy-lifting happens in NVIDIA's data centers, you can play the latest PC blockbusters at max settings, with smooth frame rates, even on PCs with low performance integrated graphics.
Simply connect to your library of games from popular digital stores, like Uplay PC and Steam, and start playing. Free-to-play games can also be installed directly.
System maintenance tasks are handled for you. Patches and driver updates are installed automatically, and cloud saves are enabled for cross-platform play.
The service is currently available in pubic beta for Windows- and Mac-based desktops and laptops in most of North America and Europe. The GeForce NOW app has been localized in French and German, with local language support for many top and diverse gaming experiences including PLAYERUNKNOWN'S BATTLEGROUNDS, Arma 3, Garry's Mod, Fortnite, and more.
GeForce Experience
NVIDIA Freestyle, a new feature that allows you to customize your gameplay, and an updated user interface for NVIDIA Ansel, NVIDIA's powerful photo mode for games, are among the enhancements to GeForce Experience announced at CES.
NVIDIA is also announcing that Fortnite Battle Royale is among four new games that support NVIDIA ShadowPlay Highlights, which automatically captures your gaming achievements in videos and screenshots.
GeForce Experience is NVIDIA's companion application for GeForce GTX GPUs that helps keep your drivers up to date, optimize your game settings, and capture and share videos, screenshots and livestreams with friends.
The latest feature for GeForce Experience, NVIDIA Freestyle, allows you to apply post-processing filters on your games while you play. Right from the in-game overlay, you can change the look and mood of your game with tweaks to color or saturation, or apply dramatic post-process filters.
At launch there are a total of 15 filters with 38 different settings (some filters have multiple settings).
NVIDIA is releasing the Freestyle game filters beta with support for over 100 game titles.
NVIDIA has also updated the Ansel user interface. With Ansel, you can compose shots from virtually any camera position, adjust with post-process filters, capture HDR images in high-fidelity formats and share your screenshots in 360 degrees via your smartphone, PC or VR headset.
The new Freestyle game filters and Ansel photo mode features will be available in beta on January 9. To get them, download the latest GeForce Experience app (release 3.12) and Game Ready Driver (release 390). Then enable Experimental Features from within GeForce Experience settings.