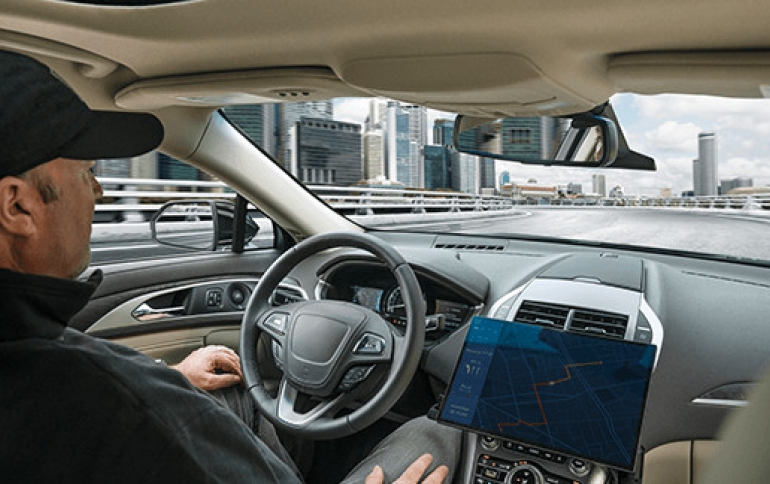 CES: Qualcomm Unveils the Qualcomm Snapdragon Ride Platform For Autonomous Driving
Qualcomm today unveiled at the 2020 Consumer Electronics Show (CES) its newest addition to the company's portfolio of automotive products with the new Qualcomm Snapdragon Ride Platform.
Qualcomm has spent years developing self-driving technology near its headquarters in virtual silence while rivals such as Intel and Nvidia jumped into the market, spending billions on acquisitions supplying major automakers for autonomous driving.
The new platform consists of the family of Snapdragon Ride Safety system-on-chips (SoCs), Snapdragon Ride Safety Accelerator and Snapdragon Ride Autonomous Stack.
The combination of Snapdragon Ride SoCs, accelerator and autonomous stack offers automakers a scalable solution designed to support three industry segments of autonomous systems, namely L1/L2 Active Safety ADAS for vehicles that include automatic emergency braking, traffic sign recognition and lane keeping assist functions; L2+ Convenience ADAS for vehicles featuring Automated Highway Driving, Self-Parking and Urban Driving in Stop-and-Go traffic; and L4/L5 Fully Autonomous Driving for autonomous urban driving, robo-taxis and robo-logistics.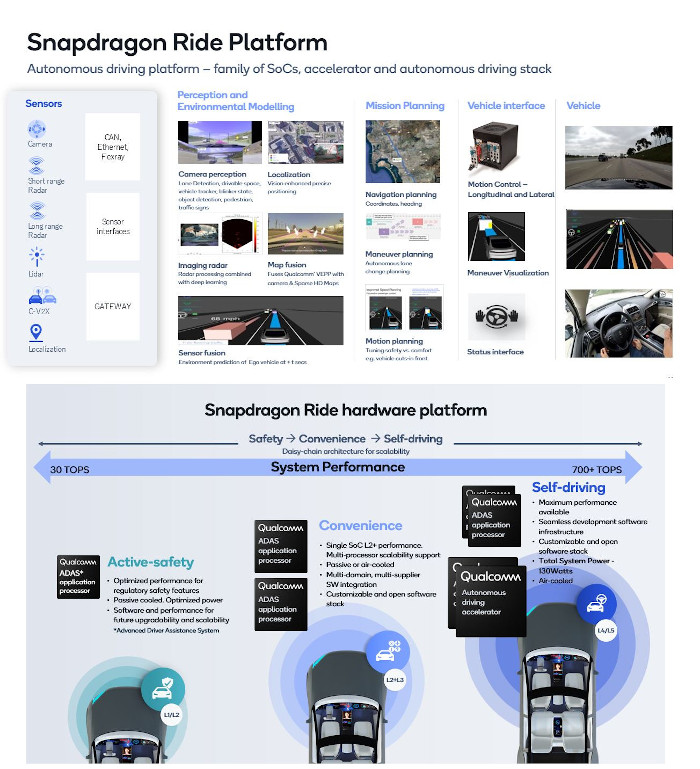 The Snapdragon Ride Platform, based on the Snapdragon family of automotive SoCs and accelerator, is built on scalable and modular heterogenous multi-core CPUs, AI and computer vision (CV) engines, GPU. The platform with combination of SoCs and accelerator can be used as needed to address every market segment offering thermal efficiency, from 30 Tera Operations Per Second (TOPS) for L1/L2 applications to over 700 TOPS at 130W for L4/L5 driving. This platform can therefore result in designs that can be passively or air-cooled. The Snapdragon Ride SoCs and accelerator are designed for functional safety ASIL-D systems.
Snapdragon Ride is expected to be available for pre-development to automakers and tier-1 suppliers in the first half of 2020. Qualcomm Technologies anticipates Snapdragon Ride-enabled vehicles to be in production in 2023.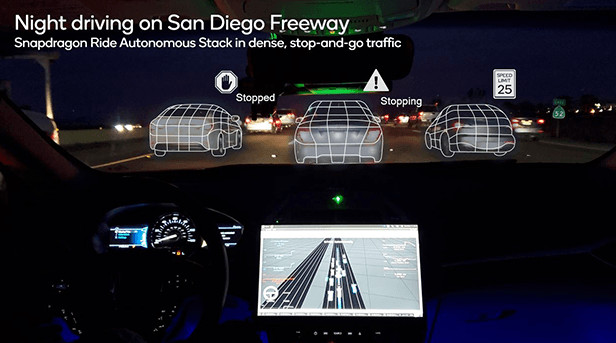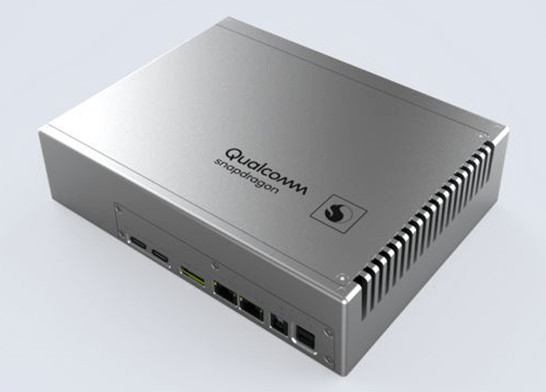 Qualcomm Technologies' Safety SoC and Accelerator Hardware and Software Solutions
While Qualcomm believes the next wave of innovation may be in the L2+ Convenience ADAS segment, the hardware solutions utilized in Snapdragon Ride from a single system-on-chip (SoC) for an Active Safety ADAS system driven by regulatory mandates to a highly scalable architecture of multiple SoCs and dedicated autonomous driving accelerators allowing for fully autonomous self-driving systems.
Qualcomm Technologies' family of ADAS SoCs and accelerators are built on the approach of heterogeneous compute capabilities designed for application requirements. These ADAS SoCs and accelerators effectively manage a large amount of data from onboard systems, leveraging Qualcomm Technologies' next generation AI engines; image signal processors for camera sensors; digital signal processors (DSPs) for sensor signal processing; high performance CPUs for planning and decision making; GPU technology for high-end visualization; dedicated safety and security subsystems across the SoC and autonomous driving accelerator.
Integrated as a part of Snapdragon Ride is Qualcomm Technologies' new purpose-built autonomous driving software stack, a modular and scalable solution available to automotive OEM and tier-1 suppliers to accelerate their development. This software stack facilitates automakers' abilities to offer increased safety and comfort to everyday driving by offering optimized software and applications for complex use cases, such as self-navigating human-like highway driving, as well as choice of modular options like perception, localization, sensor fusion and behavior planning.
Qualcomm and General Motors Co on Monday also said that the automaker has expanded its existing partnership with the chip suppler into "high performance compute platforms." Qualcomm previously provided chips for the company's dashboard electronics, location tracking and driver-assistance systems.
Platform for Roadside and Onboard Units to Further Accelerate C-V2X Global Momentum
Building on the global momentum of Cellular Vehicle-to-Everything (C-V2X), and to fulfill both the vehicle and the roadside infrastructure needs to address secure road safety, and mobility applications, Qualcomm Technologies, Inc today introduced the new Qualcomm C-V2X reference platform for vehicular and roadside units (RSUs).
The Qualcomm C-V2X reference platform complements C-V2X communication solutions by offering computational power to deliver a full suite of 4G and 5G wireless, and C-V2X, solutions, including multi-frequency GNSS location services for precise positioning, V2X message security, signing and verifications and V2X Intelligent Transport System (ITS) stacks. The Qualcomm C-V2X platform is based on Qualcomm Technologies' architecture, and is optimized for use with software applications to further accelerate the deployment of C-V2X vehicular systems and RSUs in the US and globally.
C-V2X Platform Features
Qualcomm Snapdragon 2150 Platform, Qualcomm Technologies' application processor engineered for smart infrastructure RSUs and OBUs for vehicles
Highly integrated V2X solution, which includes an application processor, ITS stack, Aerolink Security, message signing, up to 2500 message verifications per second, PC5/Uu modem connectivity, Wi-Fi 6 and BT 5.1 connectivity, MF-GNSS, and controller area network (CAN) support
Clean architecture with modular, scalable and future-poof design
Supports secure domain isolation between C-V2X and telematics stacks and applications
Supports V2X functionality, including ITS stacks, Aerolink V2X security solution with integrated message verifications and signing
Optimized communications with Qualcomm Snapdragon Automotive 4G and 5G Platforms with integrated C-V2X technology, including simultaneous WWAN
Uu network communication and C-V2X side-link PC5 direct communications
Modem interface drivers and telematics/C-V2X software development kits for accelerated integration and apps/services development
Driver support for Linux BSP
Driver support for 3rd party hardware security modules
C-V2X is globally compatible with 5G and complements other Advanced Driver Assistance Systems (ADAS) sensors, such as cameras, radar and Light Detection and Radar (LIDAR). C-V2X direct communication mode is designed to offer vehicles low latency communications to communicate directly with other vehicles, roadside infrastructure and pedestrians without the involvement of a cellular network, or cellular network subscription, by operating in the designated and harmonized 5.9 GHz ITS spectrum.