Panasonic at CES 2020
Panasonic is showcasing a wide range products at CES 2020, including a eCockpit concept, VR Glasses, wireless headphones and more.
CIRRUS by Panasonic
Connected vehicles that communicate with other cars and infrastructure can give traffic managers real-time actionable data to re-route traffic and dispatch emergency crews. In 2020, Panasonic will be running an advanced transportation data network, connecting roadways in Utah, Georgia and Colorado. CIRRUS by Panasonic is a connected vehicle data platform that can improve safety and mobility on the road by sharing data between vehicles, infrastructure, roadways and traffic operators in real time. The platform provides cloud analytics data processing, real-time analysis and transmission, and data storage capabilities for sharing and updating vehicles and municipalities with road conditions, operations and other safety information. CIRRUS by Panasonic has been developed using industry V2X standards so that it can be integrated into existing transportation systems.
OneConnect Connectivity for Harley-Davidson LiveWire Electric Motorcycles and 2020 Touring Models
Panasonic is connecting riders to Harley-Davidson motorcycle models beyond LiveWire. In 2020, Panasonic will also connect 2020 Harley-Davidson Touring motorcycle models, equipped with H-D Connect Service -- a cellular connection to the telematics control unit (TCU) utilizing Panasonic's OneConnect service. The H-D Connect service allows owners to connect remotely to their motorcycle to view key vehicle health information to ensure their bike is ready for that next ride.

Panasonic is showcasing its latest fully connected eCockpit concept. The technology platform integrates Panasonic's proprietary SkipGen 3.0 in-vehicle infotainment (IVI) system with Google's Android Automotive OS running on Android 10. In a Karma SC-1 concept vehicle, SkipGen 3.0 is paired with the next generation cockpit domain controller, SPYDR 3.0. At the core, the single brain SPYDR 3.0 acts as a hypervisor and is capable of driving up to eleven displays. Both SkipGen 3.0 and SPYDR 3.0 are connected and powered by Panasonic's proprietary software and cloud platform, OneConnectSM. Whether sending or receiving key infotainment messages on the run, this cockpit system can also run multimedia streaming or gaming applications for passenger and rear seat entertainment.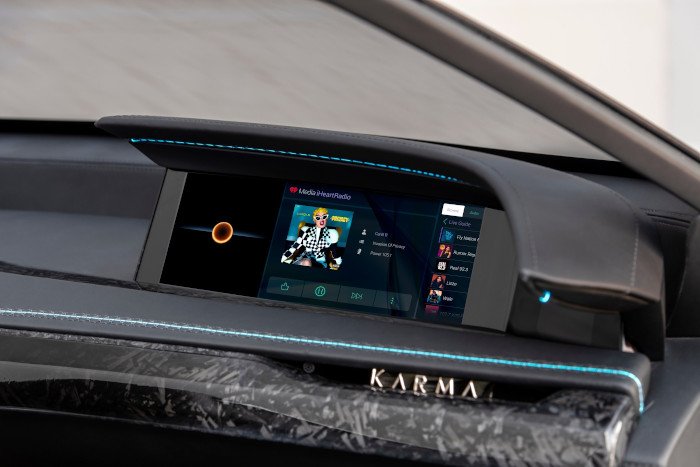 SPYDR 3.0 is the next evolution of Panasonic's cockpit domain controller. SPYDR 3.0 features 4K display resolution with multimedia streaming and can effectively support up to eleven information or entertainment displays in a vehicle. As such, this platform is capable of driving a variation of head-up displays, infotainment displays, rear seat and passenger seat displays all from a single brain system. Content streaming can range from interactive gaming on today's most popular systems to streaming video via the owner's application of choice.
SkipGen 3.0 IVI is Panasonic's third generation in-vehicle infotainment system running on Google's Android Automotive OS, Android 10 and is also equipped with Qualcomm's Gen 3 processor Snapdragon 8155/6155. Many features can be controlled and activated by voice. SkipGen 3.0 will also proudly support SiriusXM with 360L, the next generation content platform with 200 live channel choices via both satellite and streaming.
Panasonic's OneConnectSM global platform ensures vehicles are maintained and up to date by providing predictive maintenance reminders to the driver, while providing analytics via the platform to the OEM and end consumer
Featuring sensors for object recognition and autonomous driving software from Panasonic, the electric wheelchair by WHILL has passenger assisted robotic technology for safe and comfortable movement indoors. WHILL Next includes automatic braking to prevent collisions, autonomous mobility, and an automatic following function for ease of traveling in a family or group, an accessibility solution enabling attendees and spectators at Tokyo2020.
VR glasses
Panasonic has developed the world's first High Dynamic Range(HDR) capable ultra-high definition(UHD) virtual reality (VR) eyeglasses.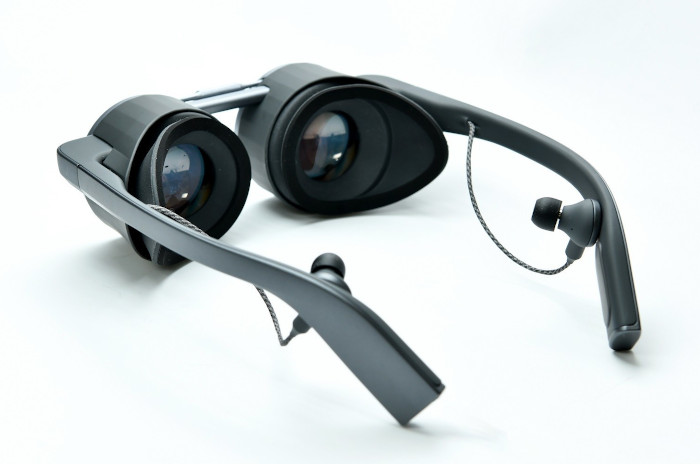 While conventional VR glasses with high-quality images and high sound quality provide users with highly immersive simulated experiences, these glasses tend to be big in size and require users to strap them to their head with a headband, which could cause wearer discomfort.
For the new VR glasses, Panasonic has developed a high performance display device in cooperation with Kopin Corporation. In addition, Panasonic's audio and visual technologies have been incorporated into this new device, including signal processing technologies cultivated through the development of video equipment such as TVs and Blu-ray Disc players, acoustic technologies of Technics audio products, and optical technologies used in LUMIX digital cameras. These technologies enabled Panasonic to achieve compact and lightweight VR glasses offering high-quality images and optimal sound that deliver realistic sensations drawing the user into the images projected before their eyes, while in the comfort of wearing eyeglasses.
Main features
UHD high-quality images device capable of displaying HDR images Equipped with a micro OLED panel co-developed by Kopin Corporation and Panasonic
Achieved natural and smooth images without "Screen door effect", which is a visual artifact of displays, where the fine lines separating pixels become visible in the displayed image
High-quality sound - The adoption of Technics' original dynamic driver using magnetic fluid allows the accurate stroke of the diaphragm and achieves ultra low distortion reproduction.
Compact and lightweight body - The adoption of an optical module newly developed by Kopin Corporation, 3M Company,3 and Panasonic allows the display of natural and distortion-free images in super single focus. A compact and lightweight design achieved an eyeglass-like shape.
Technics SL-1200MK7 Turntable
Derived from the original Technics SL -1200, this sleek direct drive turntable system was designed with DJs in mind. It is packed with sound-enhancing technologies and boasts the popular reverse playback functionality.
Panasonic camcorders
New at CES 2020 are three of the industry's smallest and lightest 4K 60p camcorders from Panasonic. Designed for the professional videographer or video enthusiast, all models show off a compact and lightweight design, a wide-angle 25mm lens with 24x optical zoom, and high-precision auto-focus. They also feature built-in WiFi to live stream directly from the camcorder to popular video and social networks.
LUMIX S1H
As part of the suite of LUMIX cameras that are the official digital cameras of the Olympic and Paralympic Games, the LUMIX S1H makes its CES debut this year. The LUMIX S1H is a Digital Single Lens Mirrorless camera equipped with a full-frame image sensor, combining cinema quality video recording with the high mobility of a mirrorless camera. It is the first camera capable of video recording at 6K/24p(3:2 aspect ratio), 5.9K/30p (16:9 aspect ratio) and 10-bit 60p 4K/C4K.
Wireless headphones
The new RZ-S500W compact true wireless headphones boast reliable connectivity and noise cancellation technology. On-the-go smartphone users will enjoy watching videos, playing games and talking on the phone with superior sound and reliable Bluetooth connection.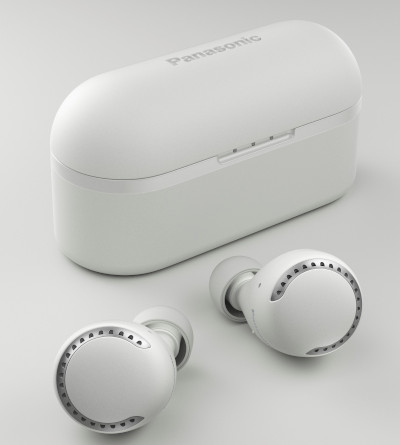 Dual Hybrid Active Noise Cancelling Technology achieved through the combination of FeedForward Noise Cancelling (FF-NC), Feedback Noise Cancelling (FB-NC) and an Analog/Digital Processing hybrid. All four of these technologies work together to minimize noise generated both inside and outside the ear cups for effective noise cancelling in any environment.
Panasonic's true wireless headphones provide Bluetooth connection through its crafted structure that integrates the Bluetooth antenna and touch sensor inside the control system, maximizing the use of the antenna. In addition, the independent right/left (R/L) reception system maintains stable connection with proper sound balance between right and left channels.
The RZ-S500W/S300W high-performance MEMS microphone further contributes to the headphones' noise-cancelling performance. The microphone, combined with a unique labyrinth structure, suppresses wind noise and other interference.
The simple touch sensor allows users to switch among Ambient Sound mode, Noise Cancelling mode and Off with the tap of a finger.
Crafted to fit comfortably in the ear, its rounded, compact and lightweight design offers users a noise-free and comfortable listening experience. In addition, is splash-proof equivalent to IPX4.
The RZ-S500W will be available in June of 2020.
Technics True wireless headphones
The new in-ear Technics EAH-AZ70W True Wireless Headphones combine Dual Hybrid Noise Cancelling Technology with a new 10-mm dynamic driver to create a premium listening experience in a compact, light-weight design. Dual Hybrid Noise Cancelling Technology combines feedforward (FF) and feedback (FB) methods as well as digital and analog processing working together to minimize noise inside and outside of the headphones.
Other enhancements include a newly developed dynamic driver that uses a graphene-coated PEEK diaphragm with a 10-mm diameter and an acoustic control chamber, which optimizes the airflow generated from the driver unit and creates a vast sound space.
The graphene-coated PEEK material used for the diaphragm of the new dynamic driver enables transparent, high-pitched and clear middle sound ranges. The airflow generated from the diaphragm can be accurately controlled via the original acoustic control chamber on the rear part of the driver unit.
The EAH-AZ70W's compact body, touch sensor and Bluetooth antenna deliver connection stability and convenient compatibility with smart devices. In addition, its simultaneous L/R reception method offers interruption-free performance and high-quality sound.
Its simple touch sensor allows users to switch between Ambient Sound Mode, Noise Cancelling Mode or Off to adjust the listening experience based on preference or environment.
Its compact body is designed for comfortable long-term wear. In addition, it features a splash-proof performance equivalent to IPX4.
The EAH-AZ70W is available in black or silver with a matching charging cradle that fits in the palm of your hand and will be at retail in June 2020.
When fully charged, the battery provides six hours of continuous playback (when the noise cancellation is turned ON). In addition, the charging cradle battery provides a total of 18 hours of playback, allowing users to listen for long periods of time without worrying about battery capacity.
RP-HD805N Wireless, Noise Cancelling Headphones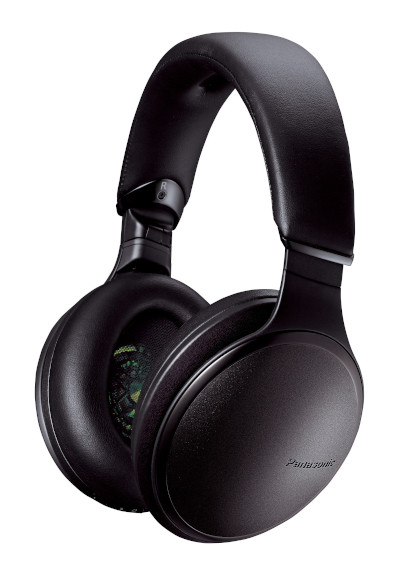 Panasonic announced the newest addition to its headphone family, the RP-HD805N high-resolution wireless noise-cancelling headphones.
These wireless headphones are equipped with wideband, high-resolution audio playback and support LDAC and Qualcomm aptX HD audio codecs.
The HD805N headphones have a Multi-Layer Film (MLF) Diaphragm for the HD driver to further improve response and audio quality while eliminating extraneous vibrations. The structure and materials of the frame were designed to minimize vibrations in the driver and maximize the spaciousness of the sonic field.
Three modes of noise cancellation are enabled by positioning the microphone outside the housing component and arranging the feedback system on the driver unit closer to the eardrum. Its Ambient Sound Enhancer is a proprietary technology allowing for important sounds, such as airport announcements or cars honking, to penetrate the headphones while noise cancellation is activated. This feature can be turned on and off at the listener's leisure.
The HD805N headphones are constructed with a 3D Ball Joint Structure enabling the headphones to adapt to the optimum positioning for all head sizes and ear shapes.
The HD805N has approximately 20 hours of continuous playback when noise cancelling is active.
The headphones will be available in black, silver and brown at $249.99 SRP.
Panasonic M headphone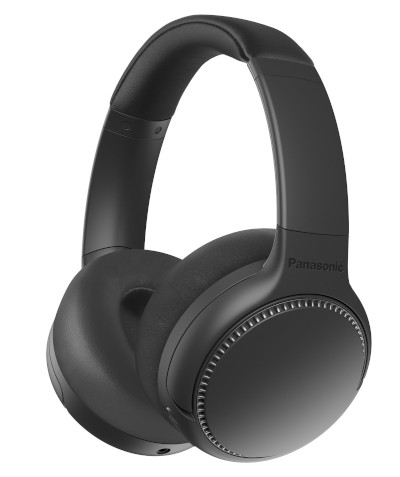 Panasonic brings concert-level performance of bass-heavy tracks to CES 2020 with its new M series wireless over-ear headphones. Equipped with the Panasonic XBS DEEP (Extra Bass System Deep) playback technology, these headphones are built for enjoying low frequency beats like those found in trap and rap music.

The XBS DEEP playback technology was developed by optimal tuning of the housing structure, the driver equalizing function providing powerful bass performance with well-defined deep bass response.
Further improving the bass performance is the built-in Bass Reactor which amplifies low frequencies in response to the track's bass sounds. The Bass Reactor simulates deep, booming bass, like that in a night club or concert, by transmitting amplified low-end sound directly to the ears as real low-frequency vibrations.
Equipped with harmonic tuning EQ, the headphones provide a clear heavy bass sound by adjusting harmonic overtones, magnifying bass sounds below 100Hz and suppressing bass above 100Hz.
The headphones' structure further contributes to the bass performance with optimal positioning of the air outflow port in the cabinet, allowing the diaphragm's precise piston movement to reproduce low-end frequency outlines.
The 40mm driver unit produces sound evenly through the distortion-resistant diaphragm, and allows the headphones to achieve a deep, delicate bass.
The RB-M700B, RB-M500B and RB-M300B headphones are designed for long-term wear, enabled by Side Pressure Dispersion Technology, which adjusts the lateral pressure balance between the headband and ear pads.
The RB-M700B, RB-M500B and RB-M300B will be available in April 2020.
Wireless Bluetooth Headphones For Entertainment Lovers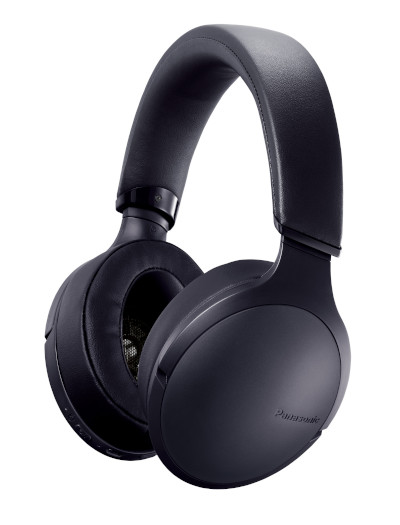 Panasonic also launched the RP-HD305B On-Ear Wireless Headphones. Equipped with high definition audio, content matching modes and a comfortable design, the Panasonic RP-HD305B headphones are designed for entertainment.
The RP-HD305B On-Ear Wireless Headphones equipped with Qualcomm aptX Low Latency, high-resolution audio with wired connection, selectable sound modes, and a 40-mm driver unit.
The Qualcomm aptX Low Latency codec technology eliminates lags between images and sounds to a level undetectable by the human ear (32-40 ms).
Three selectable sound modes on the RP-HD305B give users the ability to match content and sound perfectly. For music and video with dynamic bass sound, the Bass Enhancer raises the low frequency range. Clear Voice raises the low frequency range that is close to a person's voice while maintaining the bass impact, making movie dialogues easier to hear. The Default mode turns the equalizer off while sustaining a well-balanced sound even when the sound pressure is raised.
Panasonic's RP-HD305B On-Ear Wireless headphones feature a 218g lightweight design with an updated headband, housing range and ear pad design.
Panasonic has redesigned the housing movement providing 25 degrees of range per side to fit any person's head. The housing shape features an improved front-to-back depth, 3mm in the front and 4mm in the back, that holds the ears in a slim design.
Features like Bluetooth compatibility or wired connection, 24-hour battery life, 15-min quick charge and built-in microphone allows RP-HD305B users to listen any time, anywhere.
The Panasonic RP-HD305B headphones are available now on Amazon for $179.99 SRP.
Panasonic TV
New for CES 2020, the Panasonic HZ2000 OLED TV is built by collaboration between Hollywood professionals and Panasonic and Technics engineers to provide beautiful color, immersive sound and smart home connectivity.
Panasonic's latest HZ2000 model is the first OLED TV to support Dolby Vision IQ and Filmmaker Mode. It's built using Panasonic's "Master HDR OLED Professional Edition" panel that also delivers up to an extra 20 percent peak brightness compared to other OLED TVs.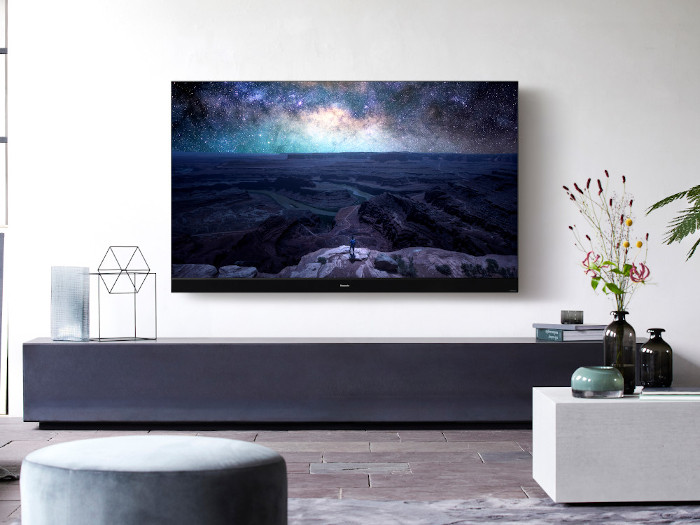 Dolby Vision IQ is designed to intelligently optimize picture quality regardless of ambient light or the type of content, so you should get a good image whether the lights are on or off.
Filmmaker Mode basically turns off "soap opera" motion smoothing and ensures the correct color, aspect ratio and framerates for a given film. Panasonic's version of Filmmaker Mode will also adjust the picture to account for ambient light levels. On top of that, the HZ2000 will support Dolby Vision, HDR10+ and HLG Photo modes.
Panasonic also introduced a new calibration feature that will help viewers calibrate black levels with extra precision. In addition, "viewers will also for the first time on Panasonic TVs be able to calibrate Dolby Vision content," Panasonic said. Finally, the HZ2000 will feature its 360 degree Soundscape pro, with upward-firing speakers and support for spatial soundstage via Dolby Atmos tech.
The GZ2000 model is expected to be rather expensive and not available in Canada or the US.
Gaming Speaker
Designed specifically for gaming, the SC-HTB01 Gaming Speaker supports three game modes – including Role Playing Game (RPG), First-Person Shooter (FPS) and Voice modes. The speaker also supports Dolby Atmos, DTS:X(R) and DTS(R) Virtual:X for dynamic 3D sounds.
The SC-HTB01 features a compact and integrated design, with a width of 17 inches, a height of 2 inches, and a 2.1 channel 3-way speaker system with built-in subwoofer.
The speaker is also compatible with 4K/HDR pass-through allowing users to play and view 4K compatible games and streaming content. Bluetooth connection and high-resolution audio playback is also available, providing users with various sound sources playback.
Main Features
The three game modes co-developed with Square Enix Co., Ltd.

Supports Dolby Atmos、DTS:X(R)、DTS(R) Virtual:X
2.1-Channel 3-Way Speaker System (Built-in Subwoofer)
High-resolution Audio Playback (PCM, up to 192kHz/24bit)
4K/HDR Pass Through
Smart Features
HDMI Input/ Output
Bluetooth Compatible
Compact Design (Approx. 17 × 2 × 5.1 inches Excluding the projecting parts.)