Companies Form The Immersive Technology Alliance
The Stereoscopic 3D Gaming Alliance has been renamed the The Immersive Technology Alliance (The ITA) to promote the newly established Augmented Reality (AR), Virtual Reality (VR), stereoscopic 3D and gesture industries. The non-profit organization, which will be officially announced at Game Developers Conference on March 18, 2014, features technology makers, content makers (e.g. game developers and film makers), standards groups, specialized consultants, and academic partners. Members include Oculus VR, Technical Illusions, Electronic Arts, Epson, Virtuix, I'm in VR, Nanoveu, Gameface Labs, Vrelia, The University of Ontario Institute of Technology, Panasonic, Avegant, YEI Technology, and more.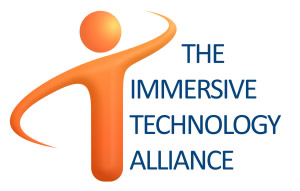 ITA will try to to make "immersive" technology successful. Its markets of interest include augmented reality, virtual reality, stereoscopic 3D, and everything in-between.
There are three classes of immersive technology. The first is technology that makes the user feel and experience a digital world as though they are inside it. This is primarily referred to as "virtual reality", but it also includes and/or features technologies like stereoscopic 3D, haptics (touch), sound, and gesture/motion control.
The second branch is usually referred to as "augmented reality" and is often associated with glasses-like technologies that add digital imagery above and beyond what a user would normally see. For example, instead of just looking down a street, an augmented reality glasses wearer could see snapshot vendor reviews hanging on top of each storefront.
Finally, there are immersive technologies that can stand on their own, but aren't necessarily used in conjunction with AR or VR. Gesture control and motion capture are good examples of this.
Despite some positive developments, the immersive technology market is still very formative.
For instance, Oculus VR has already sold tens of thousands of Oculus Rift developer kits so software makers can support their future products. To date, Oculus has raised over $90 million in investment in one form or another.
Competitive head mounted displays are also in the works by the likes of Sony, Gameface, Vrelia, and more.
Technical Illusions' castAR is a recent success story having raised over a million dollars on Kickstarter for their combined AR and VR solution. Google, Epson and more have publicized plans for augmented reality glasses and/or virtual reality add-ons.
Virtuix and others are bringing platforms to market that let you physically walk in digital worlds. In the case of the Virtuix Omni, users can walk, run, crouch and jump. While products like this have excellent entertainment value, they have equal potential in the serious games market.
Game developers and software makers are gradually adding VR support to their titles. Leading game engine companies which have added VR support include Epic Games, Unity3D, Crytek, and more.
Jeri Ellsworth, President and Co-Founder of Technical Illusions, commented, "In this rapidly expanding industry of augmented and virtual reality displays, and other immersive technologies, great communication and collaboration among technology leaders is valuable. We're proud to participate in The ITA as a founding member, and contribute our thought leadership to the group. We are revolutionizing the way people interact with and display their digital graphics, and we look forward to working with the alliance to bring more awareness to immersive products like castAR."