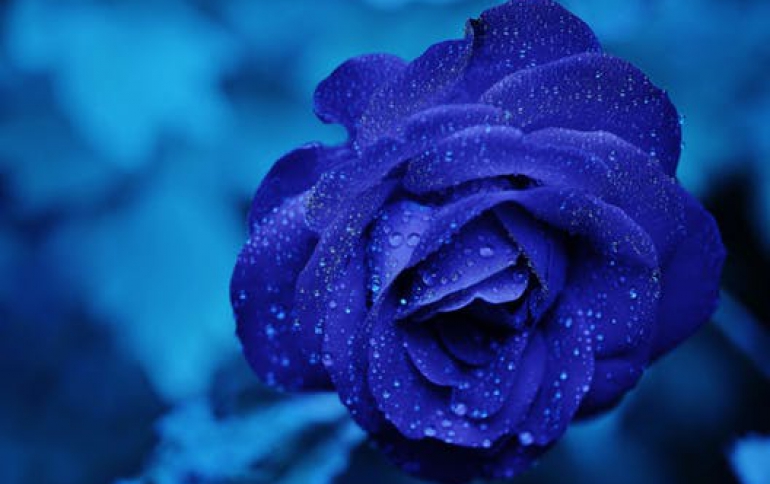 CORSAIR Launches Wireless Gaming Peripherals at CES 2018
CORSAIR today announced a new range of new performance wireless gaming peripherals, PSU and coolers.
Powered by CORSAIR UNPLUG and PLAY wireless technology, the K63 Wireless Mechanical Keyboard, K63 Wireless Gaming Lapboard, DARK CORE RGB Wireless Gaming Mouse, and MM1000 Qi Wireless Charging Mouse Pad allow PC enthusiasts and gamers to experience wire-free gaming.
The new K63 Wireless mechanical gaming keyboard brings the performance and reliability of CHERRY MX Red mechanical keyswitches to the wireless desktop. Connecting via a choice of 1ms 2.4GHz gaming-optimized wireless, low latency Bluetooth wireless, or a wired USB connection, the K63 Wireless instantly registers keystrokes and commands however you connect. With up to 75 hours of rechargeable battery life, K63 Wireless has the stamina to outlast the longest gaming session. Per-key, customizable blue LED backlighting, controlled using CORSAIR Utility Engine (CUE) software delivers lighting and dynamic, reactive visuals, alongside per-key macros and programmable keys.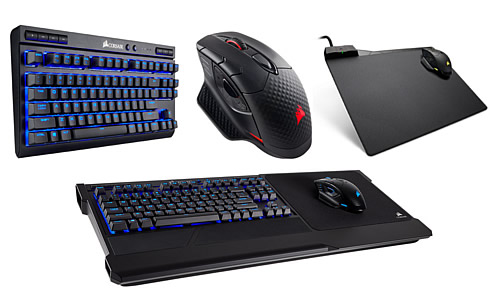 K63 Wireless features strong 128-bit AES encryption, protecting your keystrokes from wireless eavesdropping. The K63 Wireless' tenkeyless layout is perfect for a minimalist desktop, and combines with the K63 Wireless Gaming Lapboard to create a complete wireless living room solution.
The new CORSAIR DARK CORE RGB wireless gaming mouse offers the same flexible three-mode connectivity as K63 Wireless, bringing its 16,000 DPI optical sensor precision to your PC via 1ms 2.4GHz Bluetooth wireless or wired USB connection. It can be customized using two interchangeable magnetic side grips to provide a tailored fit for almost any gamer. Three-zone RGB lighting, fully customizable in CUE, lets gamers set their own style with nearly unlimited illumination options, patterns, and effects, from simple colors to full synchronization with other CORSAIR RGB peripherals. DARK CORE RGB ensures you'll rarely need to reach for the charging cable, with up to 24 hours of battery life.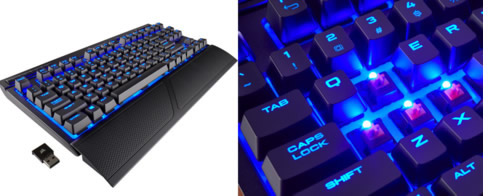 For those who want to go wireless forever, DARK CORE RGB SE adds Qi wireless charging support, pairing with the new CORSAIR MM1000 Qi wireless charging mousepad. Even if your devices don't have Qi charging built-in, MM1000 includes USB Micro-B, Type-C, and Lightning Qi charging adapters, letting you easily add Qi wireless charging. With a large 260mm x 350mm surface area, non-slip rubber base, USB 3.0 pass-through, and LED charging indicator completing the package, the MM1000 brings Qi wireless charging to your desktop.
The new CORSAIR K63 Wireless Mechanical Keyboard and K63 Wireless Gaming Lapboard are available from the CORSAIR worldwide network of authorized retailers and distributors as well as direct from the www.corsair.com webstore. CORSAIR DARK CORE RGB/DARK CORE RGB SE wireless gaming mice and the MM1000 Qi charging mouse pad will be available in January 2018.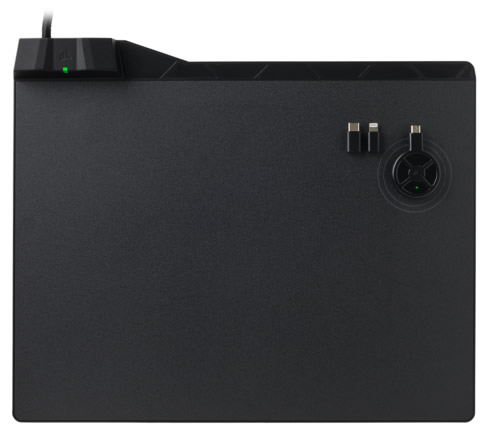 The CORSAIR K63 Wireless, K63 Wireless Gaming Lapboard, DARK CORE RGB, DARK CORE RGB SE and the MM1000 are backed by a two-year warranty.
New PSU, Coolers and Case
CORSAIR also today launched a range of PC enthusiast products.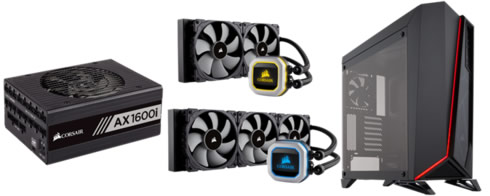 The new CORSAIR AX1600i is the only enthusiast PSU to use Gallium Nitride (GaN) transistors, delivering efficiency, in a smaller form factor than ever before. 1600W of power stands ready with better-than 80 PLUS Titanium efficiency, complete digital monitoring and control using CORSAIR LINK software, and all in a smaller, 200mm length size.
The PSU is available immediately.
The CORSAIR Hydro Series of liquid CPU coolers also gets an upgrade at CES, with the launch of the new H150i PRO and H115i PRO. Equipped with 360° of RGB lighting on an aluminium-trimmed pump cap, low noise CORSAIR ML Series cooling fans, and large high-density 360mm (H150i PRO) or 240mm (H115i PRO) radiators, the new Hydro Series light up your system while keeping CPU temperatures down.
The H150i PRO and H115i PRO are also the first CORSAIR Hydro series coolers to feature a Zero RPM Mode fan profile, totally stopping and silencing the cooling fans when the CPU is at low temperatures.
The new CORSAIR Hydro Series H150i PRO and H115i PRO are available starting today.
Completing the CORSAIR CES 2018 line-up is the new Carbide Series SPEC-OMEGA, a mid-tower gaming case with a new angle on tempered glass. SPEC-OMEGA's asymmetrical design provides a dynamic look, that's enhanced by both a tempered glass side panel and front panel, putting your system on display. An integrated front-panel LED light strip and LED-lit 120mm cooling further add to the dynamic styling, while room for up to a 360mm liquid CPU cooling radiator means there's more to SPEC-OMEGA than looks.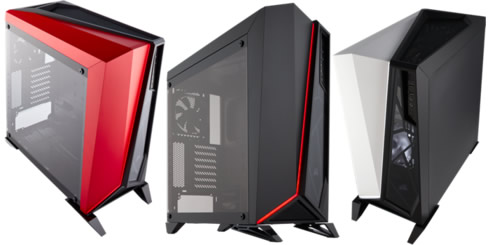 The new CORSAIR Carbide Series SPEC-OMEGA range of cases are available immediately.