CORSAIR ONE Gaming PC Released
First announced in February, the new Corsair ONE pre-built gaming PC is now shipping, and it is the first ready-to-run system from a manufacturer that has mostly been known for their PC components and peripherals.
Designed to deliver high performance in a small package, CORSAIR ONE brings together CORSAIR memory, cooling, power supply, and chassis engineering with the latest in cutting edge PC hardware.
Powered by the latest 7th Generation Intel Core Processors, the Intel 200 Series chipset and an NVIDIA GeForce GTX 1080 or GTX 1070 graphics card, CORSAIR ONE wields the performance of a top-end full-size PC, contained in a system that's small enough to fit into any desktop, living room or VR setup.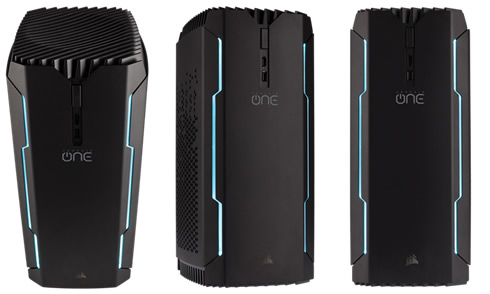 The PC features a milled aluminum exterior with subtle blue integrated lighting and it's only 12L in volume, measuring 200mm x 176mm x 380mm (7.87in x 6.92in x 14.96in).
An assisted convection cooling system draws air through a pair of passive 240mm radiators, combining liquid-cooling with a CORSAIR magnetic levitation ML-140 fan to exhaust heat through the case's top.
CORSAIR ONE comes with a liquid-cooled Intel Core i7 7700 CPU and air-cooled GeForce GTX 1070 8GB, while CORSAIR ONE PRO takes performance to the next level with dual liquid-cooling for both an Intel Core i7 7700K and GeForce GTX 1080 8GB. The rest of CORSAIR ONE's internals are the folowing: SSD storage in either 240GB, 480GB or 960GB options, 1TB or 2TB HDD, an 80PLUS Gold SFX PSU, Z270 motherboard with USB 3.1 type C and 16GB of CORSAIR VENGEANCE LPX 2,400MHz DDR4.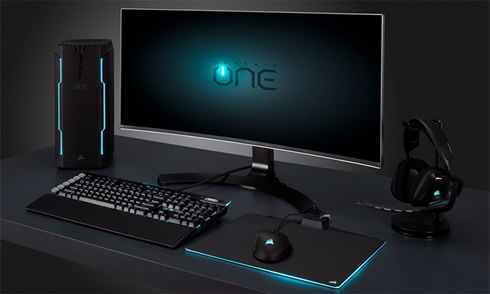 Pre-installed games launchers from Steam, Origin, Good Old Games, Battle.net and Uplay make getting your games installed quick and easy, all within a clean 64-bit Windows 10 Home operating system, and with no sponsored browsers, applications or anti-virus.
Corsair will be selling the Corsair ONE PC through major electronics retailers as well as directly through their online store. The system comes with a two-year warranty.
Specifications:
CORSAIR ONE:
Processor: Intel Core i7 7700, 4.2GHz Max Turbo Frequency, Liquid-Cooled
Graphics Card: NVIDIA GEFORCE GTX 1070 8GB, Boost Clock 1,721MHz, Base Clock 1,531MHz, Air Cooled
Memory: 16GB CORSAIR VENGEANCE LPX 2,400MHz
Storage: CORSAIR FORCE LE 240GB SSD, 1TB HDD
Motherboard: Custom MSI Z270 Mini-ITX
PSU: CORSAIR SF400 80PLUS GOLD SFX
Chassis: Black, Aluminum, VR-Ready
OS: Windows 10 Home and future Microsoft updates
MSRP: $1,799.99 Exc. TAX
CORSAIR ONE PRO:
Processor: Intel Core i7 7700K, 4.5GHz Max Turbo Frequency, Liquid-Cooled
Graphics Card: NVIDIA GEFORCE GTX 1080 8GB, Boost Clock 1,771 MHz, Base Clock 1,632MHz, Liquid-Cooled
Memory: 16GB CORSAIR VENGEANCE LPX 2,400MHz
Storage: CORSAIR FORCE LE 480GB SSD, 1TB HDD
Motherboard: Custom MSI Z270 Mini-ITX
PSU: CORSAIR SF400 80PLUS GOLD SFX
Chassis: Black, Aluminum, VR-Ready
OS: Windows 10 Home and future Microsoft updates
MSRP: $2,199.99 Exc. TAX
CORSAIR ONE PRO (CORSAIR WEBSTORE EXCLUSIVE):
Processor: Intel Core i7 7700K Liquid-Cooled, 4.5GHz Max Turbo Frequency
Graphics Card: NVIDIA GEFORCE GTX 1080 8GB Liquid-Cooled, Boost Clock 1,771 MHz, Base Clock 1,632MHz
Memory: 16GB CORSAIR VENGEANCE LPX 2,400MHz
Storage: CORSAIR FORCE LE 960GB SSD
Motherboard: Custom MSI Z270 Mini-ITX PSU: CORSAIR SF400 80PLUS GOLD SFX
OS: Windows 10 Home and future Microsoft updates
Chassis: Black, Aluminum, VR-Ready
MSRP: $2,299.99 Exc. TAX
COMING SOON: CORSAIR ONE PRO GTX 1080 Ti (CORSAIR WEBSTORE EXCLUSIVE):
Processor: Intel Core i7 7700K, 4.5GHz Max Turbo Frequency, Liquid-Cooled
Graphics Card: NVIDIA GEFORCE GTX 1080 Ti 11GB, Liquid-Cooled
Memory: 16GB CORSAIR VENGEANCE LPX 2,400MHz
Storage: CORSAIR FORCE LE 960GB SSD
Motherboard: Custom MSI Z270 Mini-ITX
PSU: CORSAIR SF500 80PLUS GOLD SFX
Chassis: Black, Aluminum, VR-Ready
OS: Windows 10 Home
MSRP: $ 2,599.99 Exc. TAX