Corsair Releases Neutron Series XT SSDs, HXi Series Power Supply Line and New Flash Drives at CES 2015
Corsair has just released its fastest solid-state drives, the Neutron Series XT SSDs are equipped with a quad-core Phison SSD controller and MLC NAND, to deliver sequential read speeds of 560MB/sec and sequential write speeds of 540MB/sec, pushing the SATA 6Gb/s interface to its limits. The Neutron XT isn't just about performance; it's packed with reliability features. SmartFlush and SmartRefresh technologies offer enterprise level data management and retention in the event of power failure and advanced wear-levelling and garbage collection help maintain performance over the life of the drive. A five year warranty backs Corsair's commitment to the Neutron XT's longevity.
A slim-line 7mm casing makes it easy to install Neutron XT into any desktop PC or notebook with a 2.5 inch drive bay, and with its red casing it's sure to take pride of place in any high-performance PC. Corsair's SSD Toolbox makes drive maintenance easy too, allowing you to update drive firmware, optimise operating system performance, clone an existing hard drive, or erase all data on the drive, all from your PC's desktop.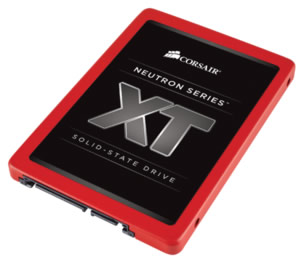 Available now, the Neutron XT 256GB is priced at a MSRP of $149.99, the Neutron XT 512GB at $269.99 and the Neutron XT 960GB at $539.99.
Corsair has also added a 1200W, 80 Plus Platinum version to its HXi Series of PC power supplies.
The HX1200i is powerful enough to drive even demanding three and four card Nvidia SLI or AMD CrossFire multi-GPU systems and delivers 92% or better energy efficiency.
Low-noise components and a Zero-RPM Fan Mode spins the PSU fan when it's needed to help keep noise to a minimum. With free Corsair Link software enthusiasts can customize the speed of the 140mm fluid-dynamic-bearing fan to suite their systems individual needs. Corsair Link also offers real-time monitoring of the PSU's voltages, efficiency and temperatures. The HX1200i is also designed to make your system look as good as it runs, with fully modular flattened ribbon cables for convenient cable routing and the minimum of clutter.
The HX1200i will be available in February 2015 for $269.99.
Specifications
1200 watts
80 PLUS Platinum efficiency
Fully modular DC cable set
100% Japanese electrolytic capacitors rated at 105°c
Zero-RPM fan mode for virtually silent operation at low and medium loads
Corsair Link support for monitoring efficiency, voltages, power output, temperature, and fan speed plus user customizable setting of rail modes and fan speed.
Fluid dynamic bearing fan
Continuous power rated at 50° Celsius
7 year warranty
And for keeping your files with you while on the go, Corsair has made available new USB 3.0 flash drive families – Flash Voyager Slider X1 and Flash Voyager Slider X2. Corsair also unveiled a rugged new look for the Flash Voyager GS and Flash Voyager GTX families with the addition of a 512GB size for Flash Voyager GS.
Combining the speed of USB 3.0 with the functionality of a cap-less USB drive, the Flash Voyager Slider X1 and Slider X2 share a glossy design that allows the USB cap to slide back into the drive housing. Slider X1 is available in 16GB ($15), 32GB ($20), 64GB ($40), 128GB ($65), and 256GB ($150) capacities and thanks to its USB 3.0 interface is able to reach read speeds of up to 130MB/sec. Slider X2 knocks the performance up another notch, with read speeds of 200MB/sec in capacities of 16GB ($20), 32GB ($30), 64GB ($55), 128GB ($100) and 256GB ($190).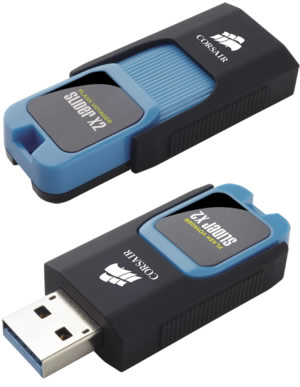 What's more, at just 54mm in length the Slider X1 and Slider X2 are very compact, allowing them to attach to a keychain via the included Key ring loop.
The drives are backed by a five year warranty.
Corsair is also releasing the Hydro Series H110i GT cooler, an upgraded version of the H110 that launched last year.
The new H110i GT uses a 140mm X 280mm radiator - also met in the H110. The radiator is 1.1" thick, and it ships with a couple of Corsair's own SP140L spinners. The GT also has a "new generation, high-efficiency cooling block" that's compatible with all modern sockets.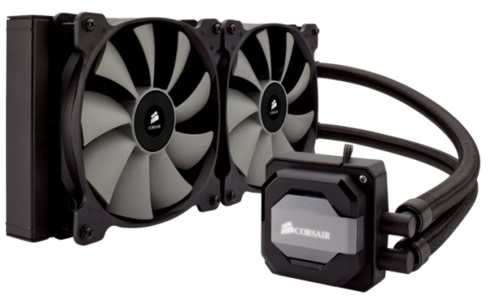 It will also feature Corsair Link support. The Corsair Link functionality lets users monitor and control fan and pump speeds using Windows software. That software also controls the backlit Corsair logo on the CPU block.
The system will have an MSRP of $129.99.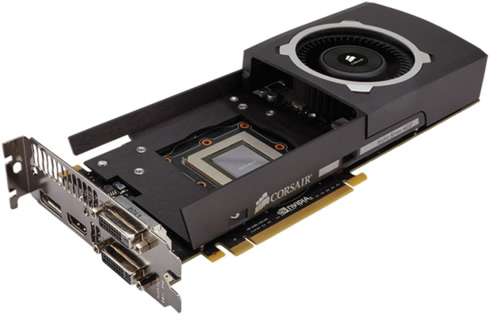 The H110i GT can also be strapped to select GPUs via the HG10 N780 GPU bracket. This GPU mount is compatible with GeForce GTX 770, 780, 780 Ti, Titan, and Titan Black graphics cards based on Nvidia's reference design.