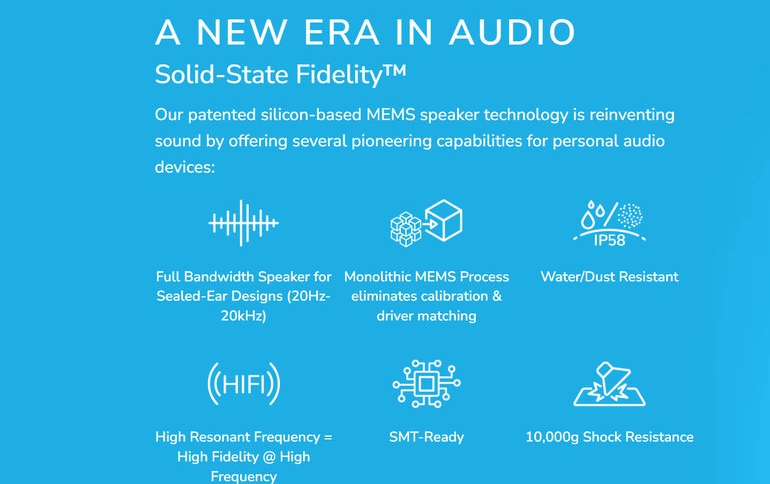 Creative and xMEMS Labs Partner to Deliver Superior High-Fidelity TWS Earbuds
Creative Technology is excited to announce a strategic partnership with xMEMS Labs, the pioneers in solid-state fidelity, bringing in a new era of audio excellence for users worldwide by incorporating xMEMS' cutting-edge micro-electro-mechanical system (MEMS) solid-state speaker technology into Creative's True Wireless Stereo (TWS) products.
xMEMS technology is a breakthrough in the audio industry, bringing unparalleled sound quality and efficiency to audio devices. Currently, traditional audio devices use conventional drivers to produce sound, which can sometimes result in distortion or loss of audio fidelity. Whereas, with xMEMS' tiny yet powerful hardware, Creative's TWS earbuds are set to deliver crystal-clear sound that reproduces every nuance of music and audio content with astounding accuracy. Users will get to enjoy a truly immersive and lifelike audio experience, whether they are listening to their favorite songs, watching movies, or engaging in conference calls.
The solid-state, all-silicon MEMS-based drivers also boast exceptional phase consistency (7x better than conventional drivers), offering superior spatial audio experiences with improved detail and separation. Furthermore, with the integration of xMEMS's compact hardware, users can expect lighter, sleeker, and more ergonomic Creative TWS earbuds that provide better wearability for users on the move.
"We are excited to partner with Creative to revolutionize the true wireless audio experience," said Joseph Jiang, CEO and Co-Founder at xMEMS Labs. "By integrating our advanced solid-state MEMS speakers into Creative's TWS products, we are confident that users will enjoy an unprecedented level of audio quality and efficiency. Together, we aim to redefine the way people listen to music, communicate, and immerse themselves in audio content."
"As an audio company committed to delivering superior sound experiences, Creative is excited to partner with xMEMS Labs to integrate their innovative MEMS technology into our TWS products," said Song Siow Hui, CEO of Creative. "By doing so, we are confident that our TWS products will stand out in the market, delivering exceptional sound quality, comfort, and style to our users."
The partnership between Creative and xMEMS Labs marks a significant milestone in the audio industry, raising the bar for True Wireless Stereo audio devices. The first series of Creative TWS products powered by xMEMS technology are expected to hit the market later this year, promising a game-changing experience for audio enthusiasts and casual users alike.
About xMEMS Labs
Founded in January 2018, xMEMS Labs is reinventing sound with the world's first solid-state True MEMS speakers for TWS and other personal audio devices. xMEMS has over 100 granted patents worldwide for its technology. The innovative, monolithic transduction architecture implements both actuation and diaphragm in silicon producing the world's fastest and most precise micro speakers, eliminating spring and suspension recovery of coil speakers. This results in the most accurate time domain music reproduction, unmatched sound clarity, and an elevated sense of space. For more information, visit https://xmems.com.
About Creative
Creative is a worldwide leader in digital entertainment products. Famous for its Sound Blaster® sound cards and for driving the multimedia revolution - which established a user base of 400 million - Creative drives digital entertainment with cutting-edge audio solutions that include premium wireless speakers, wireless headphones, powerful audiophile-grade digital amplifiers and next-generation home-theatre systems. Aiming at the new mobile networked generation by bridging the worlds of the computer, smartphones, and tablets, Creative continues to reinvent the Sound Blaster, with its ground-breaking Sound Blaster Roar series and USB-audio class of products such as the Sound Blaster X7.
In 2016, Creative unveiled the X-Fi Sonic Carrier: a brand-new concept in hi-res audio and video delivery for home entertainment. This technology powerhouse dubbed 'the soundbar of the gods' personifies the Audio of Tomorrow.
In 2018, Creative launched an all-new game-changing technology for headphones called Super X-Fi® Headphone Holography. This technology uses computational audio to recreate the listening experience of a high-end multi-speaker system in a professional studio, and delivers the same expansive experience - with the same original depth, detail, realism, and spaciousness - in headphones. Super X-Fi further uses Artificial Intelligence to compute a custom audio profile based on a person's unique anthropometry. Super X-Fi has won multiple accolades worldwide, including an unprecedented 23 awards at CES 2019-2020.