Creative Launches The First Super X-Fi Headphones
Creative Technology is officially launching the follow-up to the Creative SXFI AMP - the Creative SXFI AIR series of headphones.
Comprising the SXFI AIR and SXFI AIR C, these are the very first headphones featuring built-in Super X-Fi technology, a headphone holography technology which promises to redefine movies, music and gaming experiences.
On top of the Super X-Fi technology at the heart of the SXFI AIR series, the headphones also stand out with its 50mm Neodymium drivers.
The SXFI AIR connects via Bluetooth and USB to numerous platforms, ranging from mobile devices to PC and Mac to Nintendo Switch and PS4. Users can personalize their listening profiles through a mobile app, and upload them onto the SXFI AIR.
The headphones' wireless connectivity is providing compatibility with iOS and Android devices. When connected via USB, the SXFI AIR offers low-latency 7.1 audio which is great for movies and games, especially on the PC and Mac.
The SXFI AIR also operates as a standalone music player via microSD card for various formats including MP3, WMA, WAV and FLAC.
Additionally, the SXFI AIR comes with a touch-control earcup, where users can switch between tracks and adjust volume with simple finger sliding actions.
The SXFI AIR features mesh fabric earcups with built-in memory foam pads and also comes with customizable RGB light rings, which allow users to choose from 16 million colors to make the headphones truly their own.
The SXFI AIR C is an entry-level USB headphone with Super X-Fi aimed at gamers. It does not support Bluetooth, touch-controls and SD card.
The SXFI AIR C features a detachable ClearComms microphone that is tuned to reproduce strikingly natural vocals, allowing for flawless communication between gaming team-mates or friends. The ClearComms microphone is also an accessory option for SXFI AIR.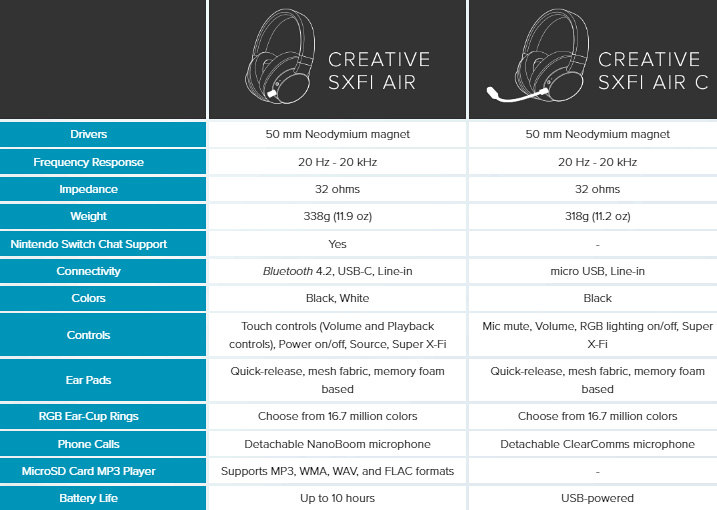 The Creative SXFI AIR series will be showcased at CES 2019. The SXFI AIR C is available at SGD179 on Creative.com. The SXFI AIR is available for pre-order at SGD219 on Creative.com, and will ship in February 2019.
Besides the SXFI AMP and SXFI AIR series, Creative will also offer at CES 2019 a glimpse into the other Super X-Fi innovations slated for the future:
Creative's newest sound card Sound Blaster AE-9, the pinnacle of PC audio innovation
Outlier Air, a True Wireless ear buds from Creative with high battery life
Sound BlasterX G6, the USB sound card for gaming