Vuzix Launches the $1,000 Blade Smart Glasses
Vuzix is now taking orders for its Blade AR glasses, which essentially float a miniature display in the right lens of a pair of a sunglasses using the waveguide technology.
The specific technology has been used by other companies as well. For example, Magic Leap calls its waveguide package a "photonics" chip, while Vuzix refers to its own as the "Cobra Display Engine."
Blade was designed not to be an augmented-reality headset like Microsoft's HoloLens or Magic Leap. The company says Blade is meant to be used as a companion to your smartphone, so you can leave your phone in your pocket. Form that point, the glasses will work similar to a smartwatch.
The Blade only comes in one style, with a couple of customization options available. You can add prescription lenses as well as different nose bridges for a better fit. In addition, the Blade definitely do not look like anormal eyewear; the reflective light in the middle of the lens is a dead giveaway that you're wearing something unusual.
The device projects a semi-transparent and much smaller rectangular screen, one that's more of a heads-up display for mirroring phone notifications and running low-key apps. It can even be moved around and repositioned so that it fits within your field of view.
The Blade runs on an operating system called Blade OS, which is based on Android. It has a simle launcher featuring shortcut icons on a bottom rail and a larger preview icon on top. To navigate, you use the touchpad on the glasses' right side to swipe and tap your way around.
The glasses can be used without a phone thanks to WiFi connectivity, but it's a lot more useful when paired with your Android or iPhone via a companion app. When connected, the Blade receives smartphone notifications such as calendar reminders and incoming messages.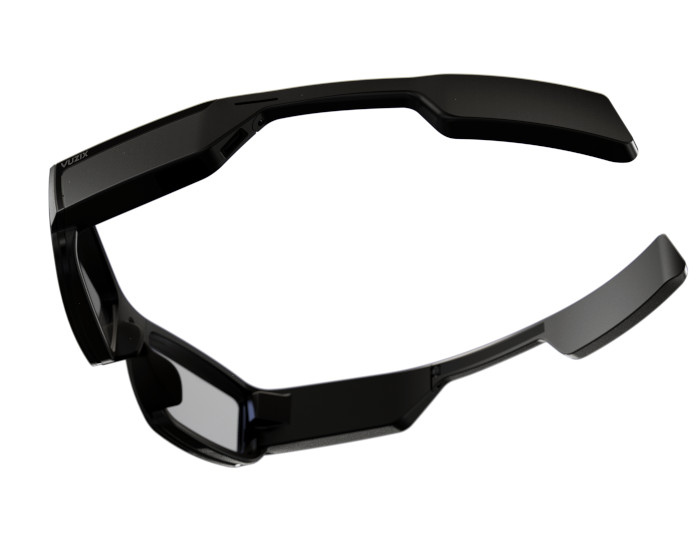 The device has also a 8-megapixel camera that you can use to snap photos or record video. When the camera app is in use, a red-light indicator will let everyone know it's activated in order to alleviate privacy concerns.
It also works with Alexa, and Google Assistant integration is also coming soon.
The Blade also comes with its very own app store , with apps to include video streaming, web browsers and even games.
Vuzix claims that in the future you'll be able to use Blade for step-by-step walking directions, or for watching video clips on YouTube. Vuzix also says that you'll be able to interact with virtual objects in the real world.
Blade is available for preorder and will start shipping at the end of this month.