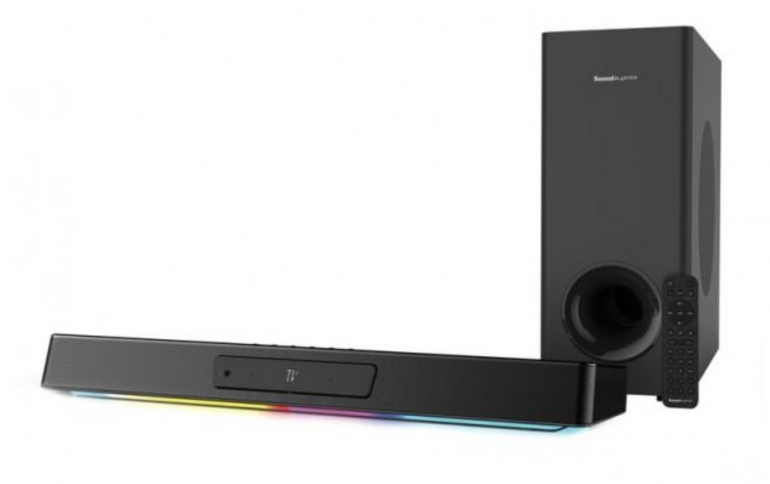 Creative launches Sound Blaster Katana V2
Creative has released the Sound Blaster Katana V2 gaming sound bar, which is designed specifically for gaming. It is the successor model to the "Sound BlasterX Katana," and the speaker output, connectivity, and audio function have all been improved over its predecessor model.
The same triple amp / five driver speaker design as before is used, with three distinct ampoules driving each of the five drivers. With a 0.75-inch cloth dome tweeter and a 6.5-inch long slow subwoofer, the overall speaker output is 126W / peak 252W, which is a 68 percent increase in power over the previous generation.
It is equipped with a new HDMI ARC port for added versatility. Sound from a TV equipped with an ARC-compatible HDMI input as well as the sound from a console game machine connected to the TV through HDMI can be played back as surround sound. It also includes a Sound Blaster audio processor as well as a Super X-Fi Ultra digital signal processor. There are two modes available: "Scout Mode," in which you may hear a faint voice in the game, and "SXFI BATTLE mode," in which you can sense the sense of distance between characters. HDMI, USB, and Bluetooth 5.0 are all supported by the connection interface. Additionally, on the front of the soundbar, there is a headset connector for connecting a gaming headset, which is in addition to the built-in, focus-controllable microphone on the back.
The soundbar's external dimensions and weight are 600 mm wide, 62 mm deep, 95 mm high, and it weighs around 1.52 kg. The subwoofer has a width of 150 mm, a depth of 367 mm, a height of 367 mm, and a weight of approximately 6.4 kg. It is available in black or white.
At the same time, a USB Type-C headset for voice chat called "Creative Chat USB" with a retractable noise canceling microphone is also made available for purchase and download. Although it is designed to be used with a Type-C compliant notebook PC or MacBook, it also includes a Type-A converter adapter for use with a standard desktop computer.
The built-in 40mm neodymium driver is capable of producing clear sound for online calls as well as powerful audio for games and films. A remote control with a microphone mute button is also included when the boom microphone is folded up and stowed.
Additionally, when using a Windows PC to conduct audio chat, it supports the innovative program "Smart Communication Kit." Use the "Voice Detect" option to turn off the microphone while you're not speaking, as well as the "Noise Clean" function to reduce ambient noise while you're speaking.
Read more at https://en.creative.com/p/speakers/sound-blaster-katana-v2