Cypress Brings FRAM to Autonomous Vehicles
At the Embedded World trade show in Germany this week, Cypress Semiconductor unveiled a new serial nonvolatile memory family to meet the performance and reliability demands of mission-critical data capture.
The Excelon Ferroelectric Random Access Memory (F-RAM) family delivers high-speed nonvolatile data logging, preventing data-loss even in harsh automotive and industrial operating environments over extreme temperatures. The Excelon Auto series offers 2-Mb to 4-Mb automotive-grade densities, while the Excelon Ultra series offers 4-Mb to 8-Mb industrial-grade densities. Both families are available in low pin count small package options.
The Excelon Auto series is offered in AEC-Q100 extended temperature options with functional safety (ISO 26262) compliance. The Excelon Ultra series offers 108-MHz Quad Serial Peripheral Interface (SPI) performance, which outperforms legacy memories. The Excelon family's inherent NoDelay instant writes also eliminate power failure "data-at-risk" due to volatile data buffers in legacy technologies and is offered in reduced pin count QFN packages. The family features wide voltage operation from 1.71V to 3.6V and is available in RoHS-compliant industry-standard packages that are pin compatible with EEPROMs and other nonvolatile memories. All Cypress F-RAMs provide 100-trillion (1014) read/write cycle endurance with 10 years of data retention at 85° C or 151 years at 65° C.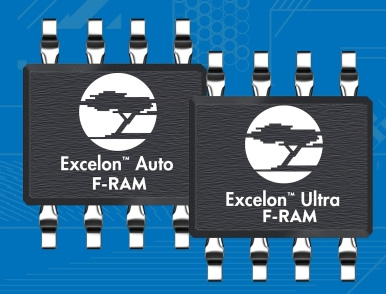 Cypress demonstrated its Excelon F-RAMs, along with its complete embedded systems solution portfolio, at the Embedded World trade show at the Nuremberg Exhibition Center from February 27 to March 1.
Cypress' Excelon F-RAM devices are currently sampling with production expected in the third quarter of 2018.