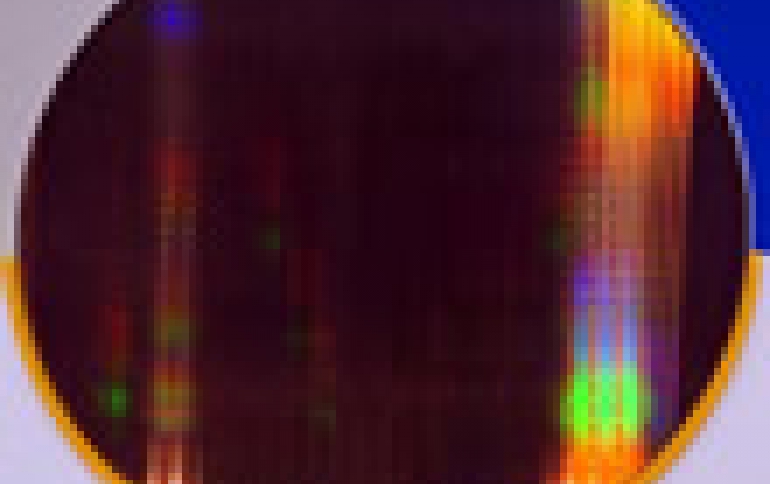 DRAM Trends For 2014
At the recent IDF event in San Francisco, Intel outlined the latest trends in the DRAM memory for the PC, server and mobile devices. Starting with the desktop segment, the performance roadmaps include the DDR3/DDR3L/DDR3L RS as well as the LPDDR3 DRAM memory types.
For Q1 2014, the speed for the 1.5V DDR3 as well as for the 1.35V DDR3L DRAM memory for the mainstream devices is expected to be 1,600 MT/sec, but it will able to reach the 1,866 MT/sec. The DDR3 mainstream density (x4/x8) will be 4Gb, while for DDR3 UDIMM /SoDIMM will reach the 8Gb.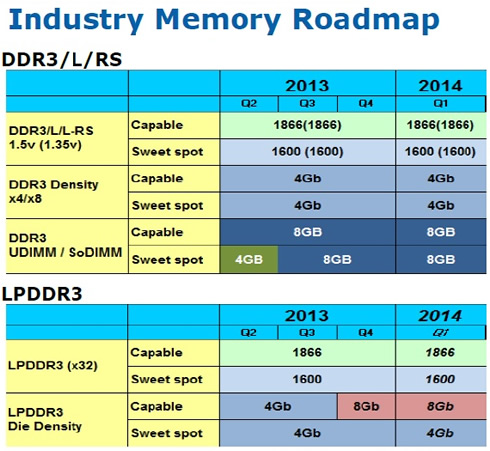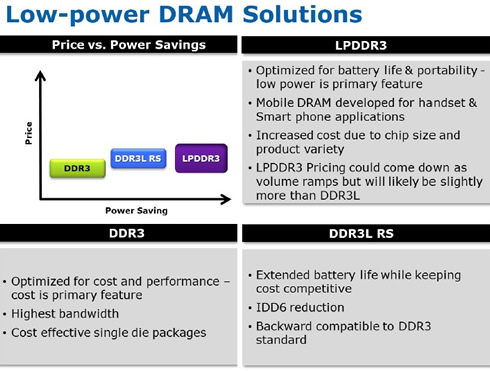 The LPDDR3 DRAM will power the mobile devices in 2014. LPDDR3 (x32) and DDR3L RS 1600 4Gb have been the mainstream memory configurations for the 2013 ultrabooks. For Q1 2014, the LPDDR3 (x32) will run at 1,600 MT/sec for the mainstream and up to 1,866 MT/sec. The mainstream LPDDR3 density for the same period will remain 4Gb, but also 8Gb in high-end mobile devices.
Below you see the DRAM memory that will be used by Intel's desktop, mobile and server platforms this year:
Comparing the DDR3L RS with the LPDDR3 DRAM, their main differences are related to the power supply voltage and self refresh rates, which have a direct effect on their power consumption.
Designed for smartphones, tablets and premium ultrabooks, the LPDDR3 DRAM is supplied with 1.8 V /1.2 V and has a self refresh (IDD6) at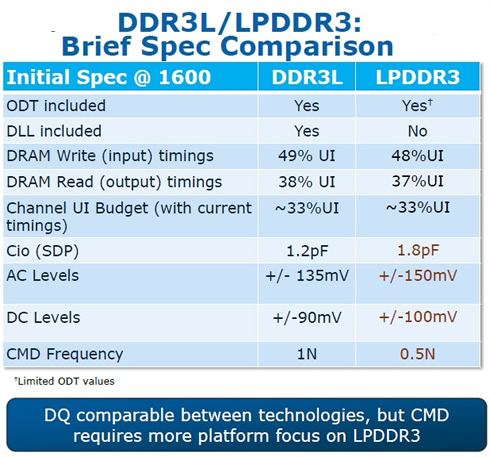 The DDR3L RS DRAM has been designed for desktops, servers, low-cost laptops and tablets. It is powered with 1.35V (VDD) and has a reduced IDD6 compared to the LPDDR3, at