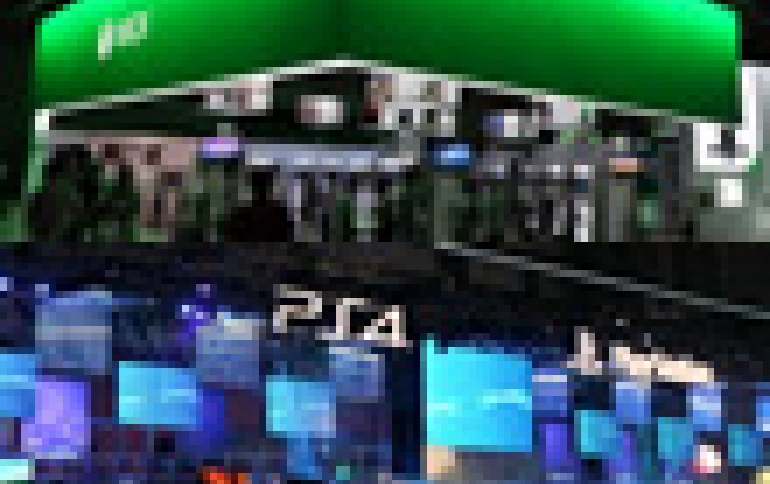 PlayStation 4, Xbox One On Display At Tokyo Game Show
The Tokyo Game Show 2013 kicked off in Chiba on Thursday, offering gamers their first real look at the PlayStation 4 and Xbox One, as well as the latest games. The PlayStation 4 hits shelves in North America in November and will be available to Japanese buyers in February. It will sell for just under 40,000 yen in Japan, about the same as in the United States.

Sony aims to sell 5 million PlayStation 4 game consoles in less than five months from its launch, Sony game unit chief Andrew House said in a presentation on Thursday. Preorders totalled 1 million as of August.

Sony has also refuted earlier reports that the PlayStation 4 would block external gameplay recordings by encrypting its HDMI output with high-bandwidth digital content protection (HDCP) while games are being played. However, Sony did not clarify whether HDMI recording would work for all games, meaning that individual developers may be able to turn on HDCP on a game-by-game basis, as they also block the 'Share 'button functionality of the PS4. Sony promised to provide more details soon.

It's also unclear if HDMI recordings will be available by default, or will require some sort of software or license fee to activate. In any case, its good to hear the company taking steps to address the concerns of content creators that rely on external capture devices to generate the basis of their work.

Sony's executives also announced a PlayStation app for Android and iOS. The app will let customers use a phone as a game controller by touching the "Connect to PS4" button from within the app. The app will also be available as a hub for PlayStation Network information, allowing users to access trophy information as well as chat with other players and accept multiplayer invites.

Sony's app will also direct users to dedicated game pages, as well as let gamers see their friends' activities on the "What's New" screen. Twitter and Facebook integration will also be a part of the new app.

Sony's Shuhei Yoshida also announced that the company will soon launch a library of PlayStation 3 titles via its Gaikai cloud-gaming service. The games will be available to play on the PS4 as well as on the PS Vita and Vita TV. The service is expeted to launch next year.

Sony also detailed its PS3 games upgrade program, which will allow buyers of of four select games to upgrade them with versions compatible with the PS4.

Assassin?s Creed IV Black Flag, Call of Duty: Ghosts, Watch_Dogs, and Battlefield 4 are the supported titles for this program. When users buy the Blu-ray Disc or digital version of these select PS3 games, for a limited time, they will receive an entitlement to download a PS4 digital copy of the same game from PlayStation Store when it becomes available, at the price of $9.99.

Gamers who purchase a PS3 Blu-ray Disc of these four games will find a code packed into the PS3 version that they can redeem on PlayStation Store. To play the PS4 version of the game when it becomes available, users will need to insert the original PS3 disc in their PS4 to activate and play the PS4 version.

Gamers who purchase the digital version of any of these four games will not need to redeem a code to receive their PS4 versions. When their PS4 arrives, the PS4 version of the game will appear on PlayStation Store for a price of $9.99.

Those who purchase the PS3 disc version of the games do not need a PS4 system to redeem their code, so they can to redeem it as soon as they pick up their PS3 copy.

This program lasts for a limited time, so users will need to redeem their code and make the purchase before January 31st, 2014 (for Assassin?s Creed IV and Watch_Dogs), March 28th (for Battlefield 4), or March 31st (for Call of Duty: Ghosts) in order to participate.

At Microsoft's camp, Phil Spencer on Wednesday disclosed that the Xbox business would soon unveil television projects, following on from an agreement to produce a television series of the 'Halo' game in collaboration with Steven Spielberg.

Microsoft's Xbox One, will be rolled out in 13 countries, including the U.S., Britain and Australia, on Nov 22. No date has been set for its release in Japan, although it will reportedly not be before 2014.

"Crimson Dragon" and New Gameplay for "Dead Rising 3" premiere at Tokyo Game Show

Today at the Tokyo Game Show, Microsoft showcased a first look at "Crimson Dragon," the flight-based shooter from the creator of the "Panzer Dragoon" series, and unveiled new gameplay for "Dead Rising 3," the next installment of Capcom?s zombie action series, coming exclusively to Xbox One on Nov. 22.

Launching exclusively for Xbox One for $19.99 (USD) on November 22, "Crimson Dragon" enables you to harness a dragon and take to the skies in this shooter where humanity has been driven to the brink of extinction on a planet ruled by dragons.

Microsoft and Capcom Vancouver also enticed fans with a first look at co-op multiplayer and Super-combo weapons, a new addition to the "Dead Rising 3" franchise.

In "Dead Rising 3's" online co-op mode, you can take on the zombie horde with a friend over Xbox Live, with the ability to hop in or out of each other's game at any time. When playing in a friend's game, you'll not only help them advance, but also contribute to your story progression and earn experience points that carry back into your own game. Any mission you finish in a friend?s game will also register as "complete" in yours, so you'll never have to go back and replay a co-op mission to advance your single-player story.

In addition to showcasing co-op, Capcom revealed Super-combo Weapons - a new tier of Combo Weapons that requires at least three components (and oftentimes multiple steps and blueprints) to craft, and features abilities that let you decimate crowds of zombies with devastating effect. Examples include the Ultimate Powershout, a deadly concussive horn made of traffic cones; the Ultimate Grim Reaper, a flaming scythe made of a katana sword, a scythe, a gas canister and a mask; and the Massive Bomb, a mini-nuke that obliterates every zombie in your vicinity ? along with your clothes.

Super-combo Weapons can also be customized into a wide range of different variants. For example, the fan-favorite "Freedom Bear" from "Dead Rising 2," a life-size stuffed bear turret armed with twin machine guns, can be customized into eight different variants in "Dead Rising 3" with modifications like grenade launchers, a push cart and a boombox lure to confuse the zombies.