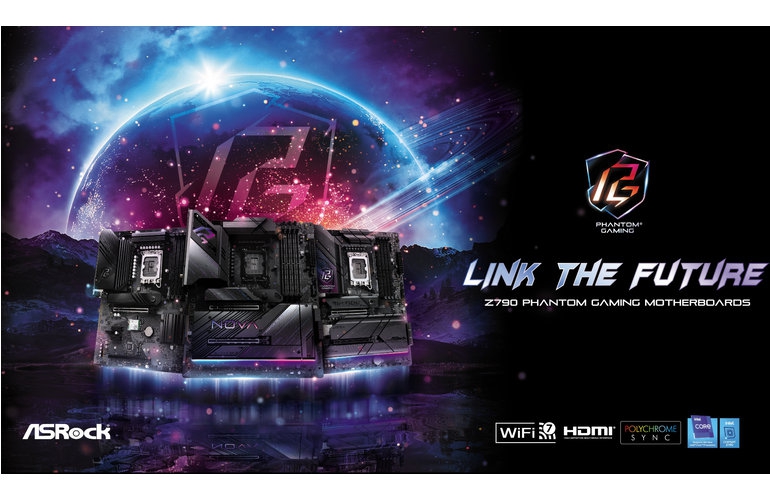 Enjoy Refresh Gaming Experience with ASRock at COMPUTEX 2023
ASRock is excited to announce its participation in the upcoming COMPUTEX Taipei 2023 after years of anticipation. ASRock will showcase a range of breathtaking innovative products and highly anticipated technology demonstrations. Attendees will have the opportunity to explore the ASRock latest products and solutions firsthand; also, get the immersive gaming experience at ASRock booth.
Z790 & B650 Series Motherboard Refresh - Link The Future
ASRock unveils its new PHANTOM GAMING lineup and proudly announces the high-end model Z790 Nova WiFi7, the NOVA symbolizes the dazzling light and energy of a star explosion which provides powerful support to the gamers. The new motherboard equipped with latest WiFi7 and 5Gbps LAN to provide fastest internet connection, and to support the even more power hungry future CPUs. The Phantom Gaming Z790 Nova WiFi7 is armed with 20+1+1 SPS Dr.MOS, the new 20K long lasting capacitors and 2oz inner layer PCB to provide unlimited computing performance. Alongside Z790 Riptide WiFi and Z790 Lightning WiFi, these cater to various needs for every segment. Featuring superior VRM and PCB design along with the latest tool less M.2 heatsink design, offer enhanced performance and immersive gaming experience.
The Taichi Lite series is here! Motherboard has been increasingly luxury especially on the high end segment, with those boutique looking design and fancy RGB effects, these cost adders lead motherboard prices exploded for the past few years, but things are about to change. Based on the existing Z790/B650E Taichi, the Z790/B650E Taichi Lite both equipped 100% of the original specification such as 24 phase VRM for Vcore, USB4 Type-C and Gen5 M.2 support, Taichi Lite series will be focusing purely on the functionality, performance and durability, and with the new simplified design concept, ASRock has brought the long awaited affordable high end motherboard finally back to the market!
Unveiling the Next-Gen ASRock Monitor
ASRock is set to showcase an exciting lineup of monitors at COMPUTEX 2023, featuring six existing products along with new gaming and business models. The spotlight will be on the PG558KF and PG32UMF, two high-end monitors. The PG558KF is a remarkable 55-inch display that boasts 8K UHD resolution and HDR1000 support. This cutting-edge monitor equips with upgraded gear and ready for the next generation of high-definition console and PC gaming.
On the other hand, the PG32UMF Mini-LED gaming monitor offers a 144Hz refresh rate, 1152-zone local dimming, and remarkable HDR1400 with 97% DCI-P3 wide color gamut support. Its vibrant and vivid colors deliver an exceptional 4K UHD gaming experience. Both high-end models featured HDMI2.1 and DisplayPort 1.4 interfaces, as well as a USB Type-C PD3.0 90W fast charging (upstream) port and four USB Type-A (downstream) ports, provide gamers with more connectivity options.
Furthermore, the PG27QF2A IPS gaming monitor, designed with mainstream specifications, offers 2K QHD resolution with 165Hz high refresh rate. It featured a brand-new Phantom Gaming design and inherits the exclusive built-in Wi-Fi antenna, ensuring stable Wi-Fi reception on PCs and resolving latency and lag issues for online gaming.
Lastly, ASRock plans to launch the A27FE and A24FE models in the second half of the year. These entry-level monitors are equipped with FHD IPS panels, 100Hz refresh rate, and support for AMD FreeSync™ technology, which effectively eliminates the screen tearing and stuttering. Both models are ideally for a range of applications, including business, education, home, and light gaming usage.
New Mini PC
ASRock proudly announces its new DeskMeet series which can support AMD Ryzen™ 7000 Series processors up to 65 watts, four DDR5 memory slots, a PCIe 4.0 graphics card within 20cm, one 2.5G LAN and two M.2 PCIe SSD slots, one of them offers up to PCIe 5.0 high speed. Moreover, ASRock is so excited to make DeskSlim series debut in COMPUTEX. The volume of DeskSlim is only 6.5L, but it can be compatible with DeskMeet's motherboards and support slim ODD for business usage. For Intel® new models, ASRock will start mass production of DeskMeet B760 and DeskMini B760 in Q3 this year. ASRock is committed to providing various Mini PC product lines for users to choose.
Exhibition Dates & Hours:
- May 30th ~ June 2nd, 2023 – 9:30 am ~ 5:30 pm
Venue: Taipei Nangang Exhibition Center, Hall 1 (No.1, Jingmao 2nd Rd., Nangang District, Taipei City 11568, Taiwan)
Booth: L0609
Moreover, ASRock announced its new powerful vBIOS designed for AMD Radeon™ RX 7900 XTX AQUA 24GB OC to offer users better gaming experience. The new vBIOS (file name: RX7900XTX_24GB_Extreme_OC) of Radeon™ RX 7900 XTX AQUA 24GB OC is equipped with better settings to make graphics card break previous performance limitation. Compared with AMD Radeon RX 7900 XTX reference card, the new vBIOS settings have approximate 13.5% performance enhancement123 (3DMark Time Spy Score) and significantly improve user's gaming experience. In order to keep providing innovative services and optimizing user experience, ASRock focuses on cultivating the core value of the brand, and always committed to research and development. The latest vBIOS is already available to download on ASRock website now, be sure to update to the latest vBIOS to enjoy the ultimate gaming experience with the power of liquid cooling.
For more information, please visit: https://www.asrock.com/Graphics-Card/AMD/Radeon RX 7900 XTX AQUA 24GB OC/index.asp