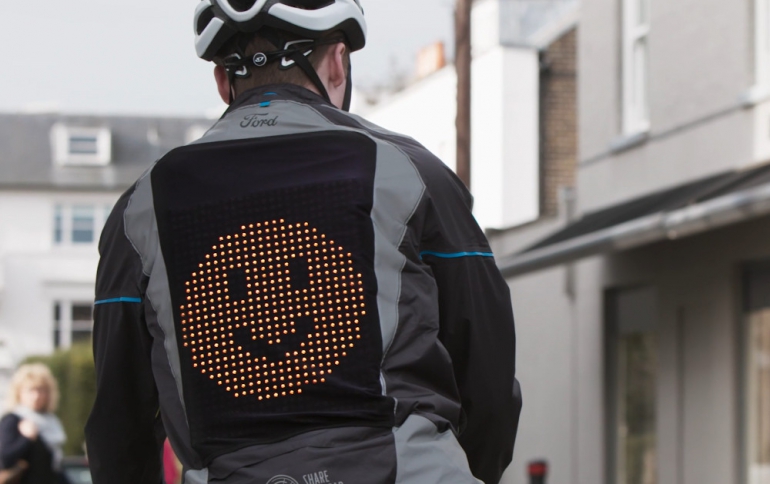 Ford's Emoji Jacket Helps People to Share The Road's Conditions
Ford has designed a prototype Emoji Jacket to improve understanding between cyclists and drivers.
Communication between drivers and cyclists can be difficult with riders having to remove their hands from the handlebars to indicate changes in direction or to express thanks.
As part of its 'Share The Road' campaign – Ford has commissioned a prototype Emoji Jacket. This one-of-a-kind creation, which is not available to buy, is designed to show how tensions could be eased by enabling riders to more easily and more clearly show drivers what their intentions are – and how they are feeling.
The jacket features an LED mesh panel that can display three emojis, arrows or a hazard signal.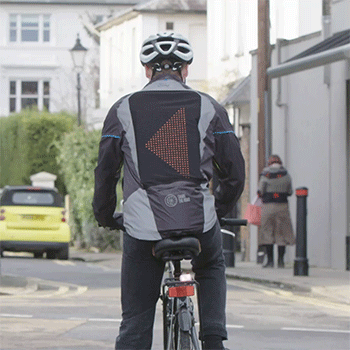 The cyclist activates each emoji, indicators and the hazard sign using a wireless remote mounted on the bicycle's handlebars.
Ford's 'Share The Road' campaign seeks to foster harmony between road users and underlines the company's belief that enabling more people to cycle safely, especially for short journeys, benefits everyone.
The company has produced a virtual reality experience so that drivers and cyclists can better understand the challenges of each other's journeys. 'WheelSwap' enables motorists and cyclists to see how inconsiderate driving and riding can be at the least hair-raising –and potentially fatal – for their fellow road users. Initial studies show that after undergoing the experience, nearly all participants said they would change their behavior.