Freecom Announces World's First USB 3.0 Hard Drive
Freecom,
a Mitsubishi Kagaku Media company
, today announced the 'Hard Drive XS 3.0' - the first external hard drive in the world to offer 'SuperSpeed USB' technology. Using USB 3.0, Freecom is offering transfer speeds of approximately 130 MB/s - significantly faster than existing solutions - enabling users to back up and upload information in a matter of seconds. The Hard Drive XS 3.0 is also the smallest 3.5" desktop hard drive available.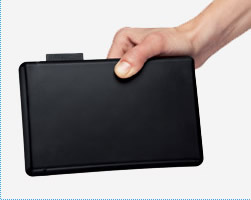 More than 70 percent of data storage devices expected to make use of the USB 3.0 standard by 2012.
Freecom's Hard Drive XS 3.0 is offering capacities up to 2TB. By simply plugging the hard drive into a USB port on a computer or TV, users can quickly back up important data and share office work, digital photos, music and movies from one central location.
The Freecom Hard Drive XS 3.0 is backwards-compatible and will work with all USB 2.0 enabled computers and notebooks, as well as forthcoming USB 3.0 models. Freecom will also launch its USB 3.0 controller to allow computer users to take advantage of the standard?s top speeds today. USB 3.0 theoretically offers transfer speeds of up to 500 MB/s.
Designed in collaboration with acclaimed Belgian designer Sylvain Willenz, the sleek new Hard Drive XS 3.0 is covered in a form-fitting rubber enclosure that ensures optimal grip and reduced vibration, combining functionality with refinement. The fanless system means the drive is almost silent and weighing in at just 860 grams.
The Hard Drive XS 3.0 will be available in Europe from mid-November in 1TB, 1.5TB and 2TB capacities. Prices start at 119 EUR for 1TB.
The Controller Card for desktops is 25.95 EUR and the Express Controller Card for notebooks is 29.95 EUR.