Google Maps Now Available For iPhone
Google maps returned to the iPhone, months after Apple's own mapping service flopped, prompting user complaints. Google Maps is rolling out across the world in the Apple App Store. Daniel Graf, director of Google Maps for Mobile, said the new maps application "has been designed from the ground up to combine the comprehensiveness and accuracy of Google Maps with an interface that makes finding what you?re looking for faster and easier."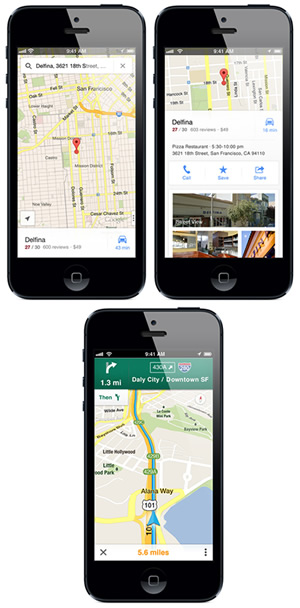 The app shows more map on screen, it's a sharper looking, vector-based map that loads quickly and provides smooth tilting and rotating of 2D and 3D views. The search box at the top is a good place to start - perhaps by entering the name of a new and interesting restaurant. An expandable info sheet at the bottom shows the address, opening hours, ratings and reviews, images, directions and other information.
Previews are also available with Street View allowing users to see inside places with Business Photos to decide on a table or see if it?s better at the bar. The app is also offering voice-guided, turn-by-turn navigation, live traffic conditions and information about public transportation.
To complete the Google Maps ecosystem, Google is also releasing the Google Maps SDK for iOS, and a
simple URL
scheme to help developers use Google Maps when building their apps.
The new Google Maps app is available for the iPhone and iPod Touch (4th gen) iOS 5.1 and higher, in more than 40 countries and 29 languages, including Chinese, Dutch, English, French, German, Italian, Japanese and Spanish.
The release comes nearly three months after Apple replaced Google Maps as the device's built-in navigation system and inserted its own maps into the latest version of its mobile operating system.
However, Apple's maps proved to be far inferior to Google's, as they misplaced landmarks, overlooked towns and sometimes got people lost. This prompted Apple CEO Tim Cook to issue a public apology and recommend that iPhone owners consider using Google maps through a mobile Web browser or seek other alternatives until his company could fix the problems.
There still isn't a Google mapping app for the iPad, but the company plans to make one eventually.