Holographic storage on the way this year
Holographic storage drives and other products based on holographic storage technology are expected to be in the market by the end of the year. Optoware and Inphase Technologies are the current technology leaders in this area, while NIST supports them too.

Japanese Optware Corp. has announced plans to create products based on its HVD (Holographic Versatile Disc) technology, first for the health care, oil and gas, and pharmaceutical markets, and eventually for the home market.
What is holographic?
Holography breaks through the density limits of conventional storage by going beyond recording only on the surface, to recording through the full depth of the medium. Unlike other technologies that record one data bit at a time, holography allows a million bits of data to be written and read in parallel with a single flash of light. This enables transfer rates significantly higher than current optical storage devices.
Combining high storage densities, fast transfer rates, with durable, reliable, low cost media, make holography poised to become a compelling choice for next-generation storage and content distribution needs.
How is data recorded?
Light from a single laser beam is split into two beams, the signal beam (which carries the data) and the reference beam. The hologram is formed where these two beams intersect in the recording medium.
The process for encoding data onto the signal beam is accomplished by a device called a spatial light modulator (SLM). The SLM translates the electronic data of 0?s and 1?s into an optical "checkerboard" pattern of light and dark pixels. The data is arranged in an array or page of around a million bits. The exact number of bits is determined by the pixel count of the SLM.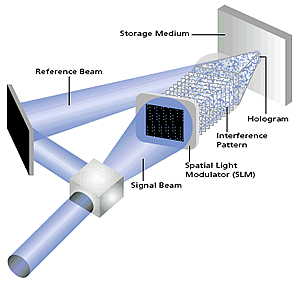 At the point of intersection of the reference beam and the data carrying signal beam, the hologram is recorded in the light sensitive storage medium. A chemical reaction occurs in the medium when the bright elements of the signal beam intersect the reference beam, causing the hologram stored. By varying the reference beam angle, wavelength, or media position many different holograms can be recorded in the same volume of material.
According to Optware, its HVD-based products will store between 100GB and 1TB of data and be able to transmit data as fast as 1G bit per second.
Optware's announcement came on the heels of a similar announcement last month from InPhase Technologies Inc.

InPhase recently began shipping its Tapestry HDS5000 media, a recordable holographic drive based on WORM (Write Once Read Many) technology.
A newer version, the Tapestry HDS-200R, is expected to hit the market this year. The new version will be a 200GB recordable drive with a 20 MB-per-second transfer rate.
According to the company, Tapestry's target markets include professional video/rich media, regulatory compliance, and data archive applications that value high capacity, fast transfer rate and long media archival life. Specific application areas include security, geospatial imagery, broadcast, medical, and digital video in business and entertainment.
Both companies are relying on holographic information storage technology to achieve their goals. According to ECMA, an industry association group spearheading the development of a standard for holographic information storage, one HVD can store more than 200G of data, or the equivalent of more than 40 of today's DVDs, and eventually will be able to store more than 1.3TB.
Optware and InPhase, as well as contenders Aprilis Inc. of Maynard, Mass. and Colossal Storage Corp. of San Jose, Calif., are doing their best to get HVD-based products to market. Both InPhase and Optware plan to have products available this year and to introduce more over the next several years.
And in the case of InPhase, the company already has a variety of vendors interested in its technology. First out of the gate is Sony Corp., which already has demonstrated a holographic ROM technology using InPhase's Tapestry media that enables backward read compatibility with DVD and CD formats.