HyperX Releases FURY RGB SSD and SAVAGE EXO SSDs
HyperX, the gaming division of Kingston, is releasing the HyperX FURY RGB SSD and HyperX SAVAGE EXO SSD.
The FURY RGB SSD is designed for gamers looking to load games faster while brightening their rigs with more color and LED lighting. Savage EXO SSD is a performance external SSD that can be used to store and run applications quickly and directly from the device. Both SSDs utilize 3D NAND technology.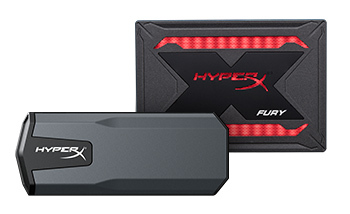 The FURY RGB SSD supports up to 550MB/s read and 480MB/s write speeds and features a lightbar that offers dynamic, customizable RGB lighting effects. Compatible with RGB motherboards that support RGB lighting and multiple RGB devices, FURY RGB SSD can also be daisy chained to sync RGB effects across system internals.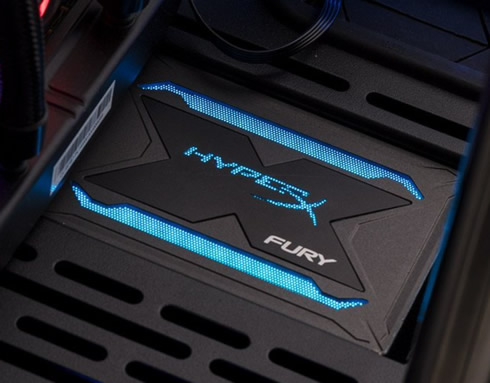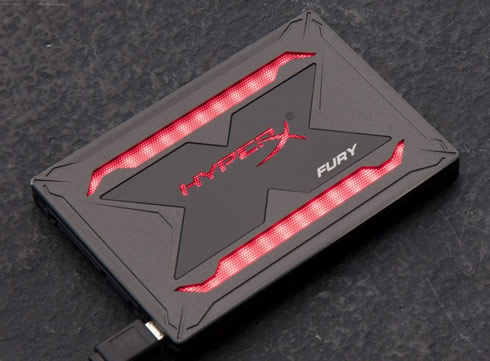 FURY RGB SSD is available in 240GB, 480GB, and 960GB capacities. It is sold as a standalone RGB SSD or with an upgrade bundle kit that includes a USB 3.0 enclosure, 3.5" bracket and mounting screws, RGB cable, SATA data cable, USB 3.1 Type A to mini-USB Cable and Hard Drive Cloning Software.
The external SAVAGE EXO SSD can be used for game backups, video editing and other speed sensitive storage requirements. The SSD features read speeds of 500MB/s and write speeds of 400MB/s, and offers simple connectivity for Windows and Mac, as well as compatibility with XBOX One and PS4 via USB 3.1 Gen 2.5.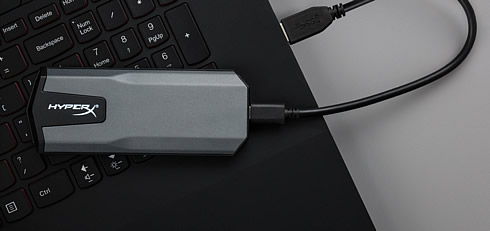 SAVAGE EXO SSD weighs 56 grams offering a compact design, and offers a load time increase of up to 20 percent on today's consoles, according to Kingston. It is available in 480GB and 960GB capacities.
The FURY RGB SSD and SAVAGE EXO SSD are available now in the U.S. and Canada backed by a limited 3-year warranty.
HyperX FURY RGB SSD Specifications:
Interface 2.5"
Interface SATA Rev. 3.0 (6Gb/s) - with backwards compatibility to SATA Rev. 2.0 (3Gb/s)
Capacities 240GB, 480GB, 960GB
Controller Marvell 88SS1074
NAND 3D TLC
Sequential Read/Write: 240GB-960GB - up to 550/480MB/s
Power Consumption 0.2W Idle / 0.6W Avg. / 1.2W (MAX) Read / 2.5 W (MAX) Write
Dimensions 100.14mm x 69.85mm x 9.5mm
Operating temperature 0°C~70°C
Storage temperature -40°C~85°C
Weight 165g
Vibration operating 2.17G Peak
Vibration non-operating 20G Peak
Life expectancy 1 million hours MTBF
Warranty/support Limited 3-year warranty with free technical support
Total Bytes Written (TBW)

240GB - 120TB
480GB - 240TB
960GB - 480TB
HyperX SAVAGE EXO Specifications:
Interface: USB 3.1 Gen 2 Type C
Capacities: 480GB, 960GB
NAND: 3D TLC
Sequential Read/Write: 480GB-960GB - up to 500/480MB/s
Power Consumption: 5v 900mA
Dimensions: 123.82mm x 48.61mm x 10.24mm
Operating temperature: 0°C~70°C
Storage temperature: -40°C~85°C
Weight: 56g
Vibration operating: 2.17G Peak
Vibration non-operating: 20G Peak
Life expectancy: 1 million hours MTBF
Warranty/support: Limited 3-year warranty with free technical support