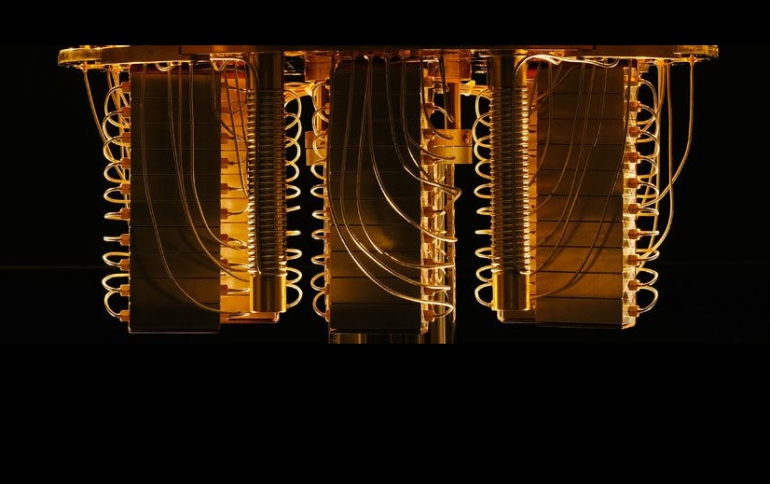 IBM Targets at Doubling Quantum Computing Speed Every Year
IBM researchers are hoping to double performance of quantum computers each year in order to eventually manage to make quantum computers faster or more efficient at a task than a classical computer.
Earlier this year at CES, IBM unveiled an industry milestone: the IBM Q System One, the world's first integrated universal approximate quantum computing system for commercial use. The System Q quantum computer looks like no other computer you've ever seen. When running, it's hidden inside a chamber to chill it to a temperature colder than interstellar space.
The goal is to achieve what IBM calls "Quantum Advantage" — when the researchers will be able to demonstrate, in certain use cases, a significant performance advantage over today's classical computers. By "significant," the researchers mean that a quantum computation is either hundreds or thousands of times faster than a classical computation, or needs a smaller fraction of the memory required by a classical computer, or makes something possible that simply isn't possible now with a classical computer.
Quantum machines rely on quantum bits, or qubits, to manipulate data. But just adding more qubits might not boost a machine's performance. That's because their fragile quantum state can be disrupted by even the tiniest vibrations or changes in temperature—a phenomenon known as "noise". This causes errors to creep in to calculations.
The company has benchmarked IBM Q System One in detail and reported some performance numbers in the context of its IBM Q Network systems "Tokyo" and "Poughkeepsie" and the publicly-available IBM Q Experience system "Tenerife."
The performance of a particular quantum computer can be characterized on two levels: metrics associated with the underlying qubits in the chip—what IBM calls the "quantum device"—and overall full-system performance.
IBM said that the IBM Q System One's performance was reflected in some of the best/lowest error rates they have ever measured. The average two qubit gate error is less than two percent, and the best gate has less than one percent error rate.
IBM's devices are also close to being fundamentally limited by coherence times, which for IBM Q System One averages 73μs.
The mean two-qubit error rate was within a factor of two (x1.68) of the coherence limit, the theoretical limit set by the qubit T1 and T2 (74μs and 69μs on average for IBM Q System One). "This indicates that the errors induced by our controls are quite small, and we are achieving close to the best possible qubit fidelities on this device," IBM researchers Jay Gambetta and Sarah Sheldon said in a statement.
To move beyond simple measurements, IBM developed Quantum Volume, a full-system performance metric that accounts for gate and measurement errors as well as device cross talk and connectivity, and circuit software compiler efficiency. This new single measure of progress still counts qubits, but also incorporates things like error rates and the quality of connectivity between qubits.
"To achieve Quantum Advantage in the 2020s, we need to at least double Quantum Volume every year," the researcher said.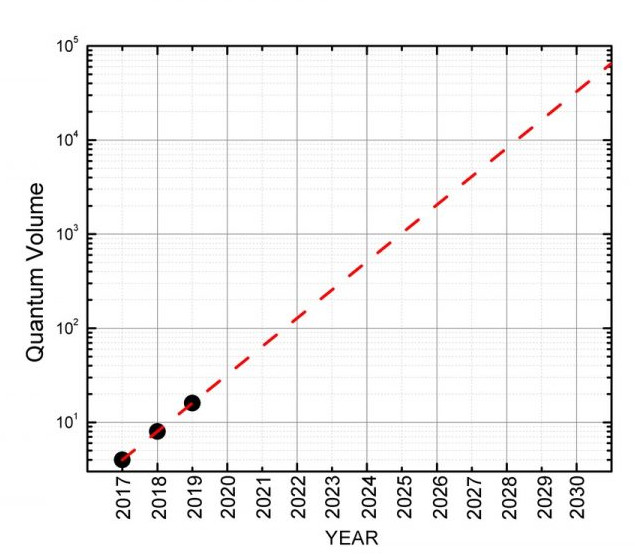 According to IBM;s measurements, the Quantum Volume of its five-qubit device, Tenerife, which was first made available through the IBM Q Experience quantum cloud service in 2017, is 4. Current IBM Q 20-qubit premium devices have a Quantum Volume of 8. IBM's latest results on the IBM Q System One indicate its performance is just over the threshold for 16. The IBM Q team has been able to double Quantum Volume annually since 2017.
IBM says thtt teh results establishe a roadmap for quantum systems that double in power year over year, as measured by Quantum Volume. Interestingly, you can compare the graph above with the one in Gordon Moore's law, the famous observation by Intel co-founder about the exponential progress of conventional computer chips.
In 1965, Gordon Moore said, "The future of integrated electronics is the future of electronics itself." "We now believe the future of quantum computing to be the future of computing itself," the researchers said.
IBM is a leader in quantum computing and was the first to make its machines available via the computing cloud for others to use.

Working out the best way to compare these quantum computers is important, but each company is bound to promote yardsticks that favor its own hardware and software.