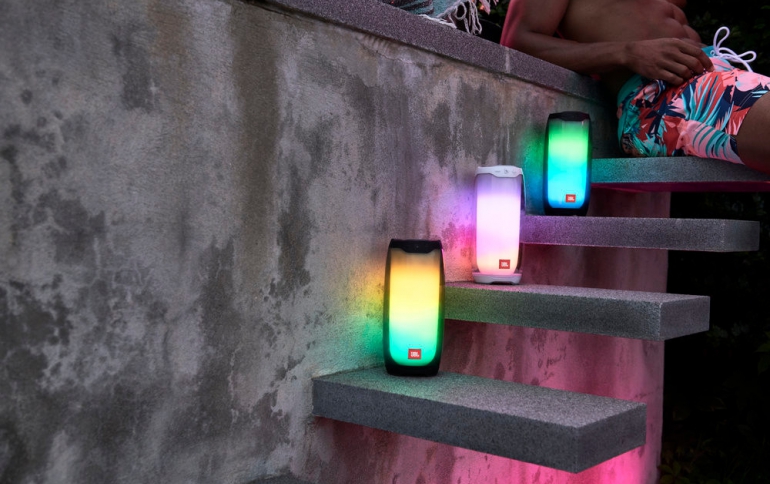 IFA 2019: New JBL Soundbars And Party Speakers
JBL, a wholly-owned subsidiary of Samsung Electronics, introduces at IFA 2019 the Pulse 4, JBL Link Portable and Link Music portable speakers, new soundbars and the JBL LIVE 300TWS wireless earphones.
Pulse 4
JBL's Pulse 4 is here, ready to provide sound in your living room or the beach party, with great visuals to match.
High-resolution LED lights beneath its sleek surface produce light shows. With JBL's classic Signature sound, you'll hear the crisp highs and deep bass from all angles.
The JBL Connect app allows you to choose colours and effects to suit any mood. Use your phone camera to customize the colours by scanning and colour-matching any object that takes your fancy.
Up to two smartphones or tablets can connect at once to keep the music flowing among friends, while a 12-hour battery life and IPX7 waterproof build ensure the Pulse 4 can handle any rave, come rain or shine. Head to the PartyBoost feature in the JBL Connect app to crank up the fun and wirelessly connect more than 100 JBL PartyBoost enabled speakers.
JBL Pulse 4 Features
Wireless Bluetooth streaming: Wirelessly connect up to two smartphones or tablets to the speaker
Play time: Pulse 4 delivers up to 12 hours of party time on a single charge, with USB-C charging
IPX7 waterproof
PartyBoost: Pump up the party by wirelessly connecting more than 100 JBL PartyBoost enabled speakers
Shake it up: Connect your LED light show with other nearby Pulse4's - simply hold your speaker nearby and shake it to sync up
Customisable 360° light show sets the atmosphere by animating songs visually using the JBL Connect app
The JBL Pulse 4 will be available in white or black for 229 €.
JBL Link Portable and Link Music
The new JBL Link Portable and Link Music have arrived. They offer 360 JBL Signature Sound, Wi-Fi and Bluetooth connectivity, Chromecast and Google Assistant built-in.
Both speakers are available in ocean blue, black, grey, sienna brown, yellow green and straw.
The JBL Link Portable comes with an eight-hour battery life and full IPX7 waterproof housing. The charging cradle means you can easily pop it on to power up, no fiddly wires required.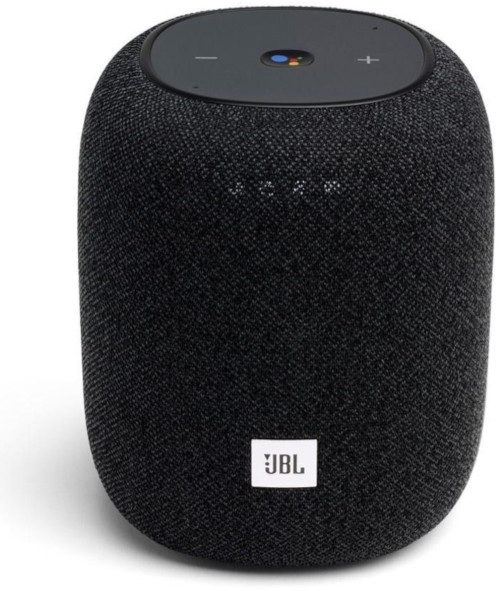 As for the JBL Link Music speaker, it pulses sound in every direction thanks to a full-range transducer with 360-degree capabilities. You can stream tunes and asking for the latest weather and news updates, for €99.
Key features:
JBL Signature Sound - 360-Degree Pro Sound all around, with dedicated passive radiators
Google Assistant built-in – Play and control music with your voice
Chromecast built-in with multi-room music playback – integrates with hundreds of compatible streaming apps (such as Google Play Music and Spotify) and connects to other Link or Chromecast speakers for multi room listening
AirPlay 2 – stream from Apple Music or locally stored tracks from Apple devices
HD audio streaming (24bit/96K) – Chromecast streams directly from the cloud
Wi-Fi & Bluetooth connectivity – Supports both 2.4GHz and 5GHz Wi-Fi bandwidth
8 hours play time – Move freely around your home, there's a charging cradle for easy recharging (Link Portable only)
IPX7 waterproof– Move the speaker room to room without worrying about spills or even submersion in water (Link Portable only)
The JBL Link Music and Link Portable will be available 99 EUR and 149 EUR respectively.
JBL LIVE 300TWS
Live free from wires with the new JBL LIVE 300TWS wireless earbuds.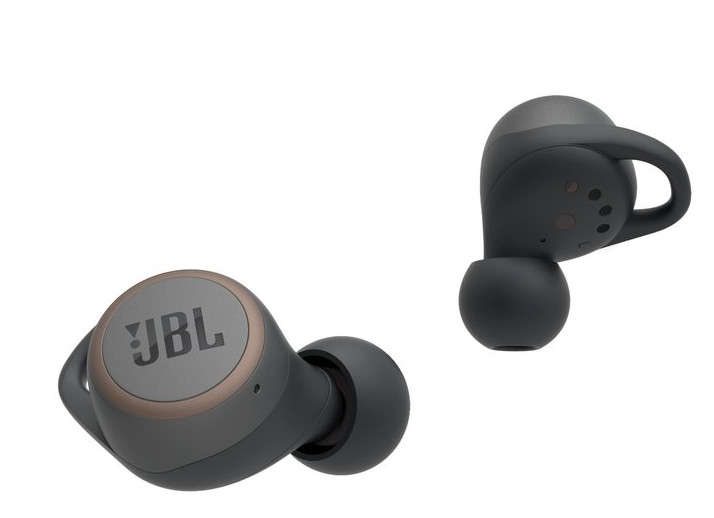 Using the Ambient Aware function you can hear what's happening around you, so if you're in a busy city, or listening out for your flight to be called, you'll never miss a beat. The TalkThru mode allows you to turn the music down and talk to your friends, without removing your headphones. With Google Assistant and Amazon Alexa on hand you get answers straight into your ears, be it directions to a gig or checking the weather.
JBL LIVE 300TWS will be available on JBL.com from November 2019 for €149 in black, white and blue.
Features of the LIVE 300TWS:
Up to 6-hour music playback, 20 hours combined with charging case
Urban Noise Control: Ambient Aware and TalkThru
IPX5 Sweatproof and water resistant
Get help from your favourite Voice Assistant. Use the JBL App to activate the Google Assistant or Amazon Alexa to change your playlist, check the weather or ask for directions
Ergonomic fit and design
10-minute speed charging capabilities for 1 full hour of battery life
The JBL LIVE 300TWS joins a range of True Wireless headphones from JBL.
The JBL REFLECT FLOW allows listeners to express their style while exercising with the help of great sound, and wireless capabilities. It offers patented FreeBit ergonomics, easy connection to your device's voice assistant, IPX7 waterproof rating and 30+ hours of combined playback time.
JBL REFLECT FLOW is available now on JBL.com for €149 in black and ice blue.
Features of the JBL REFLECT FLOW:
30-hours of combined playback
IPX7 Water and sweatproof
Rugged 20-hour charging case
TalkThru and Ambient Aware technologies
Easily connect to voice assistants
Ergonomic secure fit and design
Any music enthusiast looking to make the break from wires and neckbands can take a look at the JBL TUNE 120TWS in-ear headphone. With JBL's Pure Bass Sound and easy access to a voice assistant, listeners can conquer the day however it suits them best—whether calling friends, commuting to work, or while fully immersed in a favourite song or podcast.
JBL TUNE 120TWS will be available now on JBL.com at €99.99 in white, black, and blue.
Features of the JBL TUNE120TWS:
16-hours of combined playback time
Compact 12-hour charging case
Hands-Free stereo calling, connect to voice assistants with a simple touch
Ergonomic fit and design
15-minute speed charging capabilities for 1 full hour of battery life
For those looking for a sport headphone to survive their latest intense workout, JBL's ENDURANCE PEAK could be an option. With 28-hours of combined playback time, athletes will love the completely wire-free experience, touch controls and PowerHook design.
The JBL ENDURANCE PEAK is available now on JBL.com for €119 in black.
Features of the JBL ENDURANCE PEAK:
28-hours of combined playback
TwistLock and FlexSoft technologies
IPX7 Water and sweatproof
Rugged 24-hour charging case
Full-function touch control

Athletes can look at the UA True Wireless FLASH headphones – engineered by JBL. These sport wireless in-ear waterproof headphones were designed for runners by runners. The lightweight, fully cord-free headphones allow runners to break free from the restrictions of wires. To insure ultimate focus, the Sport Flex Fit design keeps headphones secure to sidestep the hassle of constantly readjusting. And with UA Storm Proof waterproof technology and an IPX7 rating, these headphones can endure any sweat session or the outdoor elements. They offer 25-hours of combined playback time.
Features of the UA True Wireless FLASH – Engineered by JBL:
JBL Charged Sound with 5.8mm diameter dynamic drivers
Bionic Hearing with TalkThru and AmbientAware Technologies
UA Storm Proof sweat & waterproof technology with an IPX7 rating
Up to 5-hours of battery life with a rugged aluminum 20-hour charging case
Bluetooth true wireless
Three fitting options of the Sport Flex Fit Ear Tips included

New Soundbar series
Slimmer, punchier bass and more immersive sound; JBL announced three new products.
For movie fans, the JBL Bar 5.1 Surround provides a panoramic surround sound experience from a single bar and 10" wireless subwoofer. Thanks to JBL's proprietary MultiBeam technology, panoramic surround sound is now available without additional rear speakers and cables. The special configuration of five full range drivers and two side-firing tweeters promise to deliver a room-filling experience. JBL's Bar 5.1 Surround becomes part of your home wireless music system, with built in Wi-Fi, Airplay 2 and Chromecast too.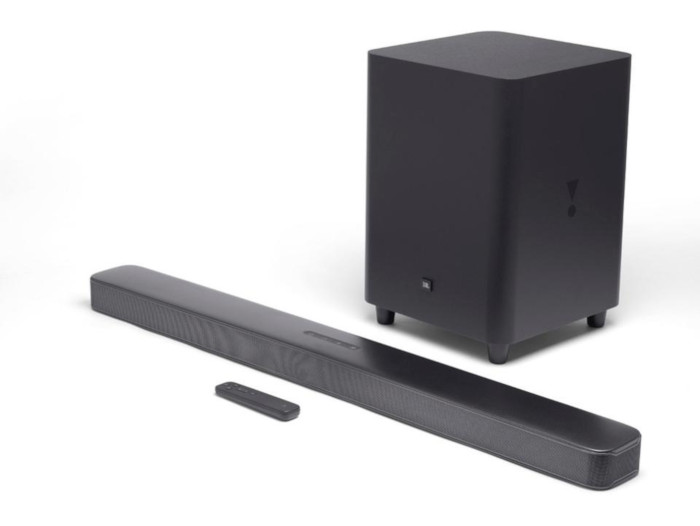 It's all about that bass, next in the range with the JBL Bar 2.1 Deep Bass. Enjoy the bass with built in Dolby Digital. Offering 300W of powerful sound and a slim design, Bar 2.1 Deep Bass also lets you stream music from a mobile or tablet with Bluetooth.
The compact JBL Bar 2.0, is an all-in-one soundbar with a built-in bass port and simple set up. Designed for those looking to boost the audio of a bedroom or small living room TV, Bar 2.0 also features built in Bluetooth for music streaming.