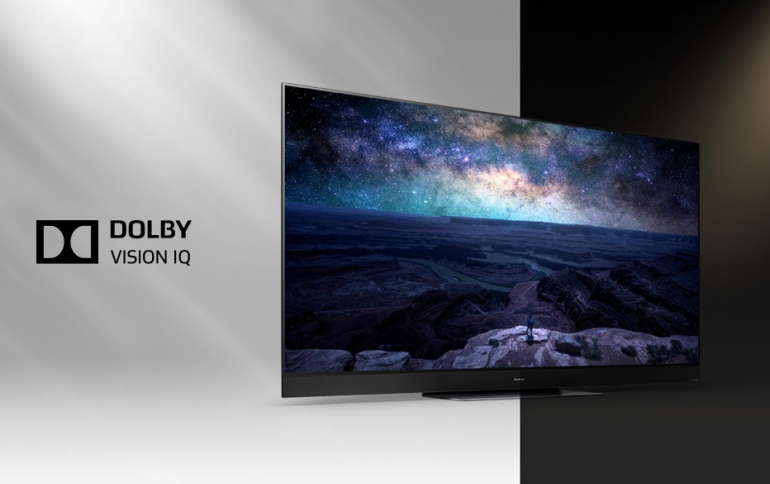 Panasonic Unveils Its OLED, LCD TV and Soundbar Range For 2020
Following the unveiling of its new flagship HZ2000 OLED TV at the CES in January, Panasonic has now unveiled its wider TV range for 2020.
The new Panasonic range will consist of three new 4K OLED ranges and three new 4K LCD ranges: the HZ2000, HZ1500 and HZ1000 OLEDs, and the HX940, HX900 and HX800 LCDs.
The new OLED TVs will all support both Dolby Vision IQ and Filmmaker Mode with Panasonic's original 'Intelligent Sensing' to expand enjoyment of Hollywood-level HDR picture performance to both dark and well-lit living rooms. Furthermore, both the HZ2000 and HZ1500 series OLED TVs will feature built-in upward-firing speakers capable of delivering Dolby Atmos audio. All OLED models will share the same fine tuning by Hollywood colourist Stefan Sonnenfeld, and are planned to be UHD Premium certified. Motion performance has also been improved on OLED TVs, thanks to an advanced implementation of black frame insertion.
Panasonic also announced three new 4K LCD series: the HX940, HX900, and HX800, which will continue Panasonic's support for Dolby Vision and HDR10+. The advantages of which are often most visible on core-range LCD TVs as the dynamic metadata HDR formats allows less bright TVs to avoid unnecessary tone-mapping of scenes which are within the native brightness of the panel. All of the OLED and 4K LCD TVs will also support Dolby Atmos out of the box.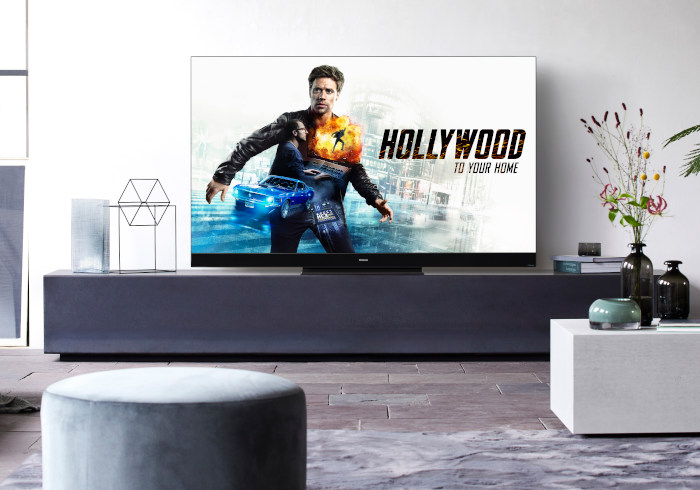 Developed by the UHD Alliance, Filmmaker Mode allows users to enjoy cinematic video as intended by creators, through pressing just a single button on the remote control. When activated, Filmmaker mode respects the frame rate, aspect ratio, colour and contrast of the content, whilst also turning off noise reduction and sharpening.
Furthermore, Panasonic builds on top of Filmmaker Mode by also using the external sensors in the TV to adjust the picture intelligently according to ambient light levels. This feature is called 'Intelligent Sensing'. Whereas, HDR content could look too dark when viewed in a well-lit room, Filmmaker Mode with Intelligent Sensing perceptually matches the impression of viewing the content in an ideal darkened environment even if you are sitting in a well-lit living room. To ensure that this feature matches the creators' intentions, Panasonic's engineers worked together with two Hollywood studios to ensure the best possible perceptual match. Filmmaker Mode with Intelligent Sensing is unique to Panasonic and supports content in HDR10+, HDR10, HLG, and SDR.
Panasonic also expands the capabilities of its 2020 OLED range to Hollywood's highest fidelity content, Dolby Vision, through support of Dolby Vision IQ. Dolby Vision IQ uses Dolby Vision dynamic metadata to intelligently display every detail of the content, adjusting to the brightness of the room. It also informs the TV what type of content is being shown and will modify its settings to ensure images are displayed exactly as they should be.
In 2020 Panasonic is bringing the built-in upward firing speakers to both the HZ2000 and HZ1500 in 2020.
The HZ2000 features '360° Soundscape Pro', Panasonic's highest-fidelity audio system for a TV, which combines the built-in upward-firing speakers capable of delivering Dolby Atmos audio experiences and "Tuned by Technics" fidelity. Despite its thin profile, the HZ2000 delivers a powerful and dynamic output of 140W complemented by a powerful bass. The total sound system has been tuned by engineers from Panasonic's audio brand, Technics, and also feature Technics' proprietary JENO Engine.
The HZ1500 will come with '360° Soundscape', with built-in upward firing speakers and an audio output of 80W.
The multiple built-in speaker units in both the HZ2000 and HZ1500 produce a spatial soundstage with Dolby Atmos content. The positioning of the upward firing speakers at the top of the TV means that, unlike soundbar based solutions, the sound doesn't have to travel so far to bounce off the ceiling so it has plenty of energy to bounce down and create an immersive soundstage.
Furthermore, Panasonic continues its full support of Dolby Atmos by including it in all OLED and 4K LCD TVs. Dolby Atmos offers moving audio that flows all around listeners.
All three OLED series come in both 65-inch and 55-inch screen sizes. While the HZ2000 boasts a bespoke Master HDR OLED Professional Edition panel exclusively customised by Panasonic R&D engineers, all OLED models including the HZ1500 and HZ1000 have picture processing courtesy of the HCX PRO Intelligent processor – the most powerful ever made by Panasonic. They also all support Dolby Vision, HDR10+, HDR10, HLG and HLG Photo, ensuring complete compatibility with all popular HDR formats.
Support for all popular HDR formats also features across all 4K LCD TVs announced today. Even the entry-level HX800 series (40-inch, 50-inch, 58-inch, 65-inch) which has a HCX Processor, offers support for Dolby Vision, HDR10+, HDR10 and HLG (Hybrid Log Gamma), HLG Photo, in addition to support for Dolby Atmos.
The HX900 series (43-inch, 49-inch, 55-inch, 65-inch) supports the same wide range of formats and adds a HDR Cinema Display, which delivers increased brightness.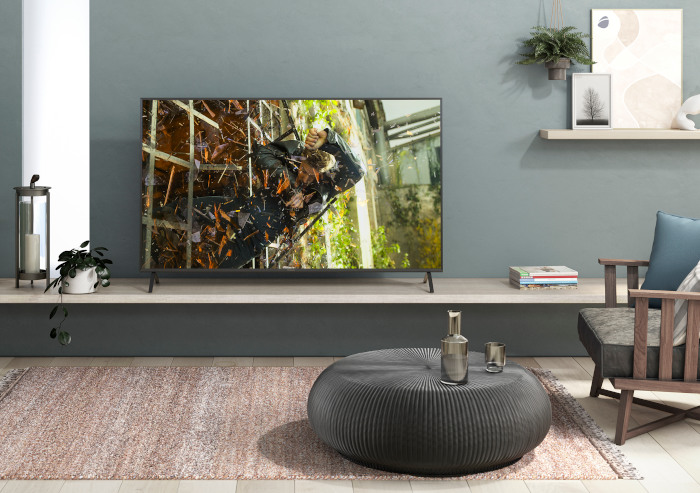 With a faster 100Hz screen refresh rate, HDR Cinema Display Pro, and an HCX PRO Intelligent processor, the HX940 series (43-inch, 49-inch, 55-inch, 65-inch, 75-inch) also embraces the same broad roster of HDR formats. The HCX PRO Intelligent processor analyses and optimises the colour, contrast and clarity of all 4K video content.
The HX940 also features Local Dimming Intelligent Pro, which mimics the operation of thousands of virtual local dimming zones, to improve contrast whilst also preserving the slimness of the TV. Local Dimming Intelligent Pro dynamically adjusts both the backlight and also the LCD shutters themselves, to achieve deeper blacks without loss of picture fidelity.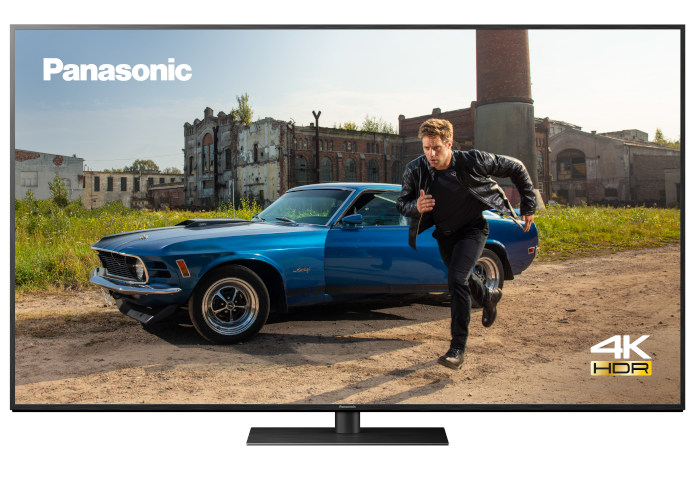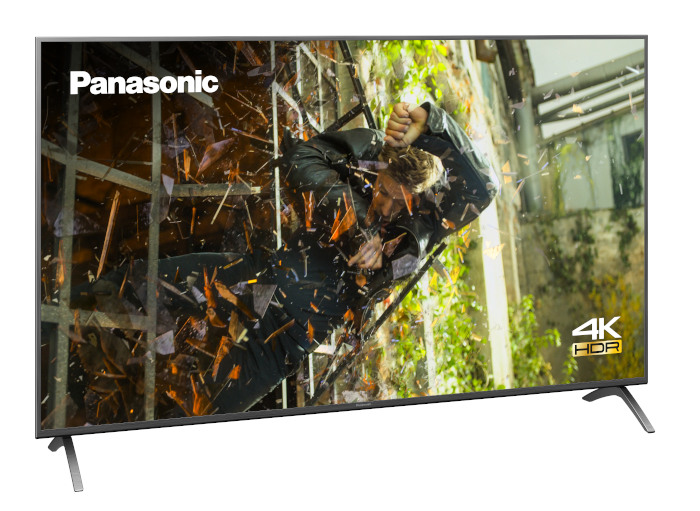 In its 2020 OLED TVs, Panasonic has included two new features based on requests from the post-production community in Hollywood and beyond.
Firstly, all 2020 OLED TVs will allow for tone-mapping to be turned off through the menu system. Tone-mapping is how TVs map the content being played back to the native brightness of the set to prevent clipping. As there is no TV industry standard for tone-mapping, the ability to turn it off allows post-production houses to work on the source content completely accurately until it 'hard clips' at the native brightness of the panel. Panasonic however also allows for the 'clip point' to be specified through the menu system, adding further options to professionals in the film making process.
Furthermore, in its 2020 OLEDs Panasonic has introduced the world's lowest calibration points at 1.3 percent and 0.5 percent. This will further allow professionals and enthusiasts to ensure a completely accurate and linear transition from true black to just above black.
Finally, the 2020 OLED TVs supports CalMAN PatternGen test patterns from Portrait Displays' CalMAN software along with AutoCal functionality. Imaging Science Foundation (isf) calibration settings are also supported. Calibration of Dolby Vision content is also supported.
The 2020 OLEDs and 4K LCD TVs have some special design tricks up their sleeves. The HZ1500 and HZ1000 series OLED TVs feature a swivel pedestal, allowing viewers to angle the screen freely according to their living room environment.
In addition, the HX940 and HX900 series of 4K LCD TVs feature Panasonic's "2-way switch pedestals", which allow owners to position the two pedestal feet in either a central position, or on the edge of the TV in order to match living room furniture perfectly.
All OLED and 4K LCD TV series feature the latest iteration of Panasonic's smart TV OS, My Home Screen 5.0. The new version delivers usability improvements. For example, when certain VOD Icons are highlighted, thumbnails of featured titles from that provider are automatically displayed above and can be easily accessed. This works for Netflix and YouTube amongst others.
All models will also feature XUMO's free streaming service delivering both over-the-air and over-the-top channels to global audiences in one experience and guide (excluding UK). End users simply press the channel up and down or guide button on the TV remote control to discover and enjoy watching these channels, just like a broadcast TV viewing experience.
All models support HbbTV Operator App (except in UK). In 2019 Panasonic TVs announced first support for HD+ and expanded support to M7 via a firmware update. In 2020, Panasonic will continue to support both HD+ and M7.
All models also work with Google Assistant and Amazon Alexa, allowing users to operate some key TV functions, just using their voice.
2020 Soundbar Range
Panasonic also unveiled the HTB600 and HTB400 soundars.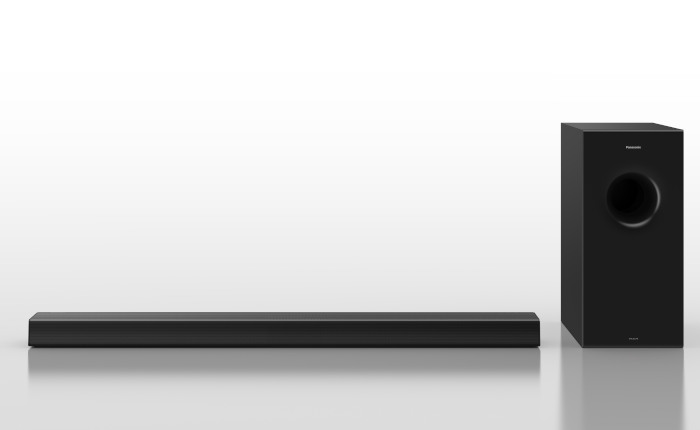 HTB600 supports both Dolby Atmos and DTS:X home cinema audio formats. It comes with a large wireless subwoofer featuring an aerodynamically shaped Bass Reflex Port for clear bass sound.
HTB400 is a stylish solo soundbar design, it delivers bass with dual subwoofers integrated into its body.
With TV and video streaming productions becoming more cinematic, sometimes it's hard to understand everything the actors say. Panasonic says that Clear-Mode Dialogue comes to the rescue by enhancing the clarity of speech in the sound mix.
Exclusive to HTB600
Dolby Atmos/DTS:X - HTB600 achieves virtual surround-sound with forward-facing speakers.
Speaker system featuring two Full Range (4.5 x 10 cm) driver units. The soundbar alone achieves a 160W output, boosted by the wireless subwoofer to an impressive 360W.
With wireless subwoofer – as it needs no physical connection to the TV, HTB600's wireless subwoofer can be placed anywhere. The 16cm speaker unit achieves 200W output.
Exclusive to HTB400
Two Full Range (4.5 x 10 cm) drivers and two integrated subwoofers deliver a total output of 160W. Using neodymium magnets, Panasonic has been able to achieve incredible sound volume from relatively compact speaker units.
Dual built-in subwoofers - two 8cm cone-type subwoofers achieve a combined 80W output.

Universal design– Designed to complement the latest Panasonic TVs, the new HTB Series have adjustable feet – allowing them to be placed directly over the TV's pedestal or, if the user prefers, in front on the cabinet.
Both soundbars can also be wall-mounted using the supplied fittings.
When placed on a flat surface, like a TV cabinet, the new HTB Series' speakers are angled upwards by 7° so that sound is projected towards the viewer's ears. But as the rear of the speaker is also angled, this is corrected when wall-mounting so the sound travels outwards at 180°.
In addition, both soundbars can connect to smartphones, and other compatible devices
Exclusive to HTB600
4K HDR Pass-Through - users can enjoy 4K HDR including Dolby Vision content with no loss in image quality. This is because the video signal passes through the soundbar from Blu-ray player, or games console, to the 4K TV.

eARC (enhanced Audio Return Channel) – sends high-bit-rate audio formats, such as Dolby Ture HD, from compatible TV to soundbar

New DAB+ Range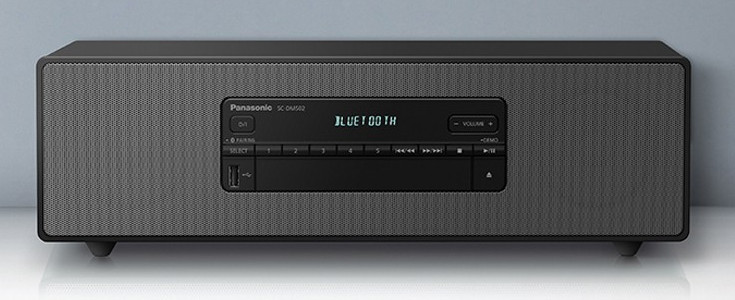 Panasonic also announced three audio products unified by DAB+ Radio, Ergonomic Design and Great Sound:
SC-DM502 – Premium Stereo System
RF-D30BT – Splash-Proof Radio
RC-D8 – DAB+ Clock Radio
The DM502 system's bass and clear vocals result from the wooden speaker cabinet. Logical ergonomic design – featuring tactile preset buttons - makes playing music, from radio, CD and streaming a pleasure.
D30BT is the perfect portable DAB+ radio. With Bluetooth and USB charging, it works well with smartphones too. Its classic soft edged design features large buttons and is finished with a premium metal speaker grille. Splash-proof design, built-in timer, and the option of battery power make it at home in kitchen or bathroom.
The D8 DAB+ Clock-Radio has large easy-to-read display. Featuring Dual Alarm for couples with different wake-up times. With USB charging smartphones can be refreshed overnight too.
Other features include:
RC-D8 – DAB+ Clock Radio

Dual Alarm for different wake-up times
The D8's USB charger

RD30BT Radio

Splash-proof radio is at home on the bathroom shelf.
10cm speakers
Clock display
Built-in timer

DM502B Stereo System

Switch channels fast with presets.
Play your favourite ambient CD.
Stream from your mobile with Bluetooth.

TMAX5 party speaker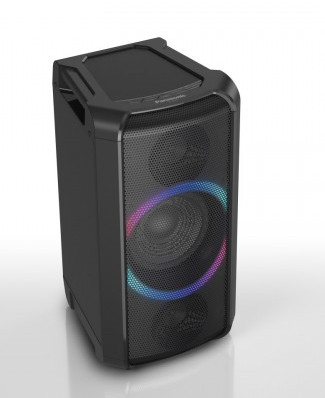 Panasonic also announced a new addition to its TMAX Party Speaker range: the SC-TMAX5.
TMAX5 Top 5:
Sound – 16cm Woofer with Dual Drive & Bass Reflex Port
Qi Fast Wireless Charging – for Qi compatible smartphones

Connect 3 phones at once - with Bluetooth
Power Bank compatibility
Portable – with integrated carry handles

With a 150W RMS (THD 30%) / 1650W (PMPO) Power Output from its two built-in digital amps, TMAX5 punches way above its weight.
TMAX5 is packed with extra features:
Dual Voice Coil & Dual Drive System - two digital amps drive the 16cm woofer. The Bass Reflex Port channels sound waves while suppressing unnecessary echo, boosting the bass.
Twin 5cm Tweeters
D.Bass - uses digital tech to give bass tones an extra kick
Local Preset Equaliser - pick one of TMAX5's settings to adjust the mix of treble, mid and bass.
TMAX5's buyers won't be bringing CDs to a party – their whole life, including their music, is on their phones. TMAX5 connects up to 3 smartphones at the same with Bluetooth.
With contactless Qi Fast Wireless Charging just place the phone on top of TMAX5 so it charges, while still playing, through the speakers.
TMAX5 doesn't stop there:
MAX Juke App – users can DJ at their own party, controlling TMAX5 with Bluetooth. Pick and play songs in selected order, from 3 compatible devices, including sources like YouTube.
USB Playback – compatible files can be played direct from USB stick
Multi-Colour Edge Illumination - TMAX5's bass speaker is trimmed with LED lights. Naturally, the lights pulse in sync with the beat. Ten additional patterns can be chosen from the MAX Juke app.