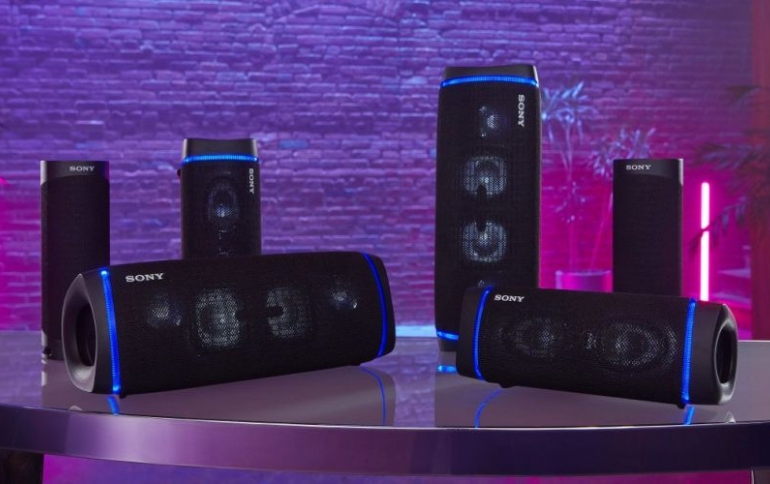 Sony Launches New Portable Extra Bass Speakers
Sony revealed a trio of redesigned options in its Extra Bass line with updates to sound quality and design.
The three models — SRS-XB23, SRS-XB33 and SRS-XB43 — are priced at $100, $150 and $250 respectively.
All models are Waterproof (IP67), dustproof, and shockproof. They feature Sony's EXTRA BASS 2 technology, with dual passive radiators to work together with full-range speakers to enhance low-end tones, giving bass a boost. They offer up to 24 hours of battery life with the lighting off in EXTRA BASS mode. A speaker light and a multi-color line light flashes in sync with the beat.
Unlike the circular diaphragm in a conventional speaker unit, the newly developed X-Balanced Speaker unit features a non-circular diaphragm. According to Sony, the unit's non-circular shape maximizes the area of speaker diaphragm, increasing sound pressure for more punchy bass, but it also reduces driver excursion while maintaining the same sound pressure, resulting in less distortion.
Using the Fiestable app you'll be able to control the lighting on the speakers, and you can also use motion control gestures on your smartphone screen.
Near Field Communication (NFC) and Bluetooth technology remove the need for wired connections and complex set-up sequences. Simply touch your NFC-enabled device to the speaker for a quick, seamless connection, then start streaming your music collection. No NFC? Connect via Bluetooth and you're ready to go.
You can also use a USB Type-C cable to charge the SRS-XB33 and if your smartphone's running low on power, just plug it into the speaker's USB port to charge up the battery.
In addition, the Party Connect feature is back, which allows you to connect up to 100 compatible speakers (which is limited to these three models) as you see fit.
The XB23, XB33 and XB43 are all available for pre-order today in a range of colors.
New Lineup Highlights:
EXTRA BASS Sound: The layout of the speakers' side passive radiators is optimized to reproduce clear bass while a rigid and lightweight Mica Reinforced Cellular (MRC) cone and dust cap contribute to the sound quality.
X-Balanced Speaker Unit: Sony's newly developed X-Balanced Speaker Unit achieves high-quality audio and powerful sound pressure for a richer and deeper listening experience. The unit's non-circular shape maximizes the speaker diaphragm area, increasing sound pressure for punchier bass. It also reduces driver excursion while maintaining the same sound pressure, resulting in less distortion. For example, XB33's level of sound pressure has increased by around 30 percent and its distortion rate has decreased by around 25 percent, when compared to its predecessor XB32.
Unlike the circular diaphragm in a conventional speaker unit, the X-Balanced Speaker Unit in the XB43 features an almost rectangular diaphragm. Its 2-way speaker system combines a woofer for low-to-mid frequencies with a dedicated tweeter for higher range frequencies.
Additionally, the X-Balanced speaker unit in the XB33 and XB23 features a newly developed non-circular diaphragm and off-center design. The new design maximizes the speaker diaphragm to create more sound pressure in a compact size.
LIVE SOUND Mode (XB43/XB33): The LIVE SOUND mode feature lets users hear music with a 3-dimensional sound experience.
Water-resistant, Dustproof and Rustproof: With an IP67 rating, customers can take their speaker to the beach, the forest, the desert or their backyard. These speakers are dustproof, water-resistant and rustproof.
Durability with Shockproof Design (XB33/XB23): The speakers have undergone shock testing and their new shockproof durable design can withstand the inevitable knocks, bumps and scrapes that come with everyday use.
Light Up the Party with Fiestable and Sony | Music Center Apps (XB43/XB33): Liven up any atmosphere, whether it be the living room or an outdoor barbeque, with the speakers' fresh design, which now features multi-color line light, tweete4 and speaker lighting. Using the Fiestable and Sony | Music Center apps, customers can sync the lights with the beat, change color or simply turn the lighting off to suit any mood.
Party Connect: With Party Connect, users can connect up to 100 compatible wireless speakers with Bluetooth technology to sync the music and lights so everyone can dance to the same beat.
New Stylish Design: The lineup offers a wide-array of new colors including taupe, light green, blue and red.
Carry music anywhere, thanks to the redesigned XB23. Compact, lightweight and easy to carry, the XB23 fits into a backpack pocket or folding chair cupholder and features a convenient strap to hang it from a tent or tree during a weekend camping trip.
Extended Battery and Seamless Connectivity with USB Type-C: With a battery life of up to 24 hours, adventurers can set out for long trail hikes or other outdoor experiences. When power gets low, they can charge the speakers via newly adopted USB Type-C. Users can also connect their smartphone to the speakers via USB Type-A for battery charging, so their phones last as long as they do. Additionally, by simply connecting a phone to the speakers using Bluetooth technology and NFC, they can continue to listen to favorite tracks wherever they go.