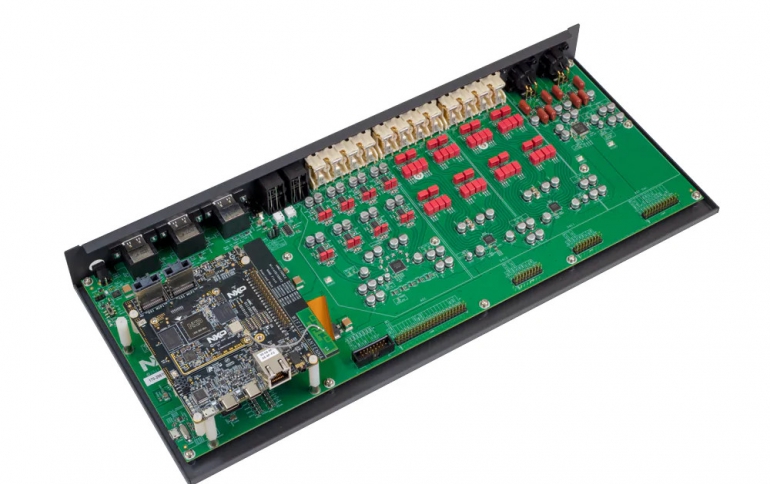 IFA 2019: NXP Demonstrates Solutions For Dolby Atmos Enabled Sound Bars and AV Receivers
At this year's IFA Berlin 2019, NXP Semiconductors N.V. demonstrates its Immersiv3D solution integrated with Dolby Atmos, DTS:X, and voice, which will be featured on smart sound bar and AV receiver reference designs.
Immersiv3D wil be available to Original Equipment Manufacturers (OEMs) to meet the soundbar market. It also makes it possible for OEMs to drive the next wave of audio performance and voice control, as well as Artificial Intelligence (AI) and other smart capabilities, in a wider range of consumer audio devices such as AV receivers, smart speakers, Over-the-Top (OTT) streaming devices and smart TVs.
The IFA Berlin demonstration also inclueds NXP's audio system architecture that features low enough latency to stream multichannel audio in the living room (with low cost wireless solutions) and Dolby Atmos together with quality voice control. For global adoption, NXP's Immersiv3D platform also features DTS:X, Mpeg H the audio codec used for China and Korea broadcast content, and Mpeg4 AAC Multichannel for Japan broadcast content.
As part of the EdgeVerse platform, Immersiv3D is integrated with NXP's i.MX 8M Mini and i.MX 8M Nano applications processors, Dolby Atmos, DTS:X, and voice. The i.MX 8M Mini and Nano System-on-a-Chip (SoCs) with the Immersiv3D software provide a single-chip solution for performing audio processing and voice services on a single device. In addition, the solution streamlines system integration, and delivers low-latency audio decode and pre/post processing and multichannel AEC + beamforming. Currently, Immersiv3D technology is Dolby Atmos certified and is completing certification for DTS:X technology this quarter for both the i.MX 8M Mini and i.MX 8M Nano applications processors. DTS Virtual:X support is also planned for later this year.
Demonstrations of Immersiv3D audio solution-based solutions at IFA include:
Dolby Atmos Soundbar with Google Voice Assistant – supports Dolby Atmos and Google Assistant with Chromecast built-in for streaming audio. Based on NXP's single chip i.MX 8M Mini EVK, twenty four-channel Audio Board, and 8MIC-RPI-MX8 microphone and User Interface (UI) board
Low Cost Dolby Atmos 5.1.2 Soundbar – supports Dolby Atmos with only 7 transducers. Single chip i.MX 8M Mini applications processor implementation (no DSPs) provides integration with lowest latency in the industry.
Low Cost Dolby Atmos 2.1.2 Soundbar – supports Dolby Atmos experience in a low cost design with only five transducers including integrated subwoofer.
Immersiv3D also supports integration of the Google Assistant, other popular voice assistants and several multichannel audio codecs including DTS:X, MPEG-H, and Multichannel AAC.