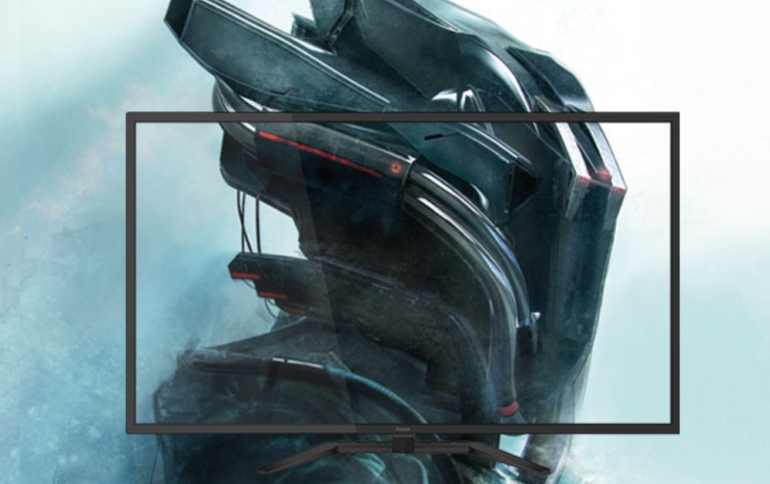 IIYAMA LAUNCHES 2 NEW G-MASTER RED EAGLES, FOR THE BIGGEST YEAR IN GAMING, YET!
Iiyama commences the new year by expanding their range of gaming monitors, with two new G-Master Red Eagles, the 1500R curved GB3467WQSU, and the 4K G4380UHSU-B1.
Featuring VA panel technology and guaranteeing complete immersion thanks to a large viewing area, the two new G-Master monitors by iiyama are made to provide gamers with superior image quality and an overall better gaming experience. Here's how…
The G4380UHSU-B1 is a 43" gaming monitor ideal for PC gamers looking to upgrade to a 4K screen without breaking the bank. It delivers sharp and crisp images with 8.3 million pixels (3840 x 2160) and 550 cd/ m² brightness. Featuring 0.4ms MPRT response time and supporting 144Hz over DisplayPort, it allows gamers to make split-second decisions and avoid ghosting effects or smearing issues. As most gamers pride themselves on their impeccable and creative gaming setups, they will surely welcome the fact the monitor comes with remote control, making it extremely convenient to adjust settings like brightness or volume from any position/distance. The monitor also features a headphone hook at the back of the screen which helps users maintain a tidy desk setup. The G4380UHSU-B1 can also be tilted (10° up; 2° down) which taking into consideration the 43" diagonal can make quite a difference while aligning the screen to one's eye level.
Although relatively smaller in size, the 34" GB3467WQSU-B1 curved, ultra-widescreen is a great choice for an excellent immersive gaming experience. Inspired by the curve of the human eye the 1500R curvature ensures a realistic and comfortable gaming experience. The 3440 x 1440 resolution offers superb image quality and a very realistic viewing experience. The monitor features a 0.4ms MPRT response time and a high refresh rate of 165Hz, ensuring that gamers are always ahead of their competition. The joystick control at the back of the cabinet makes it easy for users to navigate the settings when adjusting e.g. contrast or switching to different gaming modes. The GB3467WQSU comes with a height-adjustable stand that ensures total flexibility and the perfect screen position so you can be comfortable during gaming marathons.
Both the G4380UHSU-B1 and the GB3467WQSU-B1 feature FreeSync Premium technology guaranteeing low input latency and low framerate compensation putting an end to tearing or stuttering issues at any framerate. Users can also customize the screen settings using predefined and custom gaming modes. The Black Tuner function allows adjusting brightness and the dark shades giving greater viewing performance in shadowed areas.
For more information:
https://iiyama.com/gl_en/products/g-master-g4380uhsu-b1/
https://iiyama.com/gl_en/products/g-master-gb3467wqsu-b1/