Intel Accelerates Data Centers With New MXC Optical Cable Technology
Intel is introducing silicon photonics into data centers through ultra-fast optical cables called MXC, currently in production by Corning, US Conec, Tyco Electronic, Molex and other companies. The new MXC optical cables will be first implemented at the rack level and use light and lasers to move data between servers, storage, networking and other computing resources.
The MXC cable, a core building block for Intel Silicon Photonics, can transmit data at 1.6 Terabits per second (64 fibers at 25Gbs); at that rate, two HD movie from iTunes can be downloaded in less than two seconds.
MXC cables have several advantages over traditional optical connectors besides the 1.6Tbps bandwidth. MXC connectors have fewer parts, are more robust, smaller, and are able to support 64 fibers and with a telescoping lens design that is 10 times more resistant to dust. The cables have a range of up to 300 meters and in the future, they could also support existing protocols including InfiniBand, Ethernet and PCI-Express.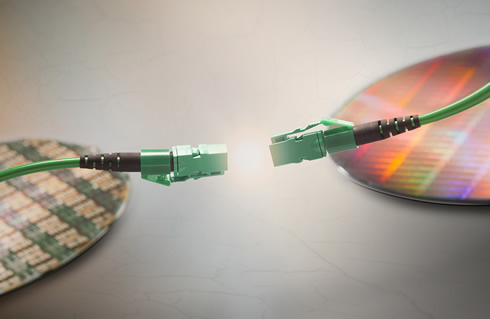 MXC connectors, coupled with Intel Silicon Photonics, are expected to enable many new data center innovations. For example, Fujitsu recently demonstrated an expansion box that increases the storage capacity and adds CPU accelerators to its 1U server. In September, Intel demonstrated a new rack architecture called RSA that when used with MXC cables and Intel silicon photonics enables a totally new server architecture that increases performance and decreases cost.
US Conec announced they are making parts for the connector which they will sell to cable companies. Corning, Molex and TE Connectivity announced they would make cable assemblies using the MXC connectors. US Conec and Intel will also host an MXC adopter's forum for current and future companies that want to use MXC cables at OFC on March 11th, 2014.