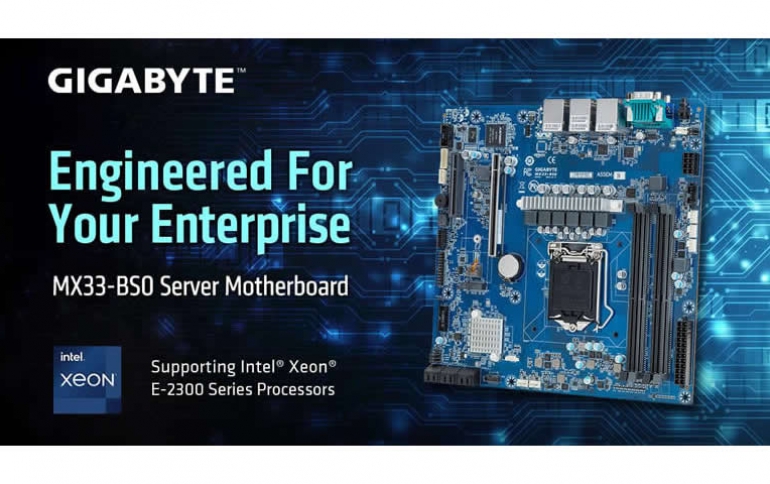 Intel Announces Xeon E-2300 Series and GIGABYTE introduces new motherboards
With the introduction of the Xeon E-2300 series enterprise processors for entry-level servers, Intel has further demonstrated the capabilities of their 14 nm "Rocket Lake-E" manufacturing technology.
The "Xeon E-2300" series of processors for servers is based on the same Rocket Lake architecture as the Intel Core processors of the 11th generation. Processors that are suitable for small business entry servers that do not require the same level of performance as the Xeon scalable CPU family. However, the memory supports ECC, and the CPU cores have a maximum of 8 cores (16 threads) and 20 lanes of PCI-Express 4.0, which are similar to the 11th generation Intel Core processor. It has also been decreased to a maximum of 95W, which makes heat treatment a little less difficult in this case.
Next to ECC memory supported, as are vPro, SGX, and MPX graphics cards (memory encryption). There are no new instructions or features, only the same AVX-512 instructions and DLBoost AI acceleration that are found in 11th Gen Core processors. It is possible to have up to eight "Cypress Cove" CPU cores on the "Rocket Lake-E" silicon, with each core having 512 KB of dedicated L2 cache and 16 MB of shared L3 cache.
With two channels of DDR4 memory support, the processor can accommodate up to 128 GB of DDR4-3200 memory on a single memory bus. When compared to the Intel C250 series chipset, which creates 24 PCI-Express 3.0 lanes and can be divided in a variety of ways, the AMD APU generates 20 PCI-Express 4.0 lanes and can be divided in a variety of ways. The TDP of the chips in this series can reach up to 95 W.
GIGABYTE Technology, (TWSE: 2376), an industry leader in high-performance servers and workstations, today announced a new mATX motherboard, the MX33-BS0 that supports Intel® Xeon® E-2300 series processors. The Xeon E-2300 platform has a sub 100W TDP and is value-based as it targets the entry server and workstation markets that require reliable and secure business operations.
MX33-BS0
Designed for a single socket solution as an entry server / workstation motherboard, the MX33-BS0 supports fast PCIe Gen 4 throughput with Intel Xeon E-2300 CPUs. In addition, the C250 series chipset also supports Pentium processors, but with PCIe Gen 3.0 only. Given the microATX form factor, the MX33-BS0 still has all the features one would expect on an entry-level platform. The motherboard can support up to 95W processors and has 4 DIMM slots to support 2 DPC for dual-channel memory, and one PCIe Gen4 x 16 slot for accelerators from the 20 lanes of PCIe 4 from the CPU. As well there is a x8 slot that uses PCIe Gen4 x4 for add-on cards. For storage, there are 6 x SATA III ports and 1 x M.2 (PCIe Gen3 x4) slot. To support management, the ASPEED AST2500 can be used to implement GIGABYTE Management Console and allow remote controlling. On the I/O panel are 2 x 1GbE ports, 2 x USB 3.2 Gen2, 4 x USB 2.0, VGA, COM port, and a MLAN port. As part of GIGABYTE's value proposition, GIGABYTE server products are pre-loaded with GIGABYTE Management Console for server management via a web browser-based platform. Additionally, GIGABYTE Server Management (GSM) software is free to download and can be used to monitor and manage clusters of servers. GIGABYTE Management Console and GSM offer great value while reducing license and customer maintenance costs.