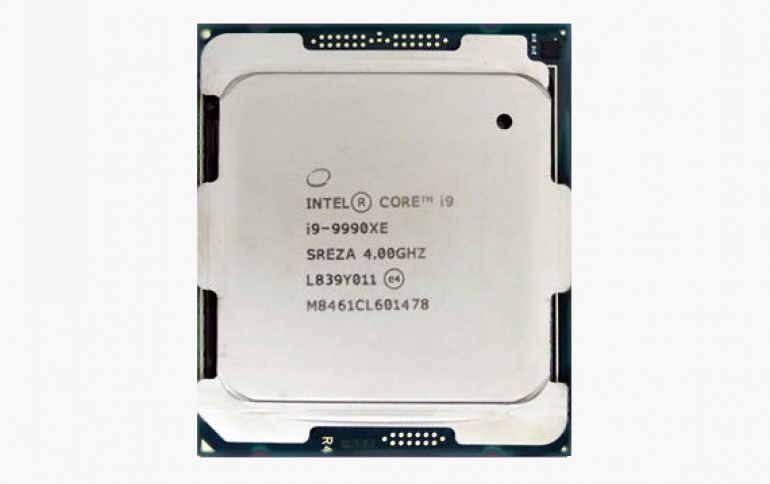 Intel Core i9-9990XE Performance Benchmarks
The Intel Core i9 9990XE 14-core CPU is a new, OEM-only, no warranty processor that only select system manufacturers, and Puget Systems has accessed the chip via a once-per-quarter auction and has also poseted some benchmarks.
Starting with the specs, the 14-core i9 9990XE processor has a max Turbo Boost frequency of 5.1 GHz which means that it should perform much better than any other Intel X-series CPU in lightly threaded applications. At the same time, even if you are using all the cores, the Turbo Boost frequency only drops to 5.0 GHz which theoretically puts it at about the same performance as the Intel Core i9 9980XE in highly parallel applications. These two things working together are especially important for After Effects since much of the application is single threaded, but there are some features (like the C4D 3D Renderer) that can make more effective use of higher core counts.
Product
i9 9990XE
Code Name 
Basin Falls
Socket 
2066
Process 
14 nm
Number of Cores 
14
Clock Speed 
4.00 GHz
Hyperthreading 
Yes
Turbo Boost 
Yes
Max. Turbo Boost 
5.10 GHz
All-Core Turbo Boost 
5.00 GHz
Bus Type 
DMI3
Thermal Output 
255 W
PCI-E Lanes 
44
Cache
Smart Cache 
19.25MB
Memory Specification
Memory Type 
DDR4
Maximum Frequency 
2666
ECC Support 
No
Advanced Technologies
vPro 
Yes
Virtualization Technology (VT-x) 
Yes
Virtualization Technology for Directed I/O (VT-d) 
Yes
Trusted Execution Technology 
Yes
TSX-NI 
Yes
In order to achieve this level of performance, however, this CPU draws 255W - about 50% more power than any other X-series CPU. While this obviously means that you need a beefy CPU cooling setup, you also need to have a motherboard and power supply that can provide said power.
Interestingly, Intel's new flagship Core i9-9990XE processor seems to have less core enabled than the previous flagship, the i9-9980XE. Obviously, the company is trading in cores for frequency as the new Core i9-9990XE processor has only 14 cores and thus 28 threads. This means they have disabled four cores to trade in towards a higher clock frequency and manage the TDP.
Puget Systems ran some benchmarks with teh new processor, using After Effects CC 2019 (ver. 16.0.1) along with version 18.12.18 of the company's own Puget Systems After Effects CC Benchmark which is currently available for public download. This benchmark tests RAM Preview, Rendering, and Tracking in a wide range of compositions.
As for the benchmark results, Puget claims that the Intel Core i9 9990XE's out-performs every other Intel CPU tested, coming in at about 5% faster than the Intel Core i9 9900K or about 12% faster than any of the standard Intel X-series CPUs. It also seems to be very consistently the fastest CPU for After Effects.
The reason why this is unusual is due to the fact that After Effects contains a mix of lightly threaded and highly threaded features. On the one hand, the vast majority of Ae can only utilize a handful of CPU cores which makes a processor with high single-threaded performance (like the Intel Core i9 9900K) the best choice. On the other hand, if you use the Cinema 4D rendering engine, a CPU with a higher number of CPU cores can give you a small, but sometimes very important, bump in performance.
"Since the Core i9 9990XE has terrific single-threaded performance that is on par with the Core i9 9900K and terrific multi-threaded performance that is on par with the Core i9 9980XE, that makes it the best performing CPU currently available for After Effects regardless of what you are doing," said Matt Bach senior puget labs technician.
In terms of raw performance, the Intel Core i9 9990XE is the fastest processor currently available for After Effects CC 2019, according to Bach. "If you only care about certain aspects of After Effects, you can get similar performance out of other processors, but no other processor should be able to give you the kind of consistently high performance as the Core i9 9990XE," he says.
If you don't use the C4D renderer that much, you might find it a bit hard to justify this CPU over the much more affordable Core i9 9900K. For most tasks in Ae, Puget found that the i9 9990XE is only about 3% faster than the i9 9900K which really isn't all that much. However, one thing to keep in mind is that the i9 9990XE allows for 128GB of system RAM which can be extremely useful for RAM Preview. The more RAM you have, the more frames that can be stored in RAM Preview, which limits the number of frames Ae has to re-render over and over again.
Puget also looked at the performance of the i9 9990XE in Premiere Pro, Lightroom Classic, and Photoshop as well as a number of other applications. The Intel Core i9-9990XE remained a top performer, although in the Photoshop test the chip was it very slightly edged by the Core i9-9900K.
With the very limited availability and power/cooling requirements of this CPU, there is no question that the i9 9990XE is a very niche product. The fact that only select OEMs can even get their hands on it should be an obvious indication that Intel doesn't intend for this processor to be used by mainstream users.